Bloodshot: Reborn #1
(Jeff Lemire / Mico Suayan; Valiant Comics)
Bloodshot: Reborn is a slow burn. It's a quiet, intense comic about what happens after the very thing that curses you is gone, and what happens when you find that you miss the curse. What do you do when it seems your curse is affecting others? What is your moral responsibility to the rest of the world when someone wears your old face and commits a terrible crime?
Written by Jeff Lemire (Justice League United, Green Arrow) and illustrated by Mico Suayan (Injustice: Gods Among Us, X-Men: Legacy), this comic is a ground-level look at what happens after a hero loses his powers. It's the story of depression and just getting by, the story of a man who once was special but is now just a working stiff fixing squeaky doors at a fleabag motel. The story resonates – it's easy to imagine an elite soldier returning from Iraq or Afghanistan experiencing the same sort of ennui – rendered all too real by Suayan's gorgeously and intensely drawn art.
The guns may all be in the flashbacks, but this comic is a kill shot.
– Jason Sacks
---
Ms. Marvel #14
(C. Willow Wilson / Takeshi Miyagawa; Marvel Comics)

I don't believe that Ms. Marvel is perfect– I don't believe any book is perfect. Still, goddamn, Ms. Marvel speaks to me. In this, the second issue of the "Crushed" storyline, Kamala Khan discovers that her literal bolt-out-of-the-blue-Romeo, a fellow Inhuman named Kamran, is not the perfect man he appears to be. As far as plot developments go, this issue is pretty par for the course. We've seen stories play out the same way hundreds of times before: girl meets perfect boy, girl finds out boy is not in fact perfect, boy gets slammed into the dirt. Despite this, Ms. Marvel manages to shine this month because of what it has to say about love amidst all the betrayal.
Interestingly, the most powerful moment of the issue takes place when Kamala is out of the picture. After staying up all night with him, Kamala is swooped up into Kamran's car while waiting for the school bus, leaving her friend Bruno and Kamala's brother Aamir alone with one another. This is a character pairing we haven't often seen in Ms. Marvel, and G. Willow Wilson uses this opportunity to talk about the eternal struggle that is interracial dating.
Aamir flat out tells Bruno that he knows that Bruno is in love with Kamala, and also bluntly states that it could never work. Even though Kamala's parents treat Bruno as an "adopted gora (white person) nephew," they also want their daughter to be "proud of who she is, and to pass that pride down to the next generation." It's an issue of wanting one's children and one's grandchildren to own their heritage and not forget their roots. Bruno counters by stating that his family roots aren't that different from Kamala's. His grandparents struggled to reach America from Napoli. In that way, almost everyone in America is similar, because America is a nation of immigrants. Everyone came from somewhere else, and everyone had their own struggle to make it in a foreign land.
However, America's culture is also divided by good intentions. It's a hard truth that many parents living in America want their child to marry within their culture or race in order to preserve the heritage, just as Kamala's parents want her to do. No one deserves to have their culture die out, and all cultures are worth preserving. However, America is all about cultural melding and exchange, and if parents won't let people from other cultures into their families, can a true exchange ever really be had? We don't get to hear Kamala's perspective on the topic in this issue, but I hope we do someday. As racial demographics in America shift, this topic is going to be more and more relevant, and I'm glad that G. Willow Wilson takes it upon herself to deftly address the topic here. I hope she gives us more of this soon.
As a sidenote: Takeshi Miyazawa's art this issue is particularly fantastic. His facial expressions are exaggerated in a manner reminiscent of the manga tradition, and it really helps the inflated feelings of infatuation Kamala experiences this issue shine through.
– Alexander Lu
---
The Tithe #1
(Matt Hawkins / Rahsan Ekedal; Image Comics)
In the afterword to The Tithe #1, writer/co-creator Matt Hawkins (Think Tank) explains his love of heist movies, and an interest in moving the high-stakes structure of Heat or The Town to a new venue – in this case, a mega-church. Run by a corrupt minister, the church is set upon by Jesus-masked hacktivist collective Samaritan, who make off with two million dollars and the minister's reputation. In the wake of the heist, we're introduced to our government agent protagonists Campbell and Miller – which, unfortunately, is where the fast pace of the opening starts to dissipate. In its place, we're given the groundwork for the ongoing series which unfolds along fairly standard beats of buddy-cop and cat-and-mouse territory.
Southern Baptist Campbell is conservative; hacker Miller is an atheist wiseass. Samaritan's unseen lead hacker taunt-texts Miller who's been on their trail for ages. Not that this isn't a recipe for fun, but the familiarity of the beats feels like it could've taken up less page-space, and kept the story moving. Add to it an epilogue that lays Campbell and Miller's secular/non-secular debate out in plain terms, and the heist opener feels more an exception than the rule. Curiosity may carry me to a second issue, but here's hoping for more peak than valley.
-Alex Gradet
---
Archie vs. Predator #1
(Alex De Campi / Rich Koslowski / Fernando Ruiz; Archie Comics)
Archie vs. Predator #1, scripted by Alex de Campi (Smoke, Messiah Complex) is very much Archie and very little Predator.
Don't get me wrong, I've enjoyed Archie humor since I was kid reading them on Bazooka bubble gum wrappers. It had the humor that one would expect from Archie with some very adult innuendos added to spice it up; but I was hoping for a good frame or two of someone getting their spine removed. Instead, it is just implied as we see the Predator in a tree holding two skulls.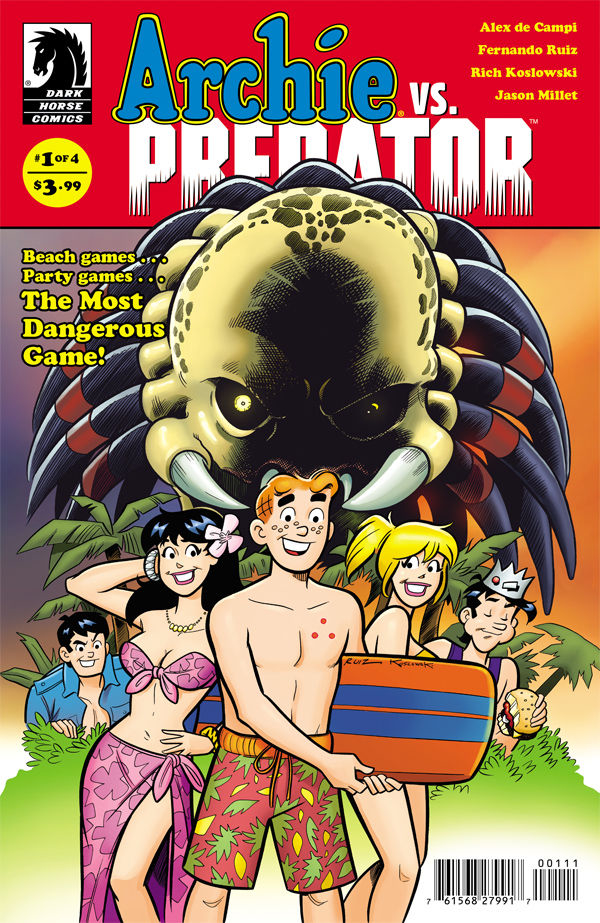 There is good set up in the end, though, to lead into the next issue. Betty seems to have found a dagger that will be important to the entire story and somehow didn't notice it was on her. Now, the Predator has tracked her back to the city.
While I'm not super excited about the next issue, I am still intrigued to see where this goes. Give me gore!
– Jimmy  Cupp
---
Kaijumax
(Zander Cannon)
Zander (Top 10) Cannon's new book Kaijumax is an inventive, exploration into what a super-max prison for giant monsters would look like.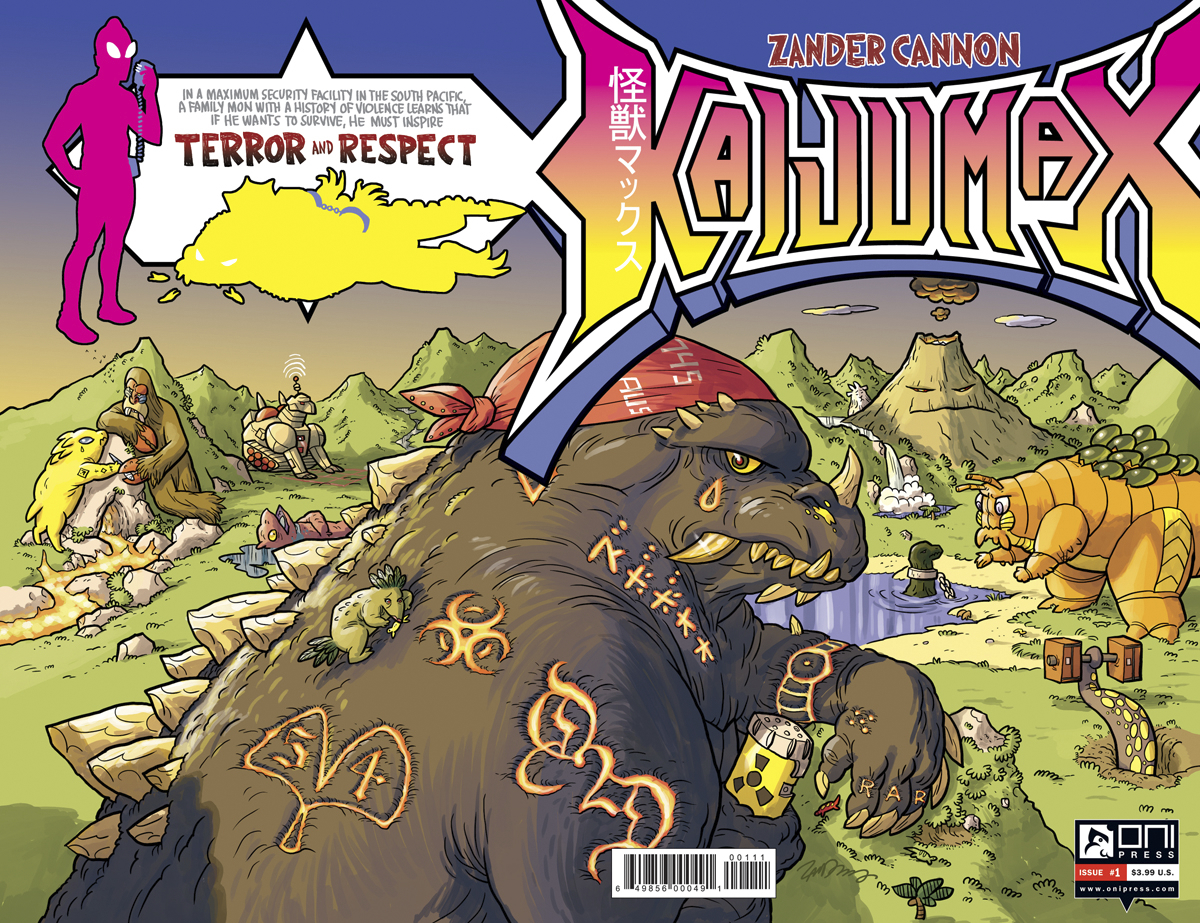 The first issue introduces us to Electrogor, a powerful, giant beast, who is the newest edition to Kaijumax. The majority of the first issue has Electrogor dealing with the typical conflicts and issues that any human prisoner would encounter, but on a monster scale; it's Shawshank Redemption-meets-Pacific Rim without mechs and far more "cutsie" humor.
Point blank, the characters are all fun and interesting. The art is superb and, despite going 100% digitally, Cannon keeps the silver age aesthetics alive.
– Matthew Mossman