The Life After #9
(Joshua Hale Fialkov / Gabo; Oni Press)
Readers have learned to expect the unexpected from Joshua Hale Fialkov and Gabo's The Life After. Just when it seems like the world has been fully fleshed out, the creative team add new layers that are delightfully twisted. Shifting the focus from Jude and Hemingway's journey, Essie and her band of child warrior compatriots enter Hell with the help of the mysterious woman from previous issues, nicely referred to as "Hellbitch." Unfortunately, entering into this realm turns Hellbitch from a peculiar-looking woman into a behemoth. The ensuing battle between her and Essie takes up the majority of the page count, providing plenty of laughs along the way.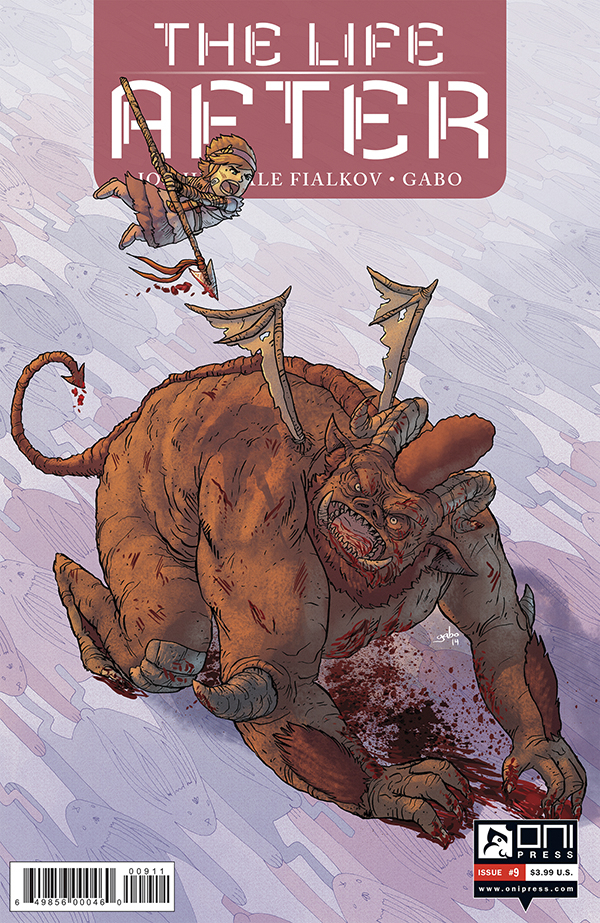 As a result of the aforementioned fight sequence, The Life After #9 is a painfully quick read. Although this is a fun issue, the lack of substantial character or plot development cause it to feel ultimately like filler. Any tension is undermined by crass humor, which  Fialkov uses to the point of excess. Furthermore, the issue's conclusion is overly violent and abrupt that should come with a warning for readers regarding potential whiplash injuries. These factors result in The Life After #9 becoming perhaps the weakest entry in the series, far from a bad thing given it's overall quality.
– Daniel Gehen
---
Kaptara #1
(Chip Zdarky / Kagan McLeod; Image Comics)
It's another New Comic Wednesday when comic fans all over eagerly await those hours of solace from the work week to sit down and enjoy our pull list. At the top of my review list this week is writer Chip Zdarky (Howard The Duck, Sex Criminals) and artist Kagan McLeod's KAPTARA.
Kaptara's story follows a team of scientists on the journey to Mars for (from what I picked up through the dialogue is) a terraforming excursion. In the usual Sci-Fi fashion, something unexpected happens to divert the charted mission and the crew gets separated after crashing onto an unknown world. In the first issue, readers don't get much characterization this side of crewmember, Keith Kagan, who's felt alienated during his life and volunteered for this mission as some sort of escape. From what I know of the writings of Zdarsky — and from what I have seen from McLeod — I can tell this series is going to go and do whatever the hell it wants. The art is all over the place with color, and reminded me of a 1980's VJ. McLeod brings the strange and unusual to the layouts that flow full of indescribable creatures. Overall, the debut issue isn't overly impressive but its a fun start to what could be a wonderfully absurd story.
– Taffeta Darling
---
Guardians Of The Galaxy & X-Men: The Black Vortex Omega #1
(Sam Humphries / Ed McGuinness; Marvel Comics)
So, most of the time I am not a big fan of crossovers. This is not one of those times. Of course I love Guardians and the X-Men on their own– but The Black Vortex has been a great way to mesh both worlds and pulverize us with a bit of a twist. After seeing author Sam Humphries (The Legendary Star-Lord) sport the "Prince" look at Wondercon, I was sorta shocked to read his version of Peter Quill. Yes, he still sounds as brashly authentic to the great DnA comics of past and everyone's favorite Marvel Studios film, but who isn't used to reading/watching those timely player antics of our Star-Lord?!??
It's nonetheless sweet seeing Peter in love and almost on a different track. If you haven't kept up with any of the recent Marvel "space" titles lately, I can tell you who he's in love with– but then you'll have to go back and read some Joss Wheden. Yes, Chris Platt is in love with Ellen Paige.. At least in the comic world. (I know what you're thinking; he's THAT good.) Either or, The Black Vortex Omega's defining moment was a great segway into another realm of possibilities between the worlds of both heroes. I am normally not a love story or rom-com kinda gal, but thus time I may make an exception!! Now, with Humphries looming Star-Lord & Kitty Pryde Secret Wars title, one won't have to just wonder what will happen after their happily ever after. Let's be honest; in comics, it will just have to be a Shakespearean adventure.
– Jennifer Flatebo
---
Drones #1
(Chris Lewis / Bruno Oliveira; IDW Publishing)
If you like ton of eroticism and violence in your comic diet then Drones #1 is for you. The writing sprinkles its plot with lots of sexual innuendos and violent fantasies.
Writer Chris Lewis uses juxtaposing locations: Afghanistan, a US "Chreech Air force Base" and a "Swords of Doom Training Camp", but doesn't allude to any connections between them or it's characters. It's hard to follow the first half of the comic until you realize that the story takes place in Las Vegas in a "Terrorism Theme Park on the strip". After reading the 23-pages, the sarcasm is finally apparent when the theme park is revealed.
I was frustrated and then realized Lewis had me right where he wanted; he is bringing awareness to a sick part of our society that longs for violence, destruction, death and pornography as a form of entertainment. You got me Chris. This Lady is just curious as to where the second can go from here…without turning this sickness into a further disease. I guess we'll have to see.
– Stephanie Panisello
---
Big Thunder Mountain Railroad #1 & 2
(Dennis Hopeless / Tigh Walker; Marvel Comics)
Waaaiiiitttttt! This is a Marvel comic?! Just noticed… guess it's taking me a while to get used to the fact that Disney and Marvel are now one. Should we expect Spider-Man to bounce off the Big Thunder Mountain next? Not quite. Even though I've read various Marvel comics, this is the first one I've read from the Disney Kingdoms line. Being the "Disney whore" that I am, this Sister prides herself in knowing the theme park like the palm of my hand (yes, I'm that crazy person who knows where the camera is placed on every ride). That being said, the Big Thunder Mountain ride is probably the only ride that still catches me by surprise as did the comic. Writer Dennis Hopeless (Avengers Arena,Cable & X-Force) does a great job at capturing the thrill of the ride in issue #1, introducing the all-adventurous Abigail Bullion, who just arrived at Rainbow Ridge (which is the western town around Big Thunder Mountain). Here, she will live with her father now that her mother has passed, eager to explore the town and learn more about her father's work at the mine. Despite her father's forewarnings of impending danger at the mine, this of course won't stop "Sister" Abigail  from exploring — alongside her horse, Jaggers — and getting herself into some trouble.
As much as I was enthralled with the miniseries' first ish, issue #2 is where the thrill and excitement really begins. Abbie is swept off her feet (literally!) inside the mine by Chandler, a very handsome (sorry Moods) miner in disguise. As Chandler describes it, the mountain's spirit only gets angrier the deeper they dig. Thankfully Abigail plays the heroine, not running away from.. but CHASING a group of gold-nabbing bandits. And despite putting herself in a tricky situation by the end of the comic, there's no doubt — with her capable brains and charm — she'll manage to find a way, you know, Indiana Jones-style. Abigail is a free-spirited, fun character, full of energy and life and readers will witness much more of that in this issue. Artist Tigh Walker ('76, Avengers Undercover: Going Native) does an amazing job at portraying exactly that. His style (which I would describe as very BOOM BOOM POW!) adds to the story's charm and excitement. His work is very detailed and full of big cinematic scenes, effortlessly bringing the story and characters to life. And just like the ride, Big Thunder Mountain Railroad is truly a fun adventure. So, jump on that locomotive and give this one a try; I promise you won't be disappointed!
– Bri Calderon