Singles Going Steady is Comics Bulletin's weekly single issue review roundup.
Nailbiter #1
(Joshua Williamson / Mike Henderson; Image Comics)
While listening to Josh Williamson talk about Nailbiter at Emerald City Comic Con in March, explaining his own mental road to its conception and his unique fascination with an unexplored side of serial killers, his excitement was clear and his hunger for this story was palpable.
Nailbiter #1 does exactly what a perfect first issue should do: throw the reader head first into the action, be it a literal action scene, or a terrifying scene, a dire situation, or a hugely grotesque moment (as in Nailbiter), then dial it back and use the rest of the issue to set the context for the rest of the series. In the first few pages we are introduced to the titular character, Edward "Nailbiter" Warren in the midst of what he does best—gnawing other people's nails down to the bone until they die. And then (the dial back I refer to)… we get a three years later.
With this time jump, we're sucked into a vortex of information and spit out on the other side with the knowledge we need to continue the comic with ease. Carroll, the officer who took down "Nailbiter", has been living in the serial killer's hometown of Buckaroo, Oregon ever since, with an obsession and a mission both revolving around the same fact: Buckaroo is the home to sixteen of the nation's most notorious serial killers. This is the town's dark history, distressing future, greatest secret, and most attractive draw all rolled into one. And now, after three years of obsessing, Carroll's possibly figured out how this phenomenon is possible. But then he goes missing.
Agent Finch, Carroll's best friend initially comes to Buckaroo to hear his friend out, but when he arrives to the mysterious vanishing of Carroll, he not only inherits Carroll's self-imposed job of discovering the town's secret, but he must team up with Nailbiter himself to find his friend.
On the surface it seems simple enough: weird small town, lots of serial killers, let's figure it out, bam, boom, done. But Williamson is so detailed in his fascination with serial killers, it's clear that Nailbiter is not going to be simple at all. For Williamson, exploring serial killers isn't about exploring the wreckage of evil but the nature of evil itself. It's about what makes a serial killer… not about what a serial killer makes. The concept is so detailed that you find yourself staring deep into each panel for moments just to make sure you haven't missed anything. Williamson and Henderson have indeed created something dark, psychological and stunning.
– Bree Ogden
---
Miles Morales: Ultimate Spider-Man #1
(Brian Michael Bendis / David Marquez; Marvel Comics)
When Marvel first introduced Miles Morales as the Spider-man to replace Peter Parker,
the internet exploded and many people showed their ugly sides. Since then things have
calmed down and the character has been fairly well received, playing an important role
in many of the Ultimate Universe's major events and persevering through the losses and
cataclysmic events that plague that particular imprint on a regular basis. When Marvel 616 (standard) Universe Galactus invaded the Ultimate Universe, people died and things got switched around. So here we are with the rebranded, all new, all older Miles Morales Ultimate Spider Man.
This issue opens with Norman Osborn (remember him?) drugged out of his mind, being transported from a now defunct S.H.I.E.L.D facility to a normal federal prison, all the while mumbling about the fiery deaths of all of those transporting him. Cut-to a warehouse in Brooklyn, where two men are transporting unknown cargo into a truck, only to be attacked by two agile, men with bug eyed masks and body suits (more clones?) who abscond with the truck full of goods.
We then jump again to Miles making out with his girlfriend Kate Bishop, who is not a superhero in this universe, in the stairwell. Here our eponymous hero grapples with the classic conundrum whether or not to tell Kate that he is indeed Spider-Man and that he'd just been galavanting around with the All-New Ultimates. There is also a brief conversation/ recap of Miles' father's disappearance.
Back to our friend Norman who hey what do you know has set fire to everyone transporting him — in the middle of a freeway no less. Later the big homie (Miles) hits up MJ for help on his Spider-Man/girlfriend dilemma and she gives him some sound advice right before the shocking ending — which I won't spoil like I did the rest of this comic.
I liked this first issue a lot and this is coming from a fan who didn't care for Miles in the beginning. Yes, it's dope to have a person of color starring in a comic, but his character was too unsure of himself for my taste. This older more mature Miles is very aware of how important he is to the city and most likely his world.
I am also happy that he's jaded and a bit angry. No, I'm not supporting the angry black man stereotype but I think that, just like Peter, Miles needed an edge to him. He needed something that helps him never forget that he must be vigilant, alert and sometimes a little fearless. I think his new-found anger is not only apt but will give him the push he needs to face what is to come, both as a team leader and a hero. The end-of-the-issue reveal was great, and I hope it's the real deal.
I loved the Spider-Men crossover. But part of me thinks this is a setup for Miles to finally step out of his predecessor's shadow.
– Ra'Chaun Rogers
---
The New 52 – Future's End #1
(Brian Azzarello / Keith Giffen / Dan Jurgens / Jeff Lemire / Keith Giffen / Patrick Zircher; DC Comics)
Batman Beyond, Terry McGinnis, has finally appeared in the New 52. But not exactly present day New 52. Futures End #1 is set five years into the future. Although gimmicky, this gives the book its own freedom to play around with without the restraints of the actual New 52 continuity. It works for the most part. Terry's mission to shut down Brother Eye is quickly revealed to be just a smaller part in a bigger mystery, In which Stormwatch will play a part. Its members are mainly comprised of those whose books have been canceled, namely Hawkman. For a change, it's nice to have a major event that's not relying solely on the Trinity. The best segment in the book, though, would have to be the Grifter segment which I just wished had tied in more with the overall story. The comic feels very disjointed as a whole, otherwise. Not much has changed with Firestorm, still arguing amongst themselves, but the ending is the high point of this book. No spoilers here, but eager to see the ramifications of what goes down on the last panel.
– Dana Keels
---
The Woods #1
(James Tynion IV / Michael Dialynas; BOOM! Studios)
James Tynion IV has come up quickly through the ranks at DC Comics writing various Batman titles, and I was first made aware of artist Michael Dialynas in the Dark Horse Presents shorts featuring "Amala's Blade". That said, I was really interested to see their new creator-owned project at BOOM! and it didn't disappoint.
Writing reviews is a funny business wherein some segment of the audience just wants the sound byte, while other readers will actually dive into what makes the story and art tick. For the first crew, let me give you this – The Woods is like dropping the cast of The Breakfast Club onto the island in Lost.
Good? OK, let me explain. The Woods works because it captures the high school drama, all the various personality archetypes that the audience can identify with, all of the uncertainty of that time in our lives, where we question our direction, as parents and school administrators are forcing us to focus on test scores, college applications, and choices of major, all while we're still trying to figure out who we are and what our grand purpose in life might be. Tynion and Dialynas' story takes that precarious period and quickly adds an engaging layer of mystery twinged with sci-fi. This seems to be a recurring narrative motif in the marketplace today. I'm fond of books like Brian Wood's The Massive or Joshua Hale Fialkov and Joe Infurnari's The Bunker, which take equally sound high concepts and marry them to these types of character dramas and present the characters with ideas that question their reality – situations which might unexpectedly provide an answer to the "what is my purpose in life?" question, all amid cinematic sci-fi threads. It's a great genre mash-up space to be in, and The Woods comes charging right out of the gate, wasting no time in an effort to claim its stake in the territory.
The story itself revolves around 437 Milwaukee high school students, 52 teachers, and 24 administrators (including one seemingly inept principal) being suddenly whisked away to another planet, moon, or dimension, we're not quite sure yet. The appearance of a strange monolithic object adds a chilling sense of the foreign to the space they occupy on the edge of the titular woods. Dialynas' art works particularly well because his lines feel consequential, they are hefty and durable, aided by thick ink and rich color laid on top, an aesthetic result which gives the sense that the kids are able to stand up to whatever is going to be thrown at them. Thematically, my favorite part of this is really the sociology that pervades the proceedings. I mean, look at literature like Lord of The Flies. You stick a bunch of kids in a "closed room" and look at what happens.
When I was in college getting my undergrad degree in Criminal Justice Administration in order to work in federal law enforcement, I decided to minor in Behavioral Science. At the time, this was a mix of cultural anthropology, psychology, and sociology, and one of my favorite classes ever was about culture and personality, taught by Dr. Jan English-Lueck. It was about how your culture of origin shapes your personality and how that might in turn influence your ability to commit crime. Reading The Woods, I had a flashback to a paper I wrote about the Chinese educational system. One item that I always found interesting was that teachers were trained NOT to step in and break up verbal conflicts and minor physical confrontations among students. They wanted students to resolve conflicts on their own. The group should develop an internal mech
anism to resolve issues, an ability to govern itself without a formal authority figure stepping in (like that inept principal). They wanted a leader to emerge and to avoid something dubbed "The Missing Hero Complex" in society.
I see that thread in The Woods as characters' strengths and weaknesses start to emerge, and the story identifies the alpha members of the group and the more passive followers. I think this is going to be good, so come for the sci-fi hook of the premise, but stay for the interpersonal dynamics that form a thrilling high-stakes drama.
– Justin Giampaoli
---
Cyclops #1
(Greg Rucka / Russell Dauterman; Marvel Comics)
What do you get when you take a 16-year old Cyclops, drop him into the present, and then send him into space with his long lost father?
An incredible start to a very promising story.
Greg Rucka (Batwoman, Lazarus) handles scripting duties and Russell Dauterman (Nightwing, Supurbia) lays down the art. Having previously seen his future self and the not-so-nice man he's become, one can only imagine the internal strife that young Cyclops is facing. With the revelation that his father, Corsair, isn't actually dead, but instead has been raiding the stars — as space pirates tend to do — it'd be ridiculous not to join in on his swashbuckling adventures.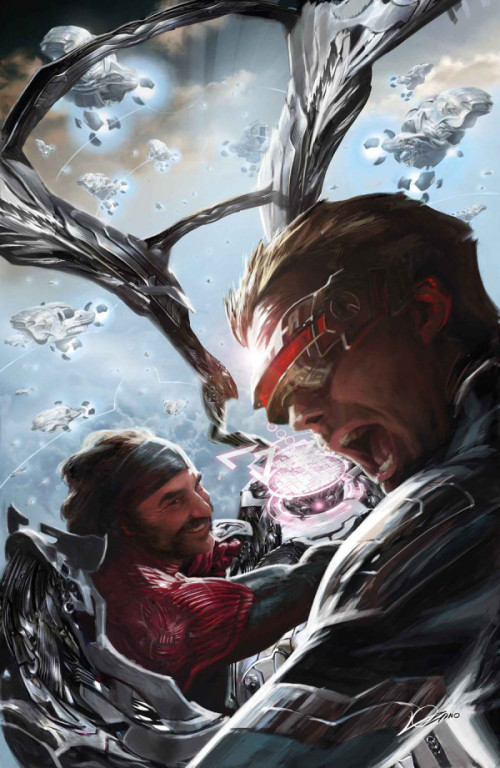 Once in space, this Demon Deacon really got the feeling that this book could go anywhere, and Thank God it goes into all the right territories so far. The main focus seems to be on Cyclops and Corsair's relationship so far, with the Starjammers filling out the necessary supporting roles. The comic also takes on a coming of age tone, with young Cyclops playing the part of the wide-eyed youth in awe of his mentor, in this case his very own father. Rucka's situation is certainly an interesting one.
Having felt like he let down Scott in the past, the brash privateer sees this as his chance to make things right with a second chance. It reminded me a lot of Treasure Planet, or even A New Hope. How might Corsair's presence in Scott's life alter the timeline and even alter the man his kid will even become? Expect at least minor repercussions in the future.
The only fault had with this issue is that a good deal of it feels like set-up, more introductory than substantial. Nonetheless, the end of issue #1 left me optimistic about the future of this series! Rucka does a great job of keeping the pace strong and Dauterman's art is simply gorgeous.
Wherever Cyclops goes from here, I'm down for the ride.
– Dana Keels
---
Revenge #3
(Jonathan Ross / Ian Churchill; Image)
This ain't high literature but it still might get you high.
Sometimes it's OK to indulge in guilty pleasures, and that's what I keep telling myself as I spin through Revenge by Ross and Churchill. The hyper violent vengeance tale lacks subtly and nuance, choosing to go in more outrageous directions to provide entertainment and it succeeds in capturing attention in the same way a highway car accident does.
Main character Griffin Franks, an aging actor who built his career on jerk-wad behavior, receives brutal torture administered by his young fiancée and her accomplices. Through deceit and subterfuge they succeed in stealing the old guy's face and scheme to defraud from his small fortune. The plan goes awry when Griffin escapes and tries to claim his life back using pain and cocaine induced fury to fuel him to his goal.
Issue #3 focuses on moving from torture chamber to Hollywood, which to Ross might be one and the same. Griffin, with a Doberman's face sewn onto his skull, kills many people as he makes his way from Mexico to California to find his fiancée, Candy, and her boyfriend, the guy who is currently masquerading as the cult movie actor. There's nothing sizzling about the plot although it does some employ moving parts outside of core action, mainly focusing on Griffin's ex-wives and estranged children. What I enjoy about this series are the unpredictable details, from horned midgets to fiery plane crashes paired with coyote attacks. It's one of the zanier things I've read this year and it's built in a way that never pokes at its madness.
Jonathan Ross would never be able to pull off a story of this caliber without Ian Churchill. The end. The artist brings unspeakable amounts of legitimacy to the comic, from vividly nightmarish page layouts to depicting the gore in a sickeningly fascinating way. Revenge stores by their nature are often pretty bare-bones, and that's the case here, but the look and execution keep me interested.
The basic requirement of a comic book is to get the reader to keep turning pages and Revenge hits that criteria. Though not groundbreaking it's not a bad buy if you're looking for a relentless and fun story about bloody retribution.
– Jamil Scalese
---
Original Sin #1
(Jason Aaron / Mike Deodato Jr.; Marvel Comics)
Oh boy, another big Marvel event is upon us. But that's okay, because this one attempts to shake things up quite a bit. The Watcher is dead, shot, and his eyes have been taken (and, strangely, not by Dr. Dre either, Kenny SuperKick). Again — and here's the line-wide theme of this week's Fistful — there's a good deal of set up and it may be hard for the uninitiated to keep up with the plethora of characters in this book. It plays out like a murde
r mystery, with a lot of characters' identities left a mystery. Let's just hope for a bit of clarity as the book moves forward, seeing how very convoluted it could get. Nonetheless, scribe Jason Aaron (Thor: God of Thunder) has a great mystery going forward, with super solid Mike (Secret Avengers) Deodato art. Lest we not forget White Fury, Jr.
– Dana Keels
Chaos #1
(Tim Seeley / Mirka Andolfo; Dynamite)
Now, you'll have to forgive me, I have little to no knowledge on the Chaos universe, so I read this book with completely new eyes. Thankfully scribe Tim Seeley (Hack/Slash, Batman Eternal) does a great job at introducing everyone and giving a great idea of what their characters are about. Horror comics usually aren't my bag, but I could get into this one. Above all else, the book has a fun tone, gore, gore and funny gore. Which is only made better by the art from Mirka Andolfo (Fanboys vs. Zombies), perfectly balancing the humor and horror. Whether you're a fan of the genre or not, this is an issue you should seek and bite onto at your LCS.
– Dana Keels