Singles Going Steady 8/26/2014: Jumping into the Multiversity
Singles Going Steady is Comics Bulletin's weekly single issue review roundup. 
The Multiversity #1
(Grant Morrison / Ivan Reis /Joe Prado; DC Comics)
To say this is my most anticipated comic of 2014 would be an understatement.
I've been waiting for this day — for Barack O'Supes and his Cosmic Cronies — since 2008, exactly the same time I returned to the world of comics. Grant Morrison (Batman Inc.) has tripped me out countless times since, but that image of a fallen Batman slumped over into Clark's arms will never be forgotten.
Sure, there was a huge split of critical and fan reaction from Final Crisis; many even going so far as to quit comics altogether because of it. Maybe it was the 3D-rendered covers, or the 100 different Supermen that inhabited that event; or the countless tie-ins (many of which were good, including one that spawned the concept of the Red Lanterns and Blackest Night).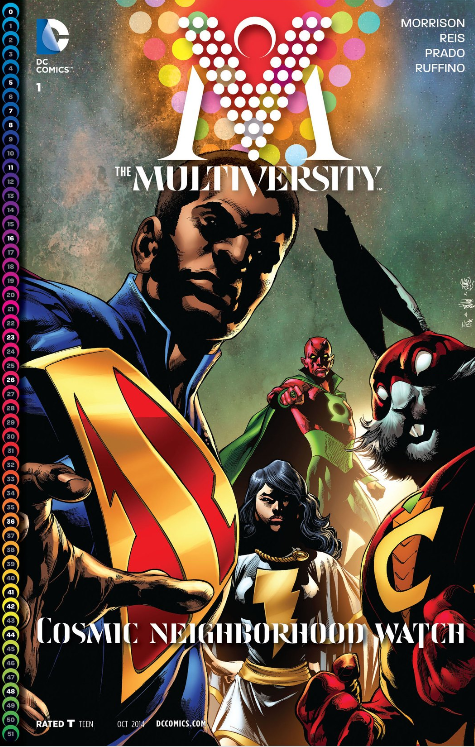 Thankfully for those giving Morrison a "second chance," things aren't so serious this time around. OK, so they are; but the dire circumstance of a god's final sacrifice in this comic is often trumped by the names of these "heroes" alone. Thought the Guardians of the Galaxy were a bunch of ragtag "A-holes"? Try these cats on for size: President Superman. Aquawoman. Red Racer. Spore. Captain Carrot. Thunderer. Sava.. *cough-cough* Dino-Cop.

God. Damn. Dino. Cop.

Right on the first page, Morrison greets geeeeeeeeeks with a warm and welcome fourth wall, motifs (comics are drugs; so let's get HIGH!), and instant Crisis connections (Ultima Thule, etc. etc.). A comic reader plays the role of.. well.. anyone and everyone who mentions how much a brainfuck Morrison's comics are to read– YES, YOU ARE THE LAST MONITOR (definition: "a lost race of godlike super-beings with powers and abilities above ALL imagination!"). Or maybe Grant is. Either way, the tongue-and-cheek tone plays right on the first page, which is typically the writer's ploy to get you on his side (i.e. Yes, my comics are trippy; but they are for YOU).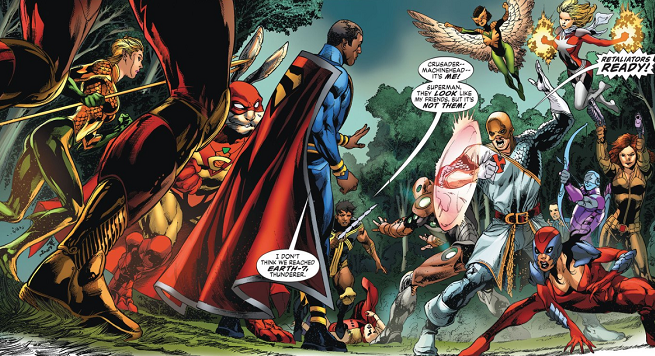 With Multiversity, Morrison isn't afraid to toy around with the Marv.. ahem Major Universe either. Our Monithero and his squeemish pirate monkey explore an Earth-7 destroyed by disabled physics and snapped reality. After discovering the crying rage of an all-too Asgardian Aborigine — The Mighty Thunderer – Uotan & Stubbs (sounding like a cool Valiant Comic) stumble upon further and further comic pastiche. All You Need is Ultron. The barren big city decay, stoic superheroism, and disturbing Lovecraftian demigods of artists Ivan Reis (Aquaman), Joe Prado (Brightest Day) and Nei Ruffino (Green Lantern Corps) can even compare to the COIE work of the legendary George Perez. This Earth-7, no matter how dark and desperate the detail implies, is an Earth we never want to leave.

Earth-23 is DC Comics, or perhaps more apropros, Barack O'Kent, at his most All-Star. There's gotta be a reason for the #23, correct? *Chi-town. Fadeaway jumper. Swish. Jordan! * Our more straight-forward, far less whimsical tale swiftly turns into a single page-by-page 5-minute hangout, once our President Super-Obaman discovers a furry new friend — perhaps the highlight character of the comic — and BLEEDSPACE: A high volume concept in the tradition of Hypertime, last seen in Superman Beyond. This "pan-dimensional room with a view!" is a fluid, fifth-dimensional earth that serves as its watchtower.

With Brainiac searching around the 52-Earth parameter as this particular Supes' Jarvis mobile phone app, can you say MultiLATVARse Tower of Babel?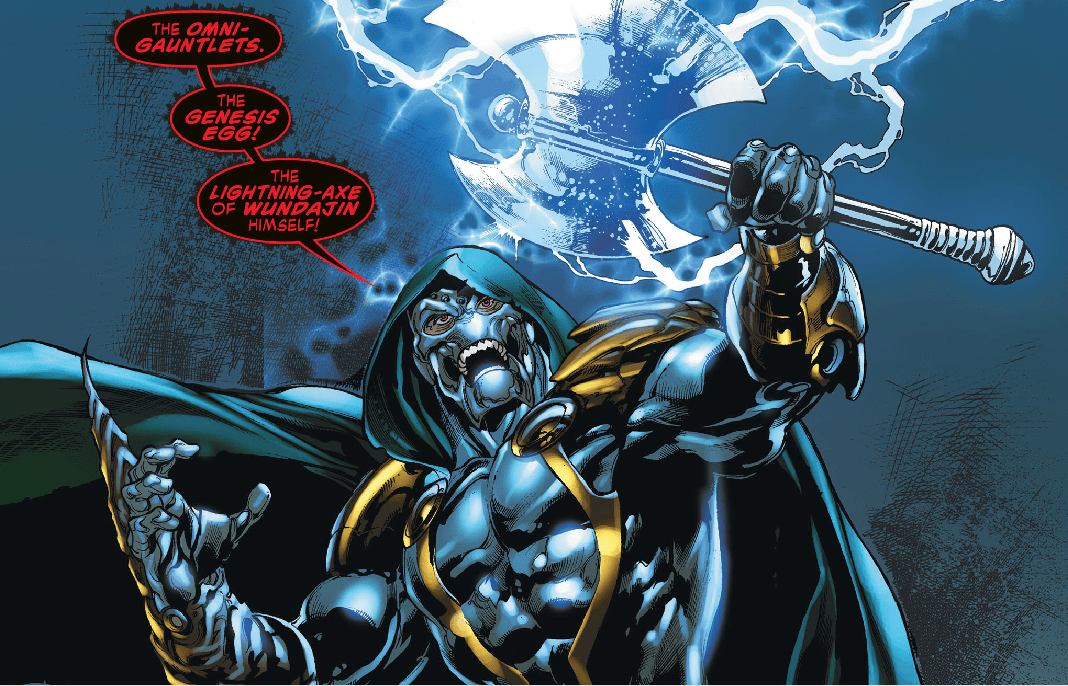 Speaking of "Cosmic Destroyers", Morrison also isn't afraid to show a diversity among his heroes that hasn't been witnessed since Milestone Comics. Most of the Earth-2/7/9/11/23/26/36/46 Justice League is either gay or black or bunny; it's a world that was created before Falcon America and She-Thor; it's a gentrified world (Hi, Brother Eye Bat Monster Thing, "Gentry"!) that keeps referring to comic books; it winks at the reader; slaps the reader; hugs them; then begs to take seriously. Even their airship is made of frozen music, nearly the right type of metatextual artifact for such a metasexual world.

Stay in tune with the rest of the fresh debut of The Multiversity, and I can promise you'll be vibing right along to a very Marvelous Earth-8 — and one ass-kicker of an ending.

– Travis Moody
---
Storm #2
(Greg Pak / Victor Ibáñez; Marvel Comics)
Lately, I've realized that books with female characters as leads are among the comics I look forward to reading most weekly. Marvel's Storm is – without question — foremost among these. We're only two issues in, and her stories continue to demonstrate strength and depth.
This story starts with Storm and Wolverine enjoying their lunch at a restaurant, in the meat packing district of New York City. The two have been a couple for some time now,…weird, right? But, it kinda works and I must admit, I think I like it. If Marvel wasn't wussing out with the typical "Let's kill of a character to boost sales," B.S., it would be cool to see where this relationship goes.
Anyway, Storm and Wolverine exchange concerns for one another regarding Wolvie recently losing his healing factor and Storm's near-coup in a foreign country. The two share a dance after Storm picks a song on the juke box, which is quickly stifled by the proprietor behind the counter. Before saying their goodbyes, they share two kisses, both of which are aggressively initiated by Storm,…and Wolvie walks away with a big ol' smile, clearly loving it.
Storm then stumbles upon a missing poster for a girl named Angie, and decides to try and help find her. It's funny, because Storm's inner monologue explains that she's not a cop and that finding missing people isn't her job. But, that's the dichotomy of Storm; she's a powerful Mutant and a mighty warrior, but also the tenderest of souls.
Eventually, Storm finds Angie living in the tunnels under New York with Callisto. Initially, she believes Callisto has kidnapped the girl, but finds that not to be the case after receiving a thorough tongue lashing from Angie, for attacking Callisto and extensively damaging their home. Once Storm realizes she's reacted hastily, she helps in the cleanup and seemingly mends fences with Callisto. In the end, Storm and Wolverine reunite and the two walk hand-in-hand down a Manhattan street.
This issue shows done-in-ones are not only possible, but can be great! Though the focus of this main character is an amazing black woman, I believe this book can be enjoyed by people of all colors, nationalities, ages, and both genders.
– Norrin Powell
---
Trees #4
(Warren Ellis /Jason Howard; Image Comics)
Warren Ellis and Jason Howard continue to stand strong with the newest issue of Trees. If you are a fan of Ellis, you will not be surprised by how well plotted out this story is. If you're familiar with his work you could never look at the cover and know that this was written by him because of how in depth his characters are, how they grow, and the constant mystery of how all of these seemingly unrelated characters are going to come together.
When I first started reading some of his work, a friend of mine told me that Ellis is a big picture kind of guy and that by the end of the book you're going to think, "Ohhhhhh, now it makes sense." Trees is no different.
In this issue we start to see some pieces falling into place, especially in terms of character development. Trees tends to focus on roughly five or so main characters depending on the physical location within the story (like I said, big picture). This issue brings us to Shu, a city built under one of the trees that landed in China. It's a big city full of people and districts and so forth. Tian is an artist from the country who moved to Shu to better himself as an artist. He's been reclusive, never even going to the art school he's joined. So, his friend Zhen decides to take him out to see the city, this is where we learn that Zhen is transgendered. Pages 4-6 are vital not only to his character, but to comics and our society, bringing up (and accepting) topics that many people don't want to talk about. Big Strides, big picture.
This is probably a good time to mention how fantastic Howard's art is. It's sort of odd because it's somewhat minimalist, yet busy at the same time. I think what I find most remarkable is how well he captures the city of Shu. The city is crowded and cramped, industrial, yet a bit slum-like. Pages 8 and 10 show a great perspective of how truly massive the city is…and then there's the tree, standing eerily high above such a great city with no end in sight.
We're also let into Marsh's character more in this issue. It's been hinted at in previous issues that he is reluctant to go back home, implying he's a bit of a workaholic, but we learn that the plant samples he's found have wires in them and he truly believes in his work and that his work is meaningful, the thing he is afraid of losing – value and meaning.
Remember the big picture? Check out the last page. Hint: Go reread issue #2 and don't stop. This book is big and with a team like Ellis and Howard, are you surprised?
– Michael Bettendorf
---
The Strain: The Night Eternal #1
(David Lapham / Mike Huddleston / Dan Jackson; Dark Horse Comics)
So far, The Strain TV show on FX is only halfway through the first season. But, of course, our lovely Monsignor assigns me an issue explaining how The Master has taken over all of New York and is now ruling over us puny humans. Well damn ***Spoiler Alert!*** I'm into it, though.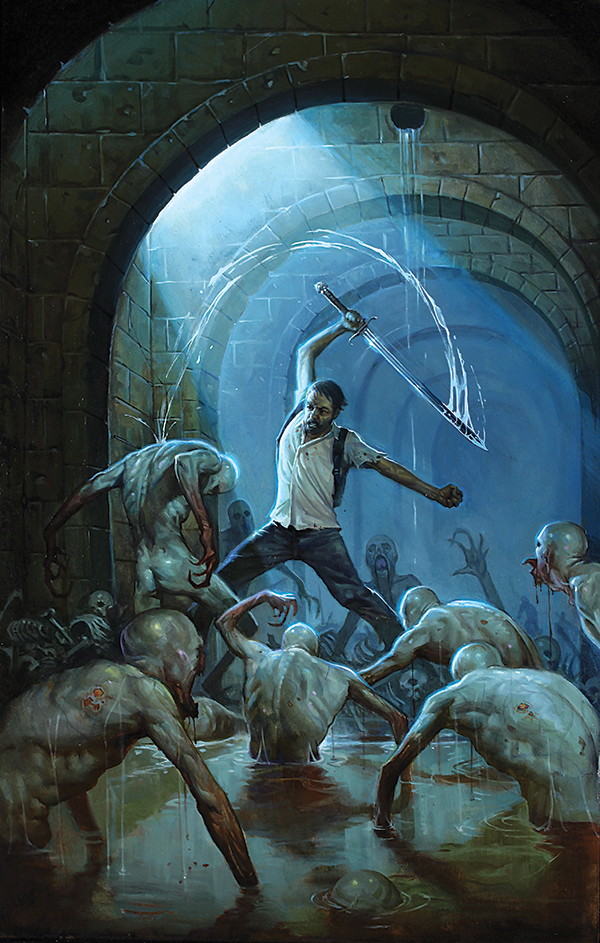 Now we're just walking feeding-stations for the Strigoi. Many of the characters are still here from the TV show (Vasiliy, Nora, Eph) which gave me an instant familiarity and sucked me right in to the story. Guillermo del Toro and Chuck Hogan still have story credit, while comic adaptor David Lapham (Stray Bullets) delves further into the history and a touch of origin of The Master. My only personal gripe? I'm just not into the art of Mike Huddleston (Harley Quinn). Sure his style fits with the dark and grit of the show, but it's a little messy — perhaps even flat — for my taste. And, hey… so much for sneak previews. I nearly forgot what it was like to have to wait a month once that last panel was finished. For this particular Strain, I guess that's a good thing!
– Derek Vigeant
---
Justice Inc. #1
(Michael Uslan / Giovanni Timpano; Dynamite)
If you're reading this, there's a reasonable chance that Michael Uslan is your hero, whether you know it or not. In 1979, Uslan — writer, producer and lifelong comics fan — purchased from DC the film rights to Batman with an eye on restoring the dark seriousness cast off by the 60s TV series, and here we all are. Uslan's entire career – from Burton and Nolan's Batman series, to DC's 70′s run of The Shadow, to teaching the first-ever college course on comic folklore (thanks, Wikipedia!) – draws the figure of a man tied tightly to comics' earliest roots, which makes him the ideal candidate to bring dime-novel legends The Shadow, Doc Savage, and The Avenger (no relation) together in Dynamite's outstanding pulp throwback Justice, Inc. #1. Past and present collide — conceptually and textually — in Uslan's story, which has present-or-slightly-future-day soldier/spy/science guy Doc Savage accidentally creating a rift in time that zaps a passenger airplane back to 1939. This sends Doc on a rescue mission back in time, where he comes to grips with The Shadow, and nearly rubs elbows with Richard Benson, on his way to the tragic origin story that will make him the Avenger.
With no shortage of fun retcon-history riffs on the market (Five Fists of Science, etc.), Uslan's romp boasts distinctive cameos from Einstein, Enrico Fermi, H.G. Wells, and Howard Hughes, while the art by Giovanni Timpano (a veteran on Dynamite's The Shadow) deftly pivots from close-up tension to grand-scale super-science, all with vintage verve. With this much pop history being mashed up, I'm sure there are loads of mythology-nods I'm missing (though Uslan helpfully annotates some of his more obscure references), but a story of this density that's still light on its feet makes me want to study up in time for issue #2.

– Alex Gradet
---
Sensation Comics #1
(Gail Simone / Ethan Van Sciver; DC Comics)
"Gothamazon", Parts 1 and 2 — from former Wonder Woman scribe Gail Simone — is a quick read with some ass-kicking Girl Power from beginning to perfectly-round rear end. While Wonder Woman battles with her biggest weakness for humanity in a fight against a super team of all of Gotham's super villains, she truly is a woman doing a man's job and looks damn good doing it.
Ethan (Green Lantern) Van Sciver's artwork does justice to the DC justice league famous femme herself, and I hope to see more novels published with different heroes facing more atypical foes. Overall, I'd rate this digital double-shot a step below perfect for slightly confusing my sexuality with the perfect drawing of Ta-Tas. Let's just say… Her lasso isn't the only thing that might get you to tell the truth.
– Jackie Henley
---
The Fade Out #1
(Ed Brubaker / Elizabeth Breitweiser / Sean Phillips; Image Comics)
The creative team who brought us Incognito, Scene of the Crime, and of course, Fatale is back with The Fade Out. The moment I saw a poster of blood stained typewriter at my local comic book shop, I knew this was a must read.
The first page is a dossier of sorts, with photos and brief captions about six of the stories main characters. Screenwriter, actor/womanizer, starlet, drunk and so on. It's enough to let the reader know what story they're about to step into. Off the bat the story sparks curiosity with a solid black panel with the caption: "The Wild Party" followed by a disheveled man in a bathtub in a house that isn't his.
Much of the story is told by great narration (I'll get to that later) that guides us through Charlie's blackout from the previous night of Hollywood debauchery. It's told in pieces, as little things start to remind him of the night. Little things like lipstick and a smile. That smile belongs to a woman named Valeria Sommers, our up-and-coming starlet according to the dossier. As Charlie is remembering clips and phrases of his night – fights, taking his drunk friend home, and so forth he eventually stumbles upon Valeria's dead body. Strangled. A faded star before she could even shine.
The remainder of the story focuses on Charlie covering his tracks and trying to remember the rest of the night. We catch glimpses of other characters involved like the publicity gal, Dotty, the film's director and the head of security. We find out there is a cover up in the works, revealed by the police report. We also learn that Charlie might have more to do with this than he had originally thought…now if only he could remember…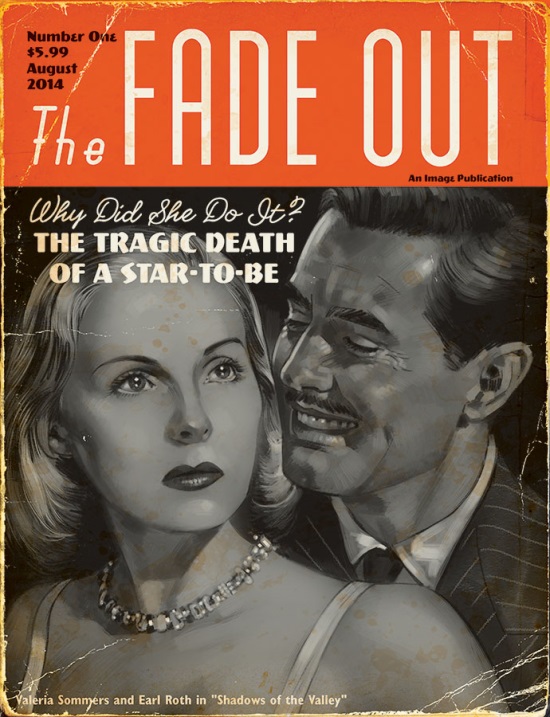 So, the narration.
The narration is much like the gritty, noir stories of the 1940s and '50s. Brubaker captures the tone so well with the language, what was considered socially acceptable for the time, touching on racism and sexism while Phillips does a fantastic job throwing us into 1940s Hollywood with the fashion, the hairstyles, the fact everybody smokes. He paints a wonderful portrait of Charlie's frustration and worry.
Breitweiser, who has helped color much of Fatale, has chosen the perfect palette for this book. Dramatic scenes are often dark with characters in the shadows. Lights, lipstick, eyes and cigarettes pop off the page with purpose and once again, capture the mood with perfection.
This story is entangled with drama and mystery, something perfectly fitted for Hollywood.
-Michael Bettendorf
---
The Delinquents #1
(James Asmus / Fred Van Lente / Kano; Valiant)
Valiant Comics teams up its two buddy books – Archer & Armstrong and Quantum & Woody – and pits them against each other in a race across the U.S. to find the fabled 'Hobo Treasure.'
"Seems like a weird premise," I can hear some of you say. Well, what if I told you Q&W, trying their luck at bounty hunting, have those services engaged by the (presumably evil) genetics firm, Mondostano, to track the clues to said treasure on a half-a-tattooed butt-map, whilst, unbeknownst to them, the other half is in Armstrong's knapsack of keepsakes? Still not convinced? OK, well, I tried to help. I really did.
What Fred Van Lente (Incredible Hercules, Power Man & Iron Fist) and James Asmus (Thief of Thieves) have cooked up here is so good, I don't know why any other comics bothered releasing themselves this week.
The back-and-forth between squabbling adoptive brothers, Quantumand Woody, has the lightning-fast pace of a Howard Hawks-era screwball comedy, but the modern tone of a Kevin Smith film. The Archer & Armstrong portion of the book doesn't fail to disappoint either, with pie-theft, a drunk dog, and a bar fight, not to mention Armstrong's understanding of hobo hieroglyphics, which will no-doubt come in handy. Newcomer artist, Kano (Immortal Iron Fist), ably and boldly fleshes out this ludicrous tale with eye-catching panels and cartoonish comedic timing; his lines are reminiscent of Vertigo alumni, Richard Case (Doom Patrol), and the muted color palette and inking bringing to mind David Aja's stellar work on Hawkeye.
Once again, Valiant seems to be gleefully reminding everyone why comics are fun, and what made them so popular in the first place. If you only buy one comic this week, make it this one, because that's what I'm doing and I'd really like more people to talk to in life. Thank you in advance.
– Luke Anderson
---
Batman & Robin #34
(Peter J. Tomasi / Patrick Gleason / Mick Gray; DC Comics)
I love this book,…I just love it! In one issue, it basically cancels out the Batman storyline, "Death of the Family," a story which dragged out over FAR too many titles and issues, delivering a lackluster ending, Batman and Robin #34 negates in a single book and story. Kudos, Peter Tomasi and Patrick Gleason! Kudos!
This issue starts with Bruce/Batman gathering his Bat-Family in the Batcave  — all but Dick, who's still presumed dead. Alfred, Barbara/Batgirl, Jason Todd/Red Hood, and Tim Drake/Red Robin all come together to receive an apology of sorts. Bruce openly accepts blame for the rift between he and his three younger teammates, due to keeping secret that the Joker may've infiltrated the Batcave, and learned their secret identities. Bruce promises going forward there will be no more secrets,…"nothing gets held back"; which is interesting, because he doesn't bother to tell them that Dick is still alive, and, unbeknownst to the others, is hiding in the shadows of the cave at that very moment.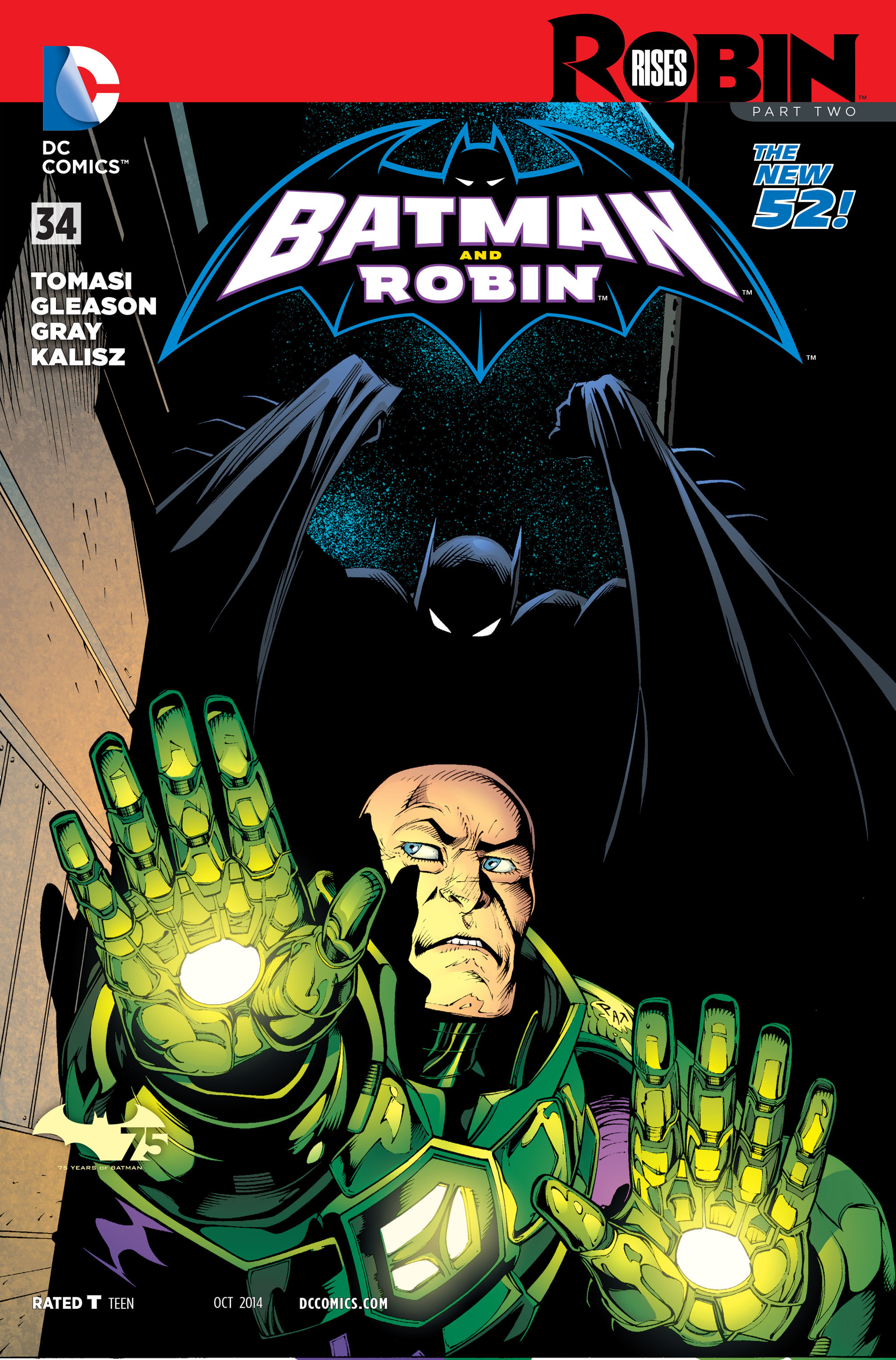 Bruce explains to his family that he's going to Apokolips to retrieve Damian, or at least his grave-robbed body, which was taken by Parademons from Ra's Al Ghul. Bruce lets his trusted family know that Gotham is in their care while he's gone. The others protest, insisting they should go too. But, Bruce is adamant that they all stay behind, and that he's unwilling to risk their lives for this likely "suicide mission".
Once the three leave, Dick pops out of the shadows and offers to go with Bruce to Apokolips. However, Bruce again declines, letting Dick know that if he doesn't return, Dick should once again take up the cape and cowl of Batman. Dick promises that there'll always be a Batman in Gotham, and then provides a distraction so Wonder Woman, Aquaman, Cyborg, and Shazam will not take note of Bruce leaving the planet. However, Lex Luther, one of the newest Justice League members, does take note. He decides to help Bruce escape, because in his words, they're both "two incredibly rich mere mortal boys playing dress up". Bruce then opens the Boomtube, and wearing his menacing black Bat-armor, walks through and comes out flying over Apokolips.
This "Robin Rises" storyline has been fantastic so far, and I can't wait to see its finale! Will Bruce recover Damian? Will Damian be alive when he's found? Tune in next month,…same Bat-time,…same Bat-channel!
– Norrin Powell
---
Little Nemo's Return To Slumberland #1
(Eric Shanower / Gabriel Rodriguez; IDW)
Little Nemo: Return to Slumberland is the most adorable story you'll ever read… about child-abduction.
The plot is basic: the young Princess of Slumberland needs a playmate, but she only wants unfortunately named, Nemo. So then, the entire book is about Nemo going to Slumberland, whether he wants to.
Or not.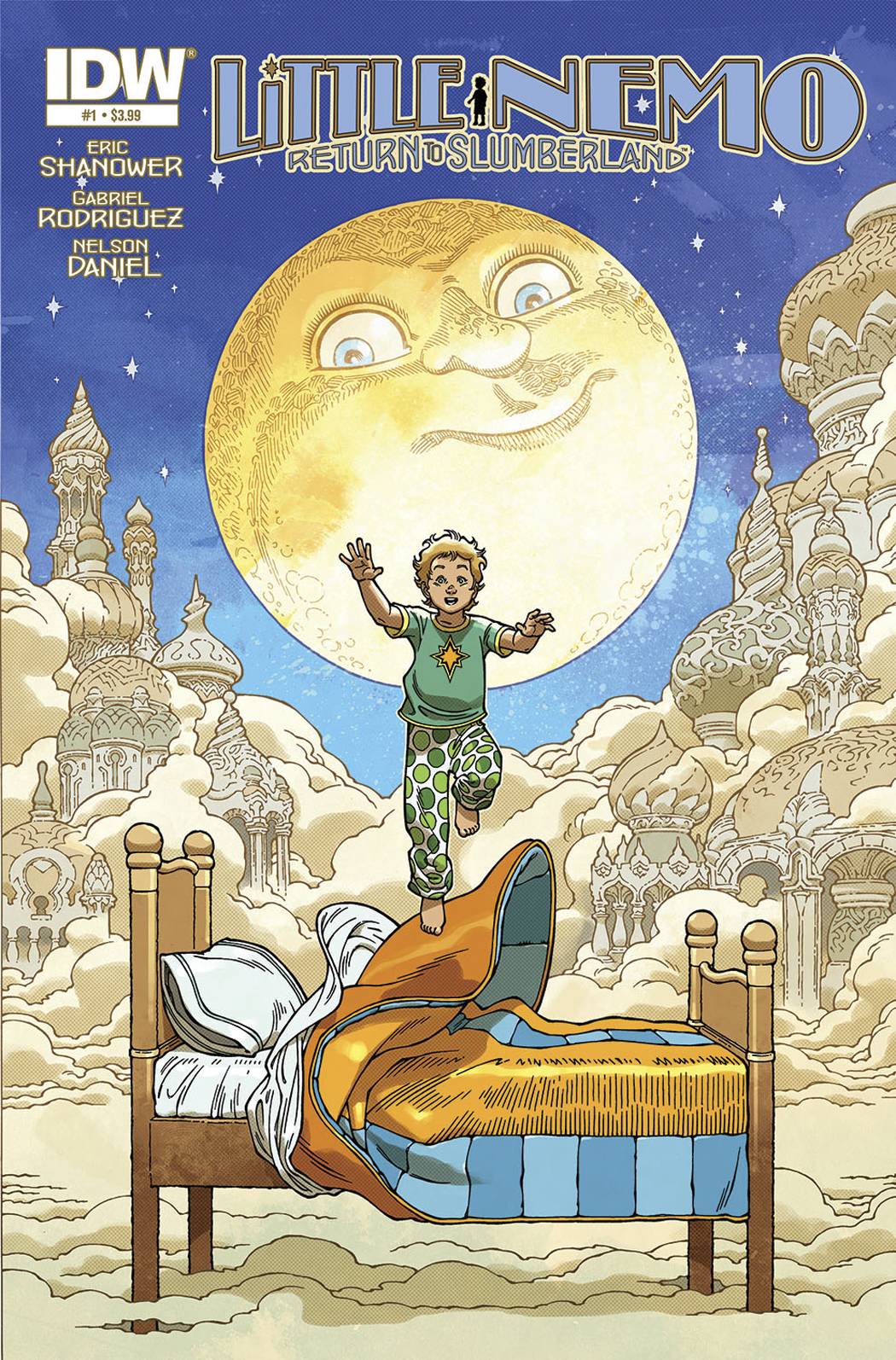 Joking aside, Gabriel Rodriguez's (Locke & Key) art is meticulous and beautiful here. His grasp on perspective is phenomenal, and every page looks like it took months to draw. It takes several read-throughs to really appreciate the architecture and design of the ever-changing world of 'Slumberland,' but it helps that writer Eric Shanower's (Oz series, Age of Bronze) story mirrors the original narrative well, with all the same dated dialogue, when characters exclaim every thought that crosses their mind with all the gusto of a hammy thespian. That may sound like a jab at Shan's writing, but for the whimsical, surreal atmosphere of this all-ages book, it's a breath of fresh, nostalgia-filled air.
This will be a great gateway book to get a young audience into the kind of comics that aren't all murder and mayhem. And it's also great for older audiences who may remember, or were even fans of, the original, which came out literally the same year Einstein published E=mc2 (No joke! 1905! Seriously! Look it up!). The only drawback is that it could fall short with the gaping demographic between those two groups. Definitely a niche comic.
– Gabe Carrasco