Singles Going Steady is Comics Bulletin's weekly review roundup. With the lead up to the underwhelming ComicCon@Home, there were some great comics released, and some perplexing ones.
Amazing Spider-Man: Sins Rising Prelude #1
Marvel
(w) Nick Spencer (a) Guillermo Sana (c) Jordie Bellaire
There's a good chance that subscribers didn't end up with this in their local shop's pull box, as Marvel decided to go with a one-shot approach to kick off the latest arc of Amazing Spider-Man. Joined by Guillermo Sana and Jordie Bellaire, Nick Spencer revives the Sin Eater – the villain from one of the most important Spider-Man tales of all time, "The Death of Jean DeWolff." Bringing back such a grounded character via supernatural means is a bold choice, and how it plays out has yet to be seen, but the issue itself is well executed and competently put together.
The art in particular by Sana and Bellaire is a major reason why this issue works well. Sana uses thick inks to give the Sin Eater's visions a grounded appearance, with moments of lunacy sprinkled in. Meanwhile, Bellaire uses a wide range of colors that makes sequences appear appropriately vibrant or grimy. Together, they do a great job in giving this book an otherworldly feel – which makes for seamless splicing in of artwork from the original Jean DeWolff story by Rich Buckler. 
Sins Rising Prelude is a competently put together book, but it's existence asks the question "why?" Why add a supernatural element to one of Spidey's most grounded enemies? Why resurrect him at all, when there are plenty of living enemies that could serve a similar purpose? Why couldn't this have been part of the regular Amazing Spider-Man book and simply not decompress the narrative so much? Like most of Spencer's run, this one-shot issue is just okay.
Usagi Yojimbo #10
IDW Publishing
(w/a/l) Stan Sakai (c) Tom Luth
It is often said that lettering is a part of comics that is only noticed when done poorly. Given that there's an Eisner award that recognizes excellence in lettering, that notion is demonstrably false. This is especially the case given that Stan Sakai's work in his long running, creator-owned Usagi Yojimbo was just recently granted said Eisner this past weekend during ComicCon@Home. And, per usual, the latest issue of Usagi Yojimbo is a masterclass in comics craftsmanship.
The lettering work by Sakai is crucial to the success of Usagi Yojimbo. Text and dialogue are perfectly positioned to give the reader smooth, sound pacing from the first page to the last. Because Sakai is taking on the job of writing, drawing, and lettering the issue, he is able to find the exact positions that word balloons need to be in order for readers to follow the artwork and script smoothly. Often, comics will have words bolded for emphasis in spots that do not make sense, but that is not the case here. Every word choice, every punctuation, and every text position is done with purpose.
Usagi Yojimbo #10 sees Miyamoto Usagi once more travel to a new village and at once is met with a new challenge. While Usagi is often considered an outsider or stranger due to his roaming nature, Sakai uses the class structure of Feudal Japan to make his protagonist the victim of discrimination, while also providing commentary on how inequalities make the marginalized act in desperation. There is so much to unpack within the span of a single issue, yet Sakai manages to effortlessly address them all.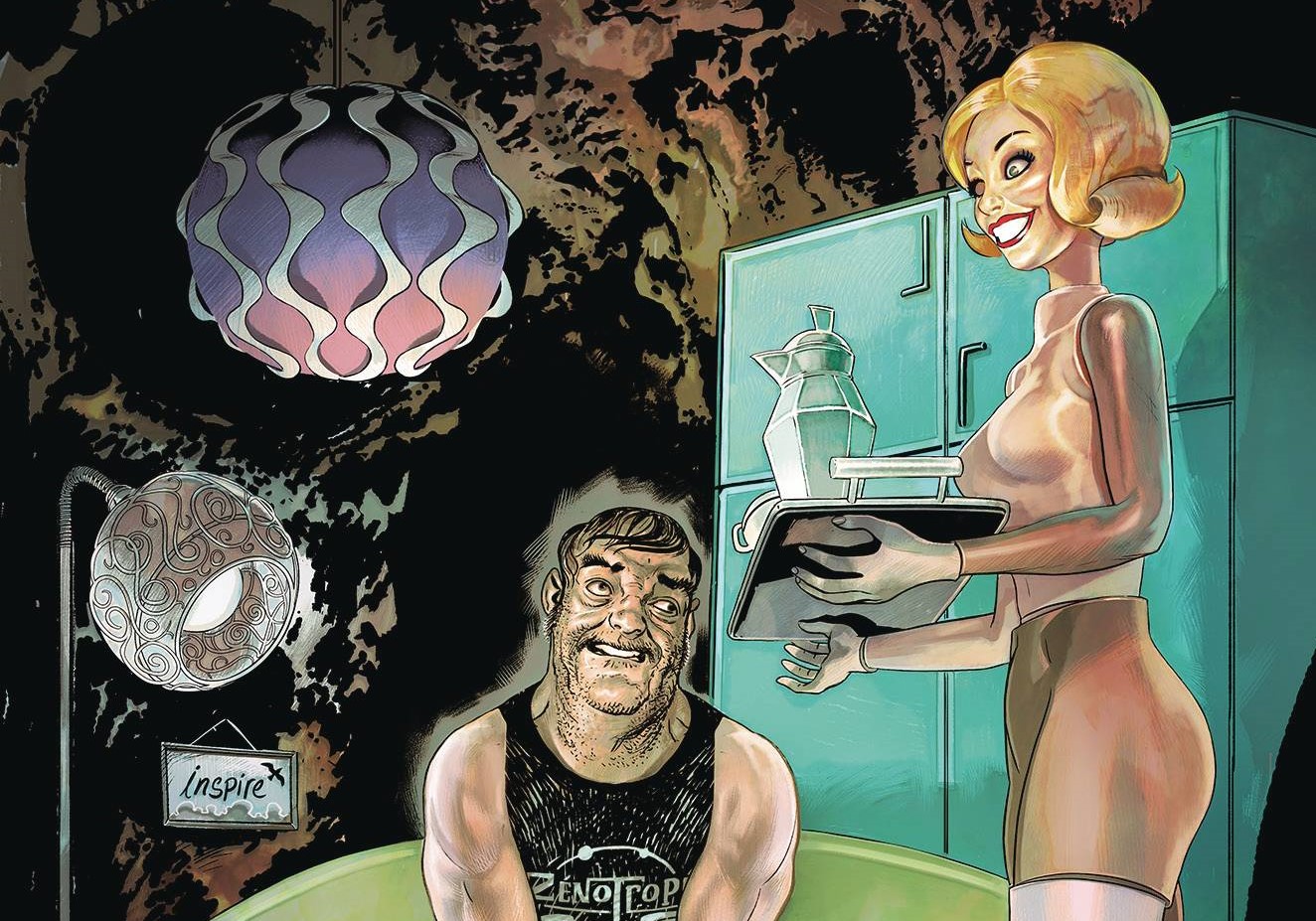 Billionaire Island #3
Ahoy Comics
(w) Mark Russell (a) Steve Pugh (c) Chris Chuckry
From the first page of Billionaire Island #3, Mark Russell and Steve Pugh take aim at the right-wing manipulation of the world, specifically the belief that the ultra-wealthy are good for the world. While Russell has always written books as political satire, Billionaire Island seems to be the most overt in its criticisms. There's an interrogation in which the powerful try to justify their exploitative behavior, and their prisoner counters with how terrible the ultra-wealthy are. 
Russell's script makes valid points, which are wonderfully brought to life by Steve Pugh and Chris Chuckry. Unfortunately, there is nothing new brought to the table. It's well written, smart and funny, with lively art. Yet it's ultimately a depressing read because it argues that nothing can be done to fix things. The rich get to run the world as they see fit, suck up all its resources, and suffer no consequences while everyone else struggles through life until the day they die. Even worse, regular people don't want to deal with anything that may inconvenience them in the name of making the world a better place, not unlike those that claim wearing masks during a global pandemic is just too darn hard.
Maybe that's the whole point of Billionaire Island, to make readers upset. But when we are constantly bombarded by various media about how upsetting the world is, this issue just throws another log onto the fire. At this point, it'd just be nice to open our eyes to a way that helps put the fire out instead of fanning the flames a little more.