What would make a perfect Thor story for you? For me, there are a few things that are requirements for a tale of the Thunder God that rises above the normal.
First and foremost, it needs great art, and Russell Dauterman's art in this book is wonderful, with a wonderful neo-classical feel for the mythical that, when combined with Matthew Wilson's empathetic colors, gives this story the feeling of a myth playing out on the printed page.
A great Thor story also needs great, outlandish elements. The opening scenes of this issue help to deliver that, with attack sharks – a brilliantly stupid concept – decimated by Frost Giants – a brilliantly mythical concept – as they protect an undersea base that looks just like the one in the always fun Sealab. The comic goes on to deliver one mythical element after the next – demons and gods and talk of rainbow bridges and an appearance by the boastful Volstagg – and becomes a virtual seminar into making the world of Asgard come alive.
A great Thor story needs big personalities, and this has that as well. Malekith the Accursed is deliciously evil, a self-centered diva who only cares for herself. And the joy of the arguments between Odin and Freyja are never ending – they may be gods but they still bicker like a married couple, worried about their son who's going through an existential crisis.
The enigma at the center of this new incarnation of Thor is, of course, the problems that our God of Thunder is having, and how those problems will lead to the new female Thor. What did Nick Fury whisper to our hero and why did they crush him? And why is it true that "There must always be a Thor"?
I've never read Jason Aaron's Thor but I'm on board now. And I would have been onboard if there was a female Goddes of Thunder or not. This is a solid Marvel Comic.
– Jason Sacks
---
Thor #1 is the culmination of what I want to call one of the biggest mistakes in Marvels recent history. The decision to return to the shock events popular in the '90s, such as the death of Superman or the replacement of Batman, was a mistake then and it's a mistake now.  I think Marvel is attempting to prove that their characters can be replaced, meaning that actors can be replaced, meaning there will never be a Robert Downey Jr. Avengers paycheck ever again.  (RDJ reportedly made 50 million)
I want to give this series a chance, but I fear it's doomed for failure. Visually Thor#1 is excellent. The artistry of Russell Dauterman and the coloring of Matthew Wilson is quite spectacular.  But the storyline is disappointing.  Thor losing Mjolnir is a big deal, but what Jason Aaron has done is made Thor into a character that was only as powerful as his weapon.  The loss of Mjolnir seems to have broken the character, which is really a shame.  The portrayal of the Norse gods and the treatment of women is not good.  Odin speaks to his queen like she is a lesser being, which is not how Vikings were known to treat their women.  While men did rule, women were still shown great respect.  I understand that the concept is to introduce a strong female character but I really disliked the fact that to do so they have taken away from other strong females.
I'm certain Thor #1 will sell well, even though the new female version of Thor doesn't show until the final page. The concept is interesting, the artwork is excellent and the potential is there for a good story.  But I'm coming right out and saying that it's going to fail.  If Marvel wants to create another new universe to tell these stories I would understand, but taking Captain America and Thor away will only prove again that Steve Rogers IS Captain America, and that Thor is a Male.  I want strong female characters and I support them. There is no point at all to this concept, except for shock and awe and to make a few dollars.
– Kristopher Reavely
---
Almost two years ago Marvel replaced one of its most popular characters with an atypical stand-in, a risky switch that started with the fall of a beloved hero and the rise of a brand new status-quo.
Superior Spider-Man surprised the crap out of me, and everyone else, not only in concept, but in execution. Marvel took notice, and straight up pulled the same move three times over with makeover first issues for the three core members of their increasingly important Avengers franchise. First up is Thor #1 by Aaron and Dauterman, a title that has received a lot of press for its female protagonist, the new deity of thunder and kicking Frost Giant ass. The woman in question picks up Mjolnir by issue's end, but doesn't feature much in this introductory issue. (Or does she?… Hmmm.)
Things don't exactly spring to a beautiful start in Thor #1 but it's a fine continuation of what Jason Aaron has done with the character (now known as) Odinson and his vast Nordic-inspired mythology the past three years. I recently came across a half dozen or so issues of Thor: God of Thunder in the bargain bin and I found that the writer made The Nine (Ten?) Realms very accessible and surprisingly delectable.
I first read Russell Dauterman's art in Boom!'s Superbia and I remember not being very impressed at all. A few years later and I'm smiling at his improvement. Much like his collaborator he presents a very digestible effort. His linework balances the majesty of Asgardians with the absurdity of superheroes. The action sequence in the last third of the book has a little too much going on to give the visuals all high marks, but it's a very good start as a whole.
The comic successfully sets up a new era for mantle of Thor by sufficiently delivering its emotional, humor and action beats. Although a bit coy about the identity of the new lead character there's a lot of promise to the pieces put in place. If you're still mad about this title just remember how wrong you were about the Superior Spider-Man. I'm banking on this comic being great, give it a chance.
-Jamil Scalese
---
Throughout Jason Aaron's run on Thor: God of Thunder, the esteemed Marvel writer has been blessed with some top-tier artists. To the Scalped scribe's credit, however, Aaron adjusted his writing style to set the stage for the likes of Esad Ribic ("The God Butcher"), Bob Guice ("Godbomb"), etc. This All-NewThor now sees the likes of Russell Dauterman (Nightwing, Cyclops), whose classic stylings may IN FACT be the perfect art for the realm of Asgard and beyond.
But, let's get serious here; you're reading this because you want to know about the female Thor!
Unfortunately, I don't have any answers for you just yet. The goldilocked warrior woman appears on the cover, and, not surprisingly, on the last page. But, as usual with Marvel, it's all about the Journey Into Mystery, since most reveals with the powerhouse comic publisher are hinted months in advance. And– you don't judge Marvel for surprises anymore; you judge them for execution.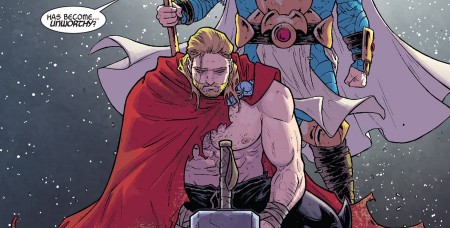 Dauterman, to his credit, is this issue's excellence of execution. His nifty linework captures the frustration of the All-Father and the Odinson — when that frackin' Mjolnir just won't budge — in a pair of ways, both comical and exhaustingly unworthy. Despite how dire the situation is, Aaron never stops writing funny (Odin, Freya and those magpies are just too much), and Matthew Wilson uses just enough pretty pastels to compliment Dauterman's over-the-top storybook fantasy. Just check the opening pages of a Norwegian Sea plagued with Frost Giants, for example.
After one issue, Dauterman appears to be the right man for the right job. But is the new Thor the right woman? Stay tuned.
– Travis Moody
---
Pleasantly surprised. That's the shortest description of my thoughts on Thor #1. I didn't want to like this book and there are still aspects of it I object to but by the time I was finished I found myself wanting to already have the next issue.
Replacing a comic's main character personally strikes me as cheap attention-grabbing. Instead of coming up with new stories and great writing for a character, just do an easy switch up for a temporary boost in sales. They did it with Captain America and switching Bucky in as the new Cap a few years ago…. and come to think of they're doing it again with Cap now but switching Falcon in. And to make matters worse we get yet another bloody relaunch with a new #1 issue. At this point Marvel's numbering and renumbering is such a mess it's ridiculous.
Nonetheless as I read through the book it won me over. While the premise of switching out Thor for a new female version seemed poor to me I am happy to say that this issue worked on multiple levels for me.
The first part that deserves mentioning was the art. Simply fantastic. I could feel the strain of Thor pulling on Mjolnir in my own body, with how well Dauterman drew it: whole body heaving, arms stressed and veins bulged.
Overall the writing was also effective at hooking me in. Aaron gave his readers 2 mysteries that make this issue interesting and are going to bring me back for issue #2: Who is this new woman who is worthy to pick up Mjolnir when Thor and even Odin are not; and what was it that was whispered to Thor that destroyed his own worthiness. But ultimately whether either of these is any good will depend on the eventual payoff.
There are problems with the issue that you have to overlook to enjoy. The two main ones for me is that I don't buy that Odin himself was unable to pick up Mjolnir when it was his enchantment in the first place. There better be a darn good explanation for this at some point or it will be very lazy writing. It being Aaron, I expect an eventual explanation. The second problem is that without his hammer Thor gets nerfed this issue. That I hate. Weapon or not, Thor is and always has been a beast of a warrior.
Overall though it was a worthwhile read. I recommend it and hope for some better explanations to come.
– Bill Janzen