Comics Bulletin's Dan Gehen and Jason Jeffords Jr. both had strong opinions on Wonder Twins #2 from DC, so it's time to put one in the chamber for a new installment of Sunday Slugfest.
Gehen: I'm pretty sure we both loved this issue, is that a fair assessment?
Jeffords: Here's my hot take: It's f*cking wonderful!
Gehen: We swear here Jason, so let your fucks fly free.
So here's the thing, comics have always been a place where creators can provide commentary on world events, and arguably no one does better than Mark Russell. He did it with Prez, The Flintstones, and Exit Stage Left: The Snagglepuss Chronicles. Now, he's doing it with Wonder Twins, turning a punchline property into a critical darling (see: our rating at the bottom of this post).
With each series, he has used sharp wit to take down flailing societal institutions. Using Zan and Jayna as our proxies, Wonder Twins provides an insightful look into the United States' justice system – including the controversial topic of for-profit prisons – to great effect. What'd you think about this approach?
Jeffords: I really like how Russell expands upon the twins relationships showing Jayna's questioning personality by asking the hard questions on the justice system, and Zan's devil may care attitude who is just along for the ride. This is hilariously done by Jayna asking multiple hard questions and getting kicked out of a prison tour, then my favorite example of her asking heroes what they do with captured villains, and getting a great response from Beast Boy. Russell's commentary on the U.S. justice system is great and brings about multiple problems to the readers eye, but as great as that is I would have to say his introduction of a new villain league is even better. We are treated to The League of Annoyance who may have two of my new favorite obscure villains being The Scrambler and Baron Nightblood (Drunkula).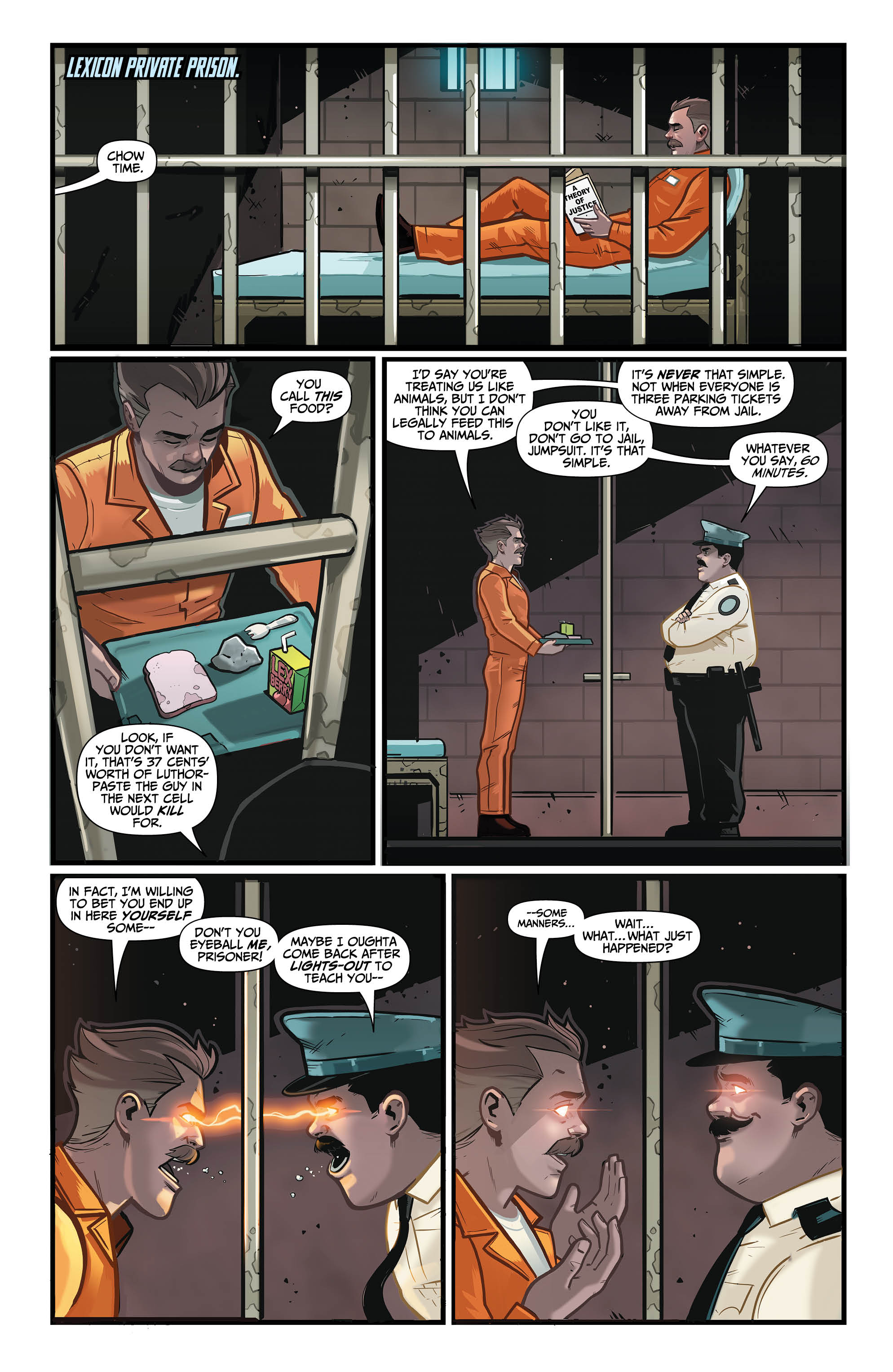 Gehen: I want to get to the League of Annoyance in a bit, but just to follow-up on this justice system commentary,  Russell leans into much of the criticisms that have risen over recent years. The concept of for-profit prisons has become more controversial over time, and Russell gets to the point by having the one featured in this issue owned by Lex Luthor (or at least, his company). He also touches on the idea of rehabilitating inmates, and how corporate prisons skirt around such requirements. Of course, it's presented in a humorous manner, but it doesn't make this any less of a legitimate criticism of how society currently handles inmates. Of course, it's the job of the artist to convey many of these ideas that aren't explicitly in the dialogue, and Stephen Byrne does a stellar job.
Jeffords: With Stephen Byrne returning on art, I feel the same I did with issue one – loving it for giving me a "Saturday morning cartoon" feeling. I have to give props for the costumes in this issue with my favorite going to The Scrambler with his overeasy egg logo and Praying Mantis with his funny yet iconic design. I feel stupid typing this out loud, but I realized in this issue the twins wear their initials as their superhero logo.
I don't know about you Daniel but I would love a Baron Nightblood mini-series or a League of Annoyance mini-series.
Gehen: The League of Annoyance was such a great touch. I'm not sure any of them could carry a book or even miniseries, but I do want more of them. While on the surface, it's straight-up hilarious, it also is a way of calling out internet trolls. The idea that there are people out there who relish in annoying others, and turning them into straight-up villains made me giddy. And the roster of characters that make up this "league" is a who's who of winners. I might need to check, but these all feel like original characters. If not, kudos to Russell for some deep cuts. <Editors Note: They are original characters. Deep cut kudos revoked.>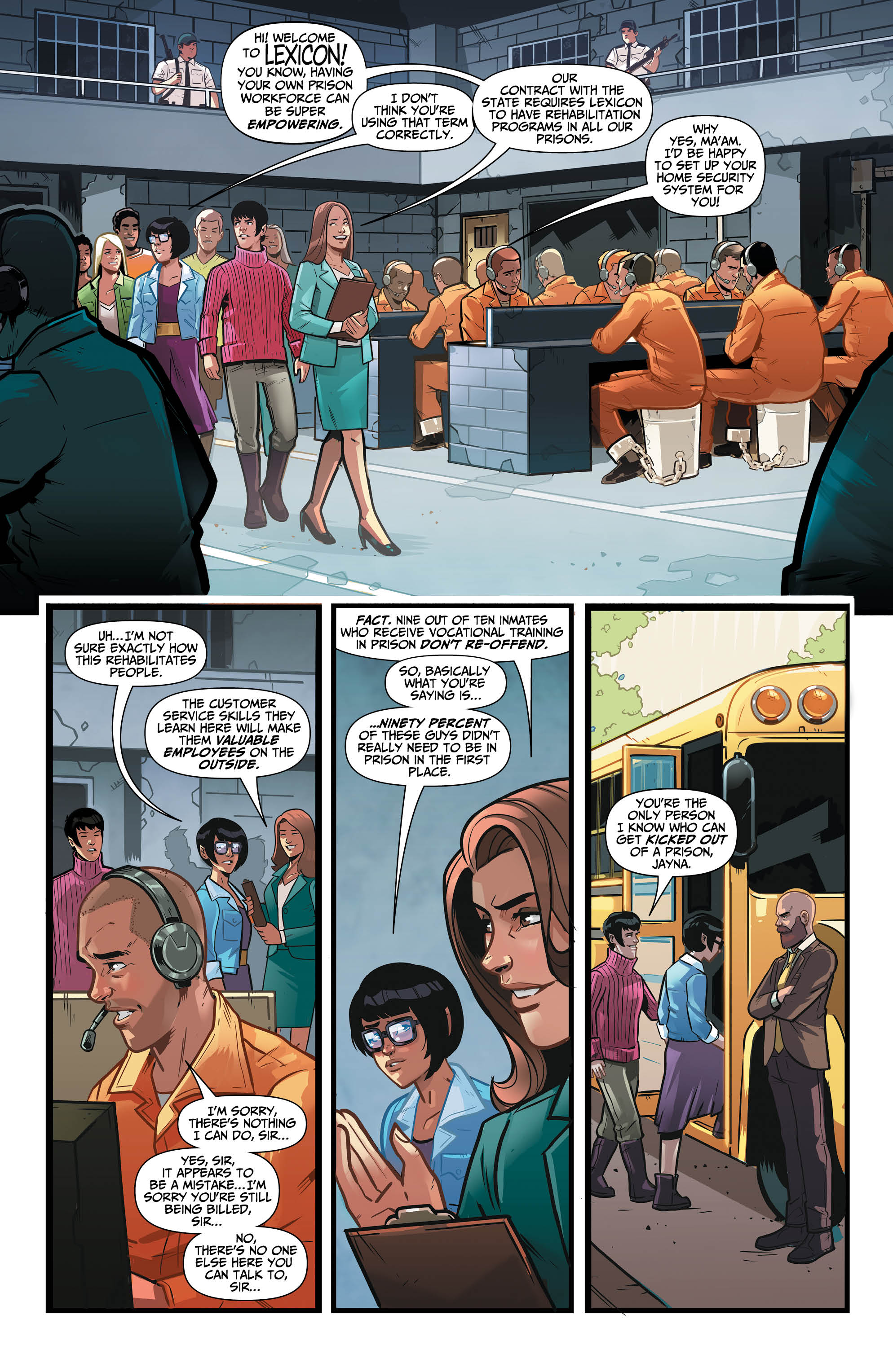 Jeffords: I agree with the League being a way to "call out the internet trolls", as you put it, because Baron Nightblood's original plan is to troll the Justice League on social media so they have no time or energy to fight them. To me that's stupidly hilarious and on the nose. Another part that stood out that seemed different from other cape comics was the Twins fighting Nightblood. On one hand, Zan's new fight move was comedic gold, but as he fights the villain, Nightblood talks about how he didn't even want to be there. By the end he goes as far to say that heroes don't want villains to do better, or in his words, "go straight", because as the Baron also states, "…you wouldn't know what to do with yourselves!". Baron is then defeated by Jayna and as he is losing consciousness asks just to be left alone, with Zan replying in discontent, "That was sort of messed up.", and by the end of the fight you start to feel bad for the vampire that just wanted to be sober.
All of these elements just shows how Mark Russell does a fantastic job of bringing real problems to the reader while not forcing it down your throat, being subtle sometimes, but also making it humorous enough that you need to stop and think about it. It's a smart way to bring up problems, and can be easily executed horribly but within the second issue of Wonder Twins, it has been handled so well. Plus it brings up the constant violence that heroes seem to love to engage in and always go straight to the fight sometimes forgetting that some villains are human, or just doing this because they got suckered in or need the extra money.
Gehen: We are definitely seeing a trend of anti-violence in superhero books, where the main way of problem-solving traditionally involves fists connecting with faces. Maybe not so much in books like Batman, where the protagonist is a rich guy who spends his free time beating up the mentally ill, but you're seeing this a lot in DC books thanks to creators with strong voices, such as G. Willow Wilson, Joshua Williamson, and yes, Mark Russell. Wonder Twins #2 challenges readers to think about the actions superheroes take – and by extension – the justice system. Because superhero books often deal in broad strokes and limited pages, there isn't much room for nuance – let alone proposing solutions. However, Russell and Byrne at the very least can get the conversation started.
Sunday Slugfest: Wonder Twins #2