Editor's Note: We here at Comics Bulletin mourn the passing of the great Muhammad Ali. Ali has a fascinating connection to comic books. Not only was he a super-hero in the eyes of many of us, but he also starred in one of the most unlikely comic books of all time. In this excerpt from the TwoMorrows publication The American Comic Book Chronicles: the 1970s, former CB editor-in-chief Keith Dallas tells the story of Superman vs. Muhammad Ali.
---
The Superman vs. Muhammad Ali tabloid (cover date March 1978) was a project that had been in the works almost as long as the Superman movie.  In 1976, Muhammad Ali's boxing promoter, Don King, paid a visit to DC's offices in Manhattan.  Impressed with the amount of media attention the Superman vs. The Amazing Spider-Man tabloid had received, King proposed the publication of a comic book in which the most famous super-hero in the world enters the boxing ring against the Heavyweight Champion of the World.  It was a proposal that Kahn eagerly accepted.
By the mid-1970s, Muhammad Ali was more than just the best boxer in the world; he was a controversial cultural icon, a signifier of America's racial relations.  In Kahn's own words, "Ali was a folk hero of iconic proportions.  He'd sacrificed nearly four years of his best boxing years in defiance of the the draft and the Vietnam War, and for all his brashness and bravado, he was considered a man of principle and an outspoken symbol of the struggle of black Americans.  A Superman/Ali matchup would have to take into account who Muhammad Ali was as much outside the ring as in it."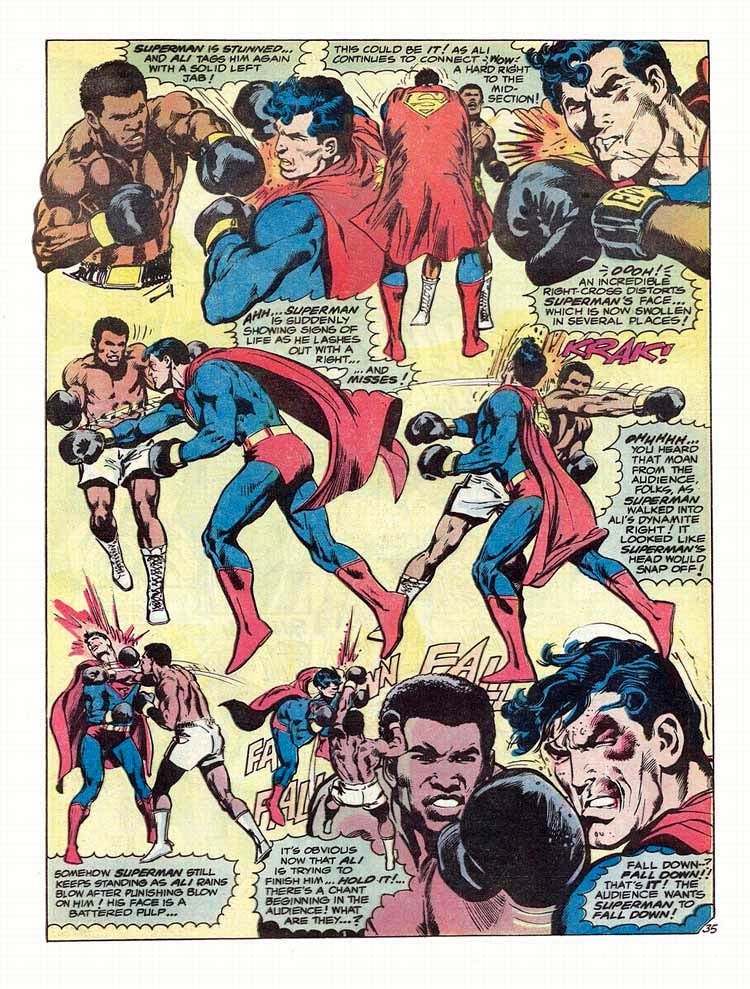 Kahn tapped Julius Schwartz to edit the project who in turn assigned Joe Kubert to draw the book.  Kubert produced a wrap-around cover of Superman and Ali squaring off in the boxing ring with a raucous crowd cheering them on.  Unfortunately, Ali's representatives—which reportedly included Ali's religious mentor, the leader of the Nation of Islam, Elijah Muhammad—weren't happy with how Kubert depicted their client.  They requested a different artist.
Looking for someone who could provide more naturalistic portrayals, Schwartz turned to Neal Adams.  As Adams explained years later, the project had a unique appeal, "When Julie mentioned [Superman vs. Muhammad Ali] to me, he'd expected me to laugh—and I guess I did—but it tickled my fancy to take something that seemed so insane and actually turn it into a story."  Adams re-drew the wraparound cover but kept Kubert's design.  "I didn't want any contributions that Joe had made to be wasted," Adams explained.  That sentiment didn't apply to the generic crowd that Kubert provided on the cover, though.  In its place, Adams substituted something more notable: lots and lots of easily recognizable famous people from all facets of society.  As Adams saw it, "If you're gonna have this fight between Superman and Muhammad Ali, aren't celebrities going to come, just like in a regular fight?"  Every figure that appears on the cover—over 170 in total—represents a real-life politician (like Presidents Jimmy Carter and Gerald Ford), cultural figure (like artist Andy Warhol and popular singers Cher, Sonny Bono, and Frank Sinatra) or comic book industry professional (like Bill Gaines, Jenette Kahn, and Julius Schwartz).  Also included are other DC Comics characters like Batman and Plastic Man as well as Superman's creators, Jerry Siegel and Joe Shuster.
Prior to the book's publication, however, Jenette Kahn learned that, legally, DC couldn't print a cover that showed all these famous people.  According to Kahn, the celebrities' appearance on the cover could be considered to be "aiding in the sale of the book."  Consequently, Kahn had to travel across the country to meet with all the people Adams drew and obtain their permission to be shown on the cover.  Predictably, some people refused to grant permission.  Their likeness then had to be either replaced or disguised, and Adams was tasked with creating all the patches.  Among other changes, Adams turned actor George C. Scott into novelist Kurt Vonnegut and gave John Wayne a mustache so he couldn't be recognized.  While in retrospect Adams may have regretted drawing so many celebrities ("Dumbest idea I ever had.  It was a whole lot of extra work"), he nonetheless created one of the most iconic covers of the decade, if not of all comic book history.
As for the story itself, Denny O'Neil began scripting it but had to stop due to his workload.  (In 1977, O'Neil was not only scripting Green Lantern and Richard Dragon but also functioning as a DC editor on such titles as The Brave and the Bold, Superboy and the Legion of Super-Heroes, Wonder Woman, and World's Finest, among others.)  Adams readily took matters into his own hands and finished what O'Neil had started.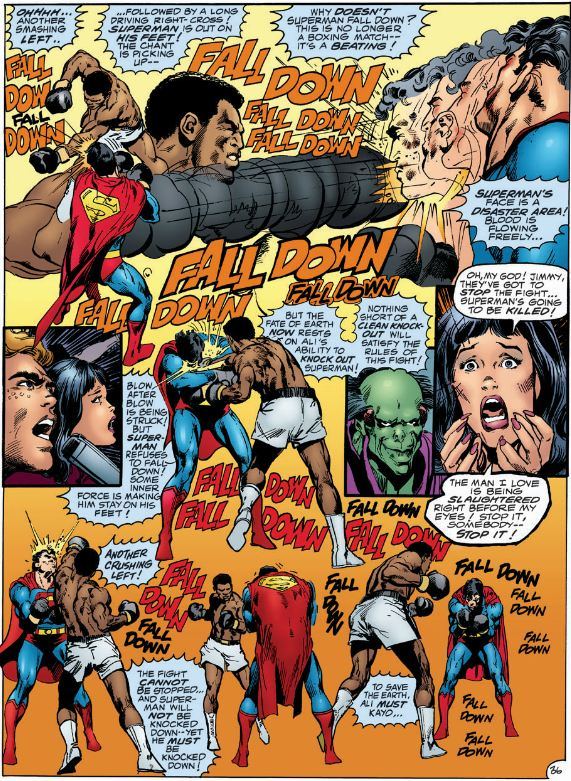 In Superman vs. Muhammad Ali, a menacing alien race, the Scrubb, comes to Earth to demand that its greatest champion fight the Scrubb's mightiest warrior or else Earth will be destroyed by the Scrubb armada.  Both Ali and Superman volunteer to act as Earth's representative, and the Scrubb leader decides the two must first fight each other to determine who will be Earth's champion.  Brought to an alien world, Ali decisively pummels Superman, whose powers are robbed by the proximity of the nearby red sun.  Ali must now confront Hun'Ya, a towering Scrubb warrior.  While Ali and Hun'Ya engage in a pitched brawl, a recovered Superman infiltrates the Scrubb command ship and sabotages the alien armada.  Just as he predicted before the fight, Ali knocks out Hun'Ya in the fourth round.  Outraged, the Scrubb leader orders Earth's destruction, but he is deposed by Hun'Ya, who feels his former leader has acted dishonorably.  Earth is saved, and the book ends with Muhammad Ali shaking Superman's hand, declaring, "Superman, we are the greatest!"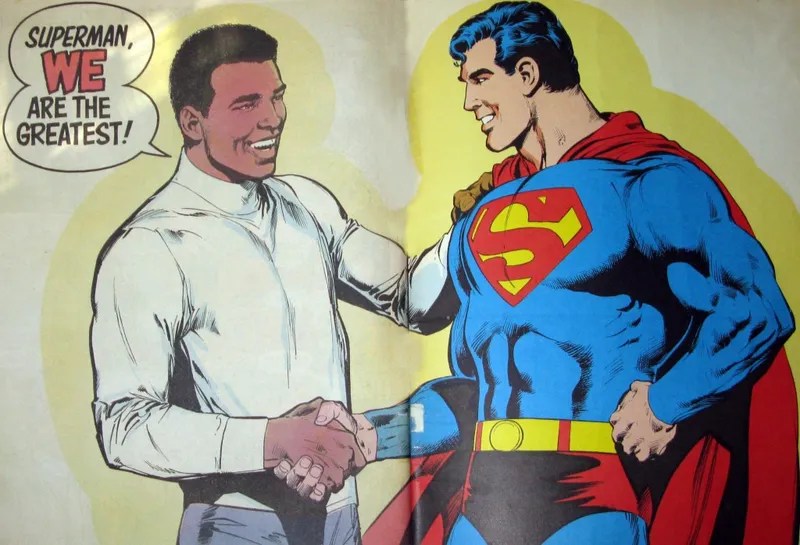 Neal Adams was aided in his efforts by two of his Continuity Studios' colleagues: inkers Dick Giordano and Terry Austin.  Austin's background work was extraordinarily meticulous, highlighted by the book's opening spread page that presents a bustling New York City street.  Nonetheless, it took Adams and company nearly a year to complete the 72 page tale.  Ironically, three months after Superman vs. Muhammad Ali reached newsstands, Ali lost his heavyweight title to Leon Spinks.  (Ali would regain his title in September 1978, but it was clear his boxing career was coming to an end; he would ultimately retire in 1981.)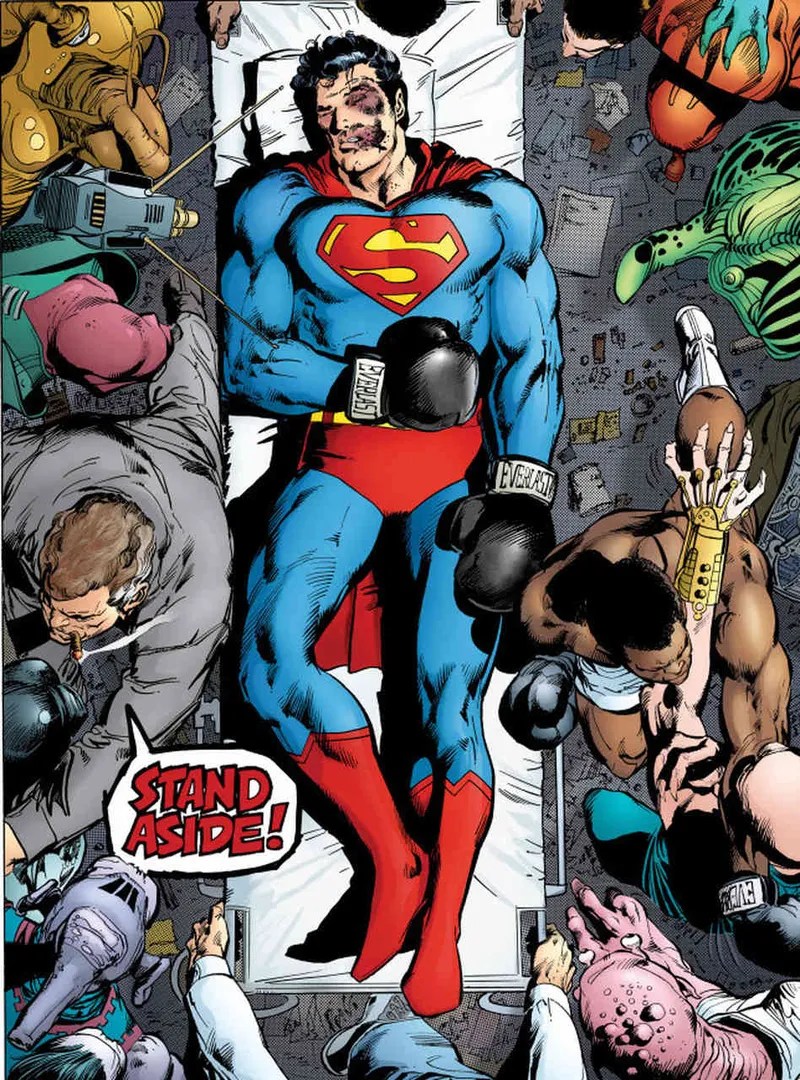 Adams recalls the tabloid selling better overseas that it did in the United States.  The book had a few aspects working against it; not only did it headline a controversial public figure, but the book's $2.50 price tag was 50 cents higher than the cost of a typical DC tabloid, as well as over seven times the cost of a typical comic book.  In addition, some critics couldn't get past the innate ridiculous of a book that paired a super-hero with a professional athlete.  For example, at the time of the book's release The Comic Journal's Gary Groth wrote, "The Superman-Ali book is a publicity stunt masquerading as a comic book.  It is not so much a comic as a media event… The book is abominable in all areas but one, which is the stunning artwork."  Adams himself, though, ranks Superman vs. Muhammad Ali as one of the best works of his entire career.