Team-Up Review: A Rivalry is Renewed in 'Secret Wars #4' and It's Going to Burn the World Down
Shawn Hill: Well, apparently all it takes to bring down your literal kingdom and godhood if you're Lord Victor Von Doom? The mere sight of one bearded old bitter arch-enemy since childhood, the apparently unkillable Reed Richards.
This is beyond the seams starting to show on his hastily assembled patchwork kingdom; the two fronts of previous reality survivors (the vicious Cabal, fighting off a bunch of Thors; and our favorite science heroes, enjoying a private tour of the new status quo by Sheriff Strange) blast major holes in Doom's forced harmony this issue, merely by existing.
It's the first time we realize the lengths he's gone to usurp his former rivals life. Sue is now his wife, Valeria his daughter. Not sure where Franklin fits in (power source, I'm guessing, right? It's "Heroes Reborn" all over again, yes?), but Doom's infinite vision of omniscient happiness amounts to little more than keeping his castle and taking all of Reed's things. How petty and capricious a "god" indeed.
Valeria's cool analysis of the battle front is sort of staggering in its arrogance, as none of the combined horrors of Thanos, Maximus, Ultimate Reed, Black Swan or Proxima Midnight cause her much worry. But when Strange arrives, he brings Reed, and Sue's memory is triggered. Doom's been lying to her all along. Then when he enters the fray, our Life Raft survivors immediately call him on everything.
Jamil Scalese: I do adore how miraculously, scrumptiously simple God Emperor Doom is. After unsuccessfully searching all of Battleworld for any version of his nemesis (a nod to the Interdimensional Council of Reeds) he just cannot help but confront Mr. Fantastic directly. Their banter is tight, grave and an absolute blast. You have to love the hateful compliments and accurate accusations. Reed and Vic are one of the best dichotomies in comics and the centerpiece scene of Secret Wars #4 succeeds in large part due to Jonathan Hickman's groundwork in Fantastic Four, FF and the New/Avengers duet. It's certainly one of my favorite moments in an event crossover to date.
This issue certainly balances the lack of action in the last one. I appreciate the effort on the part of the creative team to progress this stuffed, enigmatic plot while still giving a plain fanboy like me the pleasure of heroes punching villains punching heroes. Kinetic movement is not a specific strong suit for Esad Ribic but he does well enough, and comic truly shines in the static moments. I'm warming to Ive Svorcina's calm and pasty colors, they pair well with the scope of the story and the style of the artist.
The role and fate of Phoenix Cyclops functioned as a neat surprise, I really didn't expect Scott to get some of the best lines.
Shawn: Though he fares about as well here as he did in AvX; that kid should avoid the Phoenix Force at all costs. Still, you gotta love Thanos getting in a bitchy line or two from the sidelines. You're right, to Doom, Reed is the ultimate bogey man, and when Sheriff Strange is reminded of his old loyalties by the time travelers, he makes a choice that sets up the rest of the series but at a very high price. You can feel Doom's fragile world starting to crumble with every successive panel of Ribic's art this issue, not least that time when Victor's face literally starts to melt..
Jamil: It can be hard to keep the curtain up around event comics but Marvel and co. have done a nice job shrouding the plot points of Secret Wars. I'm amped to seeing how the second half builds on a sturdy start. Mixing the Fantastic Four cast into the main happenings  show that even if Marvel is going to be coy and hard-headed about the property they will still celebrate the characters. And, as we mention in every review, Thanos and the Cabal have a lot of narrative punch to unload. Curiosity is eating at me — where exactly did the Sheriff Supreme "scatter" all the familiar 616ers and 1610ers?! I need more comics! Good thing for all these tie-ins, I was actually thinking about saving money this summer. Hah!
Battleworld Tie-Up!
Shawn: Since last issue of the main series I've picked up Korvac Saga, Squadron Supreme, Captain Marvel and the Carol Corps, and E is for Extinction. The best of the lot is E is for Extinction, where Chris Burnham and Ramon Villalobos combine to give us their best Morrison/Quitely All New X-Men. In Mutopia, Xorneto's non-team of seeming rejects rule all, and Emma and Scott are pathetic jokes who can't even keep up with their secondary mutations. Beast has rolled with the times, in his mad scientist way, but even Wolverine has seen much better days. It's a rich thread to mine, one that was under-appreciated in its original form (and overshadowed by the Xorneto reveal), so I'm sort of loving Burnham's very devious mind. And Villalobos' edgy work actually looks like an unlikely mix of Burnham and Quitely, perfectly suiting the seedy, exhausted tone.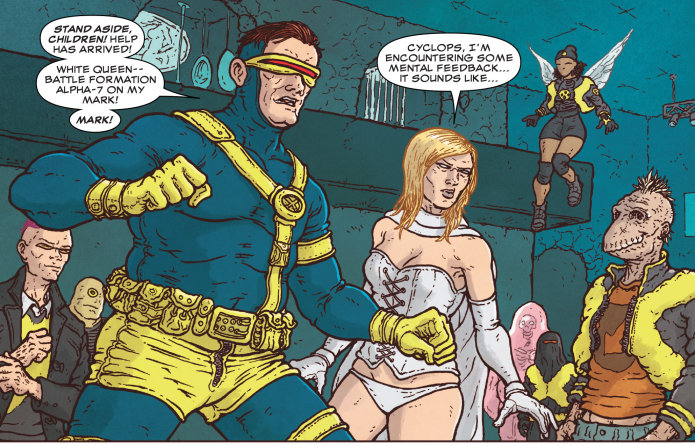 The Carol Corps is about what you'd expect, DeConnick has created a world where Carol's female furies of the sky fixation can continue in full-on distaff Top Gun splendor. All well and good, but it's only going to work if Carol starts breaking the rules. David Lopez' art is even better than the story, offering rich costumes and many distinct facial expressions. Korvac Saga similarly pops open the old Michael/Carina continuity with a strong take on the original Galaxy Guardians from Abnett, and expressive and stylized art from Otto Schmidt that shouldn't work but does due to his recognizable character designs.
I also picked up second issues of MODOK Assassin and Where Monsters Dwell, but I fear we may diverge on how we feel about those, Jamil?
Jamil: OK, so, issue two of Where Monsters Dwell is technically sound, if not a bit sparse. The plot steadily moves forward and it employs smart intervals of action, comedy and dialogue. I'm kind of into it on some levels, especially when propped by Russ Braun's sturdy and lush art, but by Doom, man! These characters are painful to read.
Karl Kaufmann is such a profound doofus, a coward-creep of the highest order, that you'd think that Garth Ennis has something personal against him. Now, I'm not against anti-heroes of this order, Ash from Evil Dead is oft-brilliant in concept, but the pilot's ineptitude is sickeningly egregious when placed next to the fem foil Clemmie Franklin-Cox. The woman written with nary a flaw, besting Kaufmann in every physical and mental realm, all the while belittling him verbally. He wins no battle, constantly slammed through coarse language, over and over proving himself morally and mentally inferior…and then he propositions her for sex! Ugh.
Now if this were framed as two terrible people on a trek through hellish jungle then I'm all for it, but this just feels masochistic. Sadly, just like Karl, I'm a glutton for punishment too, and will probably still buy the next issue.
Shawn: I'm enjoying it on the level of imagining Harrison Ford trying to play this loser, versus a British version of Karen Allen. It's sort of the inverse of all his iconic roles, and maybe a little bit like Brendan Fraser and Rachel Weisz in the Mummy movies. Only, because it's Ennis, absolutely nobody can be having a good time at any point.
Jamil: That's extremely valid, it's a comic with a miserable disposition.
Well, to counter my least favorite Battleworld series I want to talk about my fav. There are many strong creative teams in the mix, but when I saw the pairing of Si Spurrier and Kev Walker I knew I was getting the product regardless. Marvel Zombies completely lived up to my expectations.  This character-driven piece expertly celebrates and subverts the zombie and superhero-zombie genres. Spurrier is quickly patenting his own style with his crazy-quilt plots frosted with fussy, fast dialogue. Kev Walker is a treasure, easily bending his pencils to the demonic, hilarious whims of the script. I've always enjoyed Elsa Bloodstone, one of Marvel's best occult characters, and she reaches another level here. I have to recommend this very highly.
Shawn: I should check it out, because I love Elsa too! Speaking of statuesque ginger goddesses, Angel makes her presence known in the second issue of MODOK Assassin, crashing into his domain of Killville after a stealth attack. She's a Thor in this reality, but unable to access her hammer she attacks with swords and MODOK's own weapons arsenal. Most of the issue is the two of them trying to kill each other, even though it's love at first sight on his part. It's silly, and the art is only fair, but there's a weird chemistry between these two absurdly over-determined characters that lends itself easily to comic relief.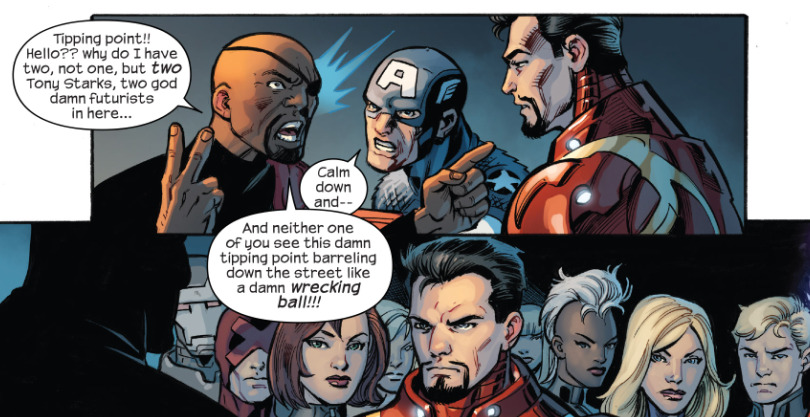 Ultimate End #3 is much more of a downer, as this week the doppelgangers are two Hulks and two Punishers. Since Bendis is writing it, seeing your mirror image doesn't lead to love at first sight exactly, but more quickly to brawls and murder attempts. It's more than bluster, but it's pathetically misguided, as everyone tries to control a situation that is really up to Doom (separating the two uneasily merged Manhattans). When Emma and Wanda are giving the most sage advice in the room, might as well just cash in those chips.
Jamil: That's interesting, so Ultimate End is set "Eight Years Later…" like most of the other tie-ins? I'm curious if/when the main heroes will show up in the main series.
Shawn: I'm curious if any of them will survive that long, Jamil. Bendis is real serious about the "End" part of the title so far.
Jamil: One 616 denizen steals the show in Planet Hulk #2. Humphries and Laming bang out another sleek issue with some pretty art. The extremely quotable Doc Green, current incarnation of the main universe Banner, joins up with gladiatorial (gay?) Steve Rogers and Devil Dinosaur to hunt the Red King for Doom. We're very early in but this series has the best body of work so far.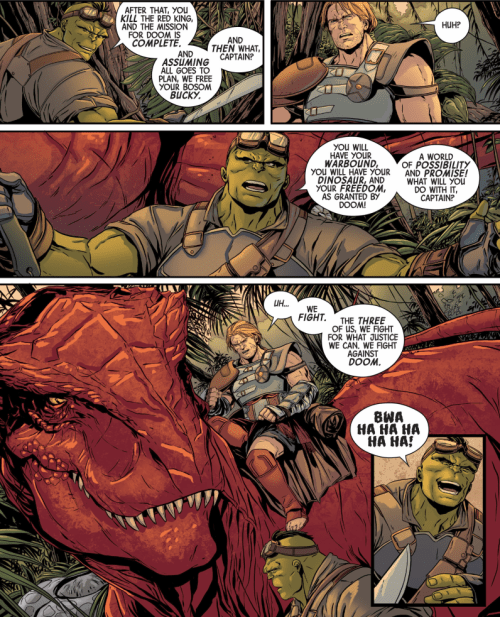 Trying to piece together Battleworld is a bonus side activity, and it can be a treat seeing where the influence and power reside, or how the different domains view each other. It's no mystery that a crazy amount of attention has been given to everything south of the Shield, a big wall between killer insects, zombies and robots and the rest of the Marvel maniacs. The aforementioned Marvel Zombies narrows the focus to one character's journey, while Age of Ultron vs Marvel is more expansive in scope. From the moment this was announced I've wondered if AU vs MZ would have any substance given that zombos and robos aren't the best protagonists. I read a few issues of James Robinson and Steve Pugh's All-New Invaders, not a total waste of paper and ink, and the same goes here. Pugh switches his style up to fit the desecrated landscapes and murderous occupants and that holds the project together. After a mostly aimless intro we meet the main character, the Henry Pym of the 1872 area, who is exiled to Perfection, realm of Ultron. Robinson merely hints at the story's direction, but I guess it's not a bad comic.
Another book that spends time in the death zones is Red Skull #1. I mentioned before that Josh Williamson writes one of my favorite independent series and it's great to see him tackle the delights of the villain sub-genre. A satisfactory choice for a reader looking for the bad guy element. The concept of Red Skull as a symbol of anarchy across all realms is an intriguing spine to build a story around.
Squadron Sinister also deals in the antagonist circuit. I enjoyed that first issue a good bit. Marc Guggenheim is approaching the project in very simple teams: what if the Justice League ran the world? It's been done, but we eat it up every time, don't we pal?
Shawn: You know it. There's a heavy dose of schadenfreude to be had as we watch this version of the Squadron (I'm guessing they're the old school evil antagonists from the original Avengers series? I mean, if Arkon can have his own Battleworld adventure, then why not them too?) literally pulverise the most recent "real world" style version from Straczynski. All of those guys thought they were so badass, but not when an old-school four color Nazi Justice League up and runs over them like a tank invasion. And that they've made a habit of annexing as many territories as possible is one of the more ruthless ways of dealing with Doom's hegemony. I also love the art by old favorite Pacheco, who has a lifetime pass to anything Avengers-related in my eyes.
I don't suppose it's quite clear whether we should put Deadpool's Secret Secret Wars in the good or the bad guy camp, though the humor this issue is a little over my head as I literally remember almost nothing about the original Secret Wars from the 1980s. I guess that was the first big crossover where no one acted like themselves, but this issue is mostly about a protracted fight with the Lizard and is a little too clever for its own good.
Jamil: I'm right there with you on that series. I love Deadpool, and Cullen Bunn has found a suitable voice for the character, but I'm very hazy on the details of the retro Secret Wars so I'm wondering how many jokes I'm missing. Still, this series put Matteo Lolli back on the character after a commendable stint on the Hawkeye vs Deadpool miniseries.
Gerry Duggan wrote that comic and pseudo-continues his run on the mouthy merc with Mrs. Deadpool and the Howling Commandos #1. An avid Deadpool collector I find myself in a bind with Mrs. D, I want to see this series through to Duggan's new Deadpool #1 in the fall, but, well, it kinda stunk it up.
The jokes miss hard, and the focus is terribly hidden. It took me an arc or two to warm to Shiklah in Deadpool. She's kind of a cross between Satana, Namor and Hulk, and while fine (ahem) as the lead, it's true I expected more chuckles and badassery from this cast. At least Salva Espin's art is nice. His style is akin to Lolli's, possessing the shared qualities of both Marvel's house style and the Deadpool affect.
Thors continues Jason Aaron's sensational run on the God of Thunder mantle. All you really need to know about this parodic yet sullen murder mystery is that Throg, the frog Thor, plays the mouthy lab tech role. This shit sells itself!
My childhood compelled me to take a peek at X-Men '92. It started a little rough, trying mightily to capture the voice of the cartoon while constantly winking and nudging the reader, but once Sims and Bowers started inserting some original ideas things caught fire. One of those Morrison/Quitely New X-Men villains gets a wondrous reinvention that portends an encouraging direction for this nostalgia-driven project.
Two more issues of Secret Wars Journal dropped. Issue two has a pair of really good stories, one set in Killville (which has received a lot of play so far) carrying a Maimi Vice theme by dressing every supervillain on the books in beach bum gear. Hats off to artist Cory Smith for stuffing the panels on this one. Si Spurrier (with a heavy assist by Jonathan Marks and Miroslav Mrva) delivers in his typical fashion with "Hell's Kitchen". We meet Fare-Devil and Collektra, servants to the culinary deserves of the Mr. Sinister we met in Secret Wars #1. Spurrier shows his affection for his ol' pal Sinister in this humorously dour tale. Issue #3 has a notable piece by Frank Tieri and the skillful Richard Isanove set in the Noir-verse. Private gumshoe James Logan investigates the murder of Tony Stark only to be met with the sudden appearance of Punisher Noir. Tieri cooks up a plot development that could have honestly spawned its own mini.
Sheesh, I'm talking myself out of my own hard-earned cash. A lot of legit comics in the batch, and there are still a handful of series to spark off in July. Bring it, Battleworld.