Team-Up Review: An Uprising is Imminent in 'Secret Wars #6'
Shawn Hill: As I've said before, I don't always get Hickman. His vision is so broad, sometimes I feel the wee little human stories (the life's blood of Marvel storytelling, generally, all those troubling foibles and fears) get overshadowed or lost. Secret Wars has been another epic on a cosmic scale, but he has really carefully woven each of the main players into his tapestry, creating a very complex and multi-leveled tale in an impossible world that shouldn't (and doesn't actually have to) make sense, but has been an amazing fertile and inventive playground for Marvel concepts old, new and twisted by the current crop of Marvel talent. And while many of the mini-series tie-ins (covered below) have been rewarding fun, it's the main book that sets the tone, and this issue just lands a different perfect surprise twist on page after page. It's exactly where the story was always heading, but not obviously told in the way I might have suspected from the start. Something that's so extravagant and wound so tight as Doom's reality, you have to be rather meticulous when you start to unravel it, too.
The chinks in Doom's armour are being exposed by Valeria this issue, who is tasked with finding out who killed Stephen Strange, and is way too smart not to see that all signs point to Victor himself. The unraveling speeds ahead by a few odd team-ups in different crazy locales around the world. Ultimate Spidey and Peter Parker make a natural team, but Ultimate Reed and Mr. Fantastic grate like a bad case of double vision (with Ribic wonderfully delineating the differences). Namor and the Panther make an oddly formidable team, as they are delivered by kraken to a hidden island full of treasures. We're really seeing the Fantastic Four recovering itself, slowly, with this episode, as first Sue tells Franklin a very unlikely origin story, and then Thanos tells a much better one to Ben Grimm.
It's a repeat of the scene that occurs in the final issue of Siege, because of course a siege needs a wall to hide behind, and in Battleworld, that wall was made out of Grimm. But while he thinks he's been performing a noble duty, Thanos explains that not only has he been betrayed, Doom keeps kicking him while he's down. "Ben?" doesn't want to believe Thanos, and the scene that Hickman plays for manipulative majesty is given more playful irony by Gillen in the tie-in, where Thanos comes off as almost whimsical in his shredding of the status quo. But the end result is the same: the walls are coming down.

Jamil Scalese: Given our history with Marvel event series I'd should be pissed about a ninth issue tacked on the end but after this one I'm all about it.
We waited about a month between issues and story catapults the story ahead by about the same measure. That time jump really keeps the reader off balance and I couldn't agree more that this crossover is a festive sequence of mini-mysteries, each rewarding in their own right. The event comic typically serves as an excuse for fist fights that erupt over double page spreads and crazy bombs with weird explosions, and as a low-brow superhero fan sometimes I don't that at all. But I got to give it up for the scope, the format, the concentration of Secret Wars, it really moves into its own tune. Jazz master Hickman loves a methodical, sidereal melody, and this is the pinnacle of that. Fellow Bulletineer Chris Wunderlich has been chronicling every single issue of Hickman's dual Avengers run and his criticism of the writer's broadness and using mystery to skimp on depth mirrors your problems with the writer, Shawn. Generally, I can't disagree, I've been reading those comics piecemeal for the last two or three years and some of it reads like complete bullshit in retrospect.
In Grant Morrison's Supergods the ultra-successful writer spends a few pages covering The Sekhmet Hypothesis and how it relates to comics. Very basically, it's the theory that pop culture fades in and out of dual eras that could very generally be described as hippie and punk rock. I believe that Jonathan Hickman's work here is the apex of the latest "hip" age. Very dream-like and cosmic and obsessed with creation stories. It quotes science but screams something mythic and preternatural. Hickman's predecessor, Brian Michael Bendis, represented the "down to Earth" aesthetic you were speaking of, but it definitely wore on some after almost a decade of never-ending chattering. Even in the span of writing this review Marvel has announced their next Avengers crossover, "Standoff!", which was created to be ground the team in the lives of everyday people.
That said, I'm enjoying the fantastical tone. Of note are those pitch perfect pairings: The Reeds, the Spideys, the Kings, and the biggest surprise, Thanos and Thing. I'm going to have to track down Siege at some point, the final issue at the very least.
Shawn: The art by Andrade wasn't my favorite (didn't quite match the epic scope), but all the battles against the Grimm Wall were big double-splash pages by guest artists, and many of those were cool. The last issue was really the best, as I'm loving the Slitheryn-y Thanos who's plotting his way back to power against "usurper" Doom. Ribic is doing a lot on the main series to support Hickman's vision, but the characters are there in the script to be depicted so clearly. Parts of Battleworld have read to me like 1602, which I thought was a pretty great synergy between Gaiman and Andy Kubert for the most part. The bizarrely ornate fates for all of Doom's foes and friends have been endlessly surprising, and very nuanced in their fantastic twists.
Jamil: Esad Ribic's art deserves to be examined and appreciated, in this issue and throughout. He has an understated style that relies on a softer approach to line art and a reliance on light source. The layouts are pretty average but the landscapes and long shots are always fascinating, and he wields the awesomeness of spectacle quite well. On the extreme other end his work with faces and posture is constantly improving. I loved the look of the characters in the Mr. Sinister/Captain Marvel scene, even if I had no idea what was going on with Carol.
We haven't talked much about Ive Svorcina but the colorist's contribution is obvious, especially if I just gave the penciler props for the use of light. The hazy, almost worn look of the palette makes this stand out from its crossover predecessors and I loved the luminous appearance of the Infinity Gauntlet in one of the best panels in the series so far.
The novel element to Secret Wars #6  is the introduction of a insurgent named The Prophet. He's got Doom quite worried, and there are now several factions aiming to fell the god. The position of the pieces on the board of Battleword is very well done and there's a great dichotomy of clarity and mystery. Look out, Vic, the world's about to come down on your head.
Shawn: Glad you mentioned him. I definitely got a Paul Muad'Dib/Dune vibe from the Prophet (from when Paul had gone blind and began to preach against his own children), which is another apt reference for this epic tale.
Battleworld Tie Up!
Jamil: An issue of every tie-in series I was reading released in the chasm between Secret Wars #5 and #6, and many of them concluded. We have a lot to discuss, Shawn, collectively and separately, so put some words on the screen!
Shawn: Let's start with the ones we both get. Thors remains a weird fit, a procedural with Magic Hammer Police, but introducing Loki is pretty clever. Actually, it's sort of a kind of inverse mirror of what he tried to do to Thor in Ultimates 2. There he wanted to fool the erstwhile god into thinking he was bonkers; here he's the only sane one on the planet. Well, except for a surprise Thor or two.
Jamil: Thors is decent stuff, a fun little interlude in Jason Aaron's Norse saga. The writer has really become one of comic's most consistently great, and most deliciously versatile, talents. Loki is great in this, and my favorite part in the series thus far is that double page splash of one brother interrogating another.
Shawn: Squadron Sinister gets slightly more interesting as it moves on from simply being the Crime Syndicate on acid and starts to get deeper into rivalries within the team itself. Still, the unrelentingly bleak tone I hope is not a harbinger of the upcoming series, which sounds interesting in that it won't be just an alternate Justice League (the original joke of the whole concept), but rather comprised of one survivor each of several realities. Fitting them all together on one patchwork world just isn't sustainable in the long term.
Deadpool Secret Secret Wars ended up on a surprisingly happy ending, though the funny faded away from the debut. Loved the art and eighties costumes, but not pleased with the mostly shallow depiction of the Wasp.
Jamil: A little vapid, sure, but Janet did have a promiscuous phase there for bit. I mean who can resist Deadpool without the scars? Secret Secret Wars ended up being surprisingly poignant, and apparently canon. I'm not sure if it completely worked, mainly because the original series is pretty bland and kind of a mess, but it's worth it for a Cullen Bunn fan.
You're right on Squadron Sinister, it's pretty good, but it's just merely another spin on the classic DC lineup through the lens of pleasing Carlos Pacheco art. Issue #3 featured a really futile Starbrand uprising and a lot of telegraphed moves. I'm hoping Marc Guggenheim has a trick or two for the finale.
Shawn: Siege maintained intrigue with a bizarre but compelling conflation of two different kinds of Furies, though I admit to not knowing most of the magic characters. It's a very odd mix of science, magic and monsters, which makes it very very Marvel. The final issue twisted it up a notch with a surprise special guest, tracking with an established player in a way that merges with the main series, as mentioned above. The Korvac Saga ended as great as it began, with many fun homages to the original (which also reset the world a few times along the way, with many disturbances in the force). This one gives Michael mostly to worries about Lord Doom, which is a great illustration of just how wrong the Battleworld reality is.
Jamil: Two of my southern Battleworld books ended. Red Skull #3 featured an appearance by Abigail Brand warranted by the Magneto from Age of X teaming with Annihilus and a scheming Red Skull to take down the Shield. They fail spectacularly. Josh Williamson writes a lovely bastard but this series lacked a certain glue. In comparison to Age of Ultron vs Marvel Zombies, it looked like gold. James Robinson (who is penning that Squadron Supreme book we're excited about) tries to channel a horror shlock, I think. Basically, the plot centers on the 1872 Hank Pym in a safehaven called Sanctuary run by the brotherly trio of Wonder Man, Vision and the Original Torch. It's got horrid accents, terrible terror tropes and cool Steve Pugh art. I halfway liked how much I disliked it. I guess the most disappointing part was that the AU vs MZ concept had no obligations, it could have been anything, and it this comic was simply goofy.
Marvel Zombies #3 by Spurrier and Walker saunters along joyfully, it's high on my list as the best tie-in so far.
Shawn: If E is for Extinction showed one thing, it's that Chris Burnham understood Morrison's New X-Men better than almost anybody (certainly better than Marvel itself at the time). The book added to the weirdness of that crazy series with Cassandra Nova in the Phoenix Egg, Charles possessing Quentin Quire, Emma and Scott (and Angel and Beak) proving their love time and again, in a surprising case of a sequel living up to the weirdness of the original inspiration completely.
Jamil: It sounds like X-Men '92 caught a similar vibe. There is loads of zany homage to it, some to the 90's X-Culture, and more to the core absurdity of the franchise in general. It was recently announced the series is getting a follow-up ongoing, and I'm pretty keen on checking on the next chapter to see how much further the book will diverge, and still nod to, its source material.
Another series with an akin feel is Civil War by Charles Soule and Leinil Francis Yu. The concept is a bit of a hot deal right now, with the new Captain America film dropping in about half a year and hints that Marvel is planning a sequel to the event around the same time and the creative is successfully carrying the torch until then. The series is a delight in a melancholy way. It's got some sneaky dark ideas: the horror of a long war, friends turned enemies and one of the most depressive versions of Peter Parker ever put on paper.
The diametric Spidey exists in Renew Your Vows, a series that smashed the sales chart (probably because it was the only Peter/Spider-Man option over the summer). This comic functioned much like Aaron's Thors, a cute little interlude among a bigger, heavily serialized run. I thought the last couple issues pretty bland, focusing hard on mommy MJ and Spider-Daughter Annie, but overall it was a good time.
Other series that wrapped things up:
Planet Hulk's fifth issue was a helluva closer. Sam Humphries boiled this one over a low flame, smartly leaning on Marc Laming's raucous Devil Dinosaur fights. The finale smoothly analyzed and twisted the truths of both Captain America and Hulk in a truly surprising way. I'm looking forward to reading this whole series in one sweep some day soon, it worked very well on on visual and thematic levels.
Mrs. Deadpool and Howling Commandos was one of the weaker series that I read. That is, I'm disappointed I wasted sixteen greenbacks on. The Deadpool brand is thrown across so much stuff these days that I expect it to be diluted to a certain degree but protagonist Shikah has potential and it was barely tapped. The comedy was weak, and the mini only really functioned as a bridge between the Duggan's two Deadpool ongoings.
The anthology series Secret Wars: Battleworld released it's final two books. I didn't love any of the four stories but the fifth issue's stories spotlighting a vigliante Night Nurse (the Soska Sisters and Alec Morgan) and an robot Millie the Model extoller (Aaron Alexovich and Diogo Saito) are worth a bargain pull. This series and Secret Wars Journal mainly succeeded in tapping into the rich potential of Doom's fake world.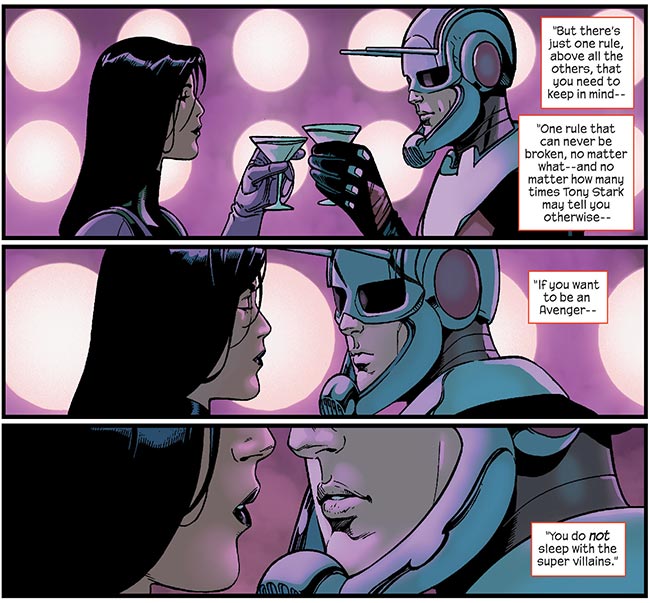 Up until this last round I did not read any of the tie-ins under the "Last Days" banner but Ant-Man and Loki: Agent of Asgard made me wish more books participated. The adventures of Scott Lang under Nick Spencer and Ramon Rosanas have been spectacularly hilarious and perfectly heartfelt and the story of his last day on Earth is just the same. The nods to Marvel's in the Golden Age are great, and the issue is actually really important binder to successor title Astonishing Ant-Man.
I snagged the tail end of Al Ewing and Lee Garbett's Loki ongoing on the cheap out of a convention longbox. I do not regret it. I've read most of this series and it's top notch literature, intelligent on multiple levels, funny and fresh and freakish. The four "Last Days" issues are something to behold, the end of a multiyear journey for the Trickster God, and a Marvel fan would be remiss not give it a try.
There were two other series, 1872 and Hail Hydra, that each release their second and third issues, but since I've already typed way lots about all my other reads I'll save my thoughts on those two quality books for the next installment of Secret Wars Team-Up. See you then!.