JASON SACKS: Keith, to some extent life is all about taking things on and then letting them go. A favorite activity to do with an uncle, a favorite pair of shoes, a letter opener that was once convenient, even the people who we once knew and who have escaped our view – these are all important for a period of time and then fade into the vast haze of memory. Andy Poyiadgi's Lost Property takes on the idea we're all an accumulation of our pasts, and does so with a lyrical sweetness and calm English happiness that overwhelmed my American cynicism.
This lovely, slim book is the story of Gerald, or "Ged", an ordinary mailman in an ordinary town in an ordinary section of England. Ged is happy delivering the mail, to judge by the look on his face on page two when he hands a box to someone on his route, but the rest of his life is less happy. He appears a bit melancholy as he goes about his life. He's not depressed or lonely per se, just clearly filled with a vague dissatisfaction. As the narrative tells us, "Gerald's business was other people's property. Every day, hundreds of items. Every item, a destination. When it came to his own property, however… Gerald was less preoccupied."
A chance incident with a lost letter opener, however, brings a new perspective on things. Ged ends up at a lost property office that somehow has all the detritus from our protagonist's life, including thousands of objects along with a woman whom he had forgotten was in his class in school. Most importantly, Ged rediscovers his love for art and for sculpture, lost for many years, and in his rediscovery of art, this middle age man seemingly becomes younger and happier again.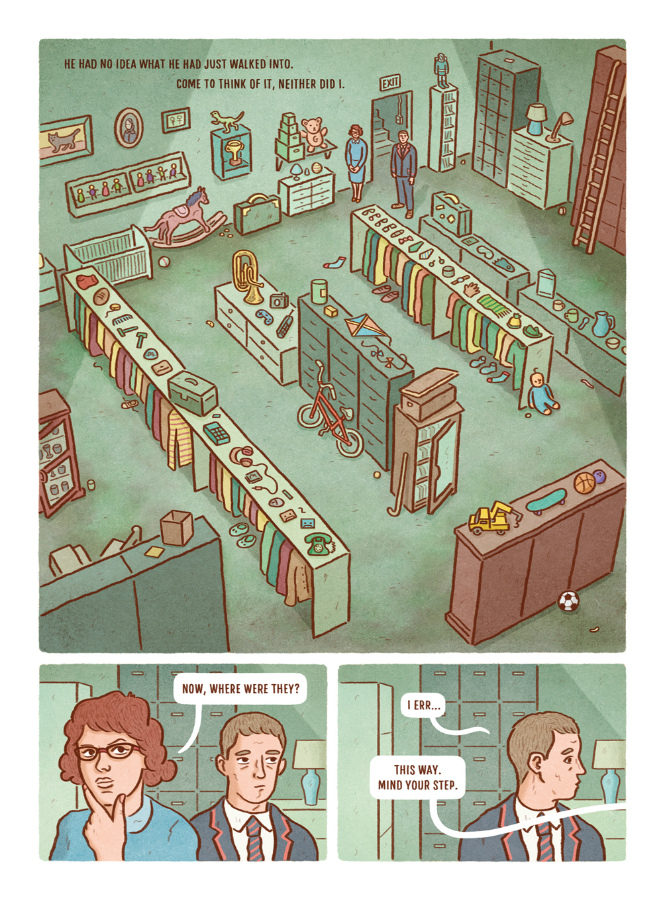 Keith, this all could have been precious and cloying in the wrong hands – and in fact, no less a comics personage than Scott McCloud produced The Sculptor earlier this year, about similar subjects, and which I thought was overly sentimental. Here, though, Poyiadgi's style, all clean lines and pleasing colors, has a reassuring and serene nature to it. This is the story of a man far from the tumult of youth who goes about re-centering his life in a joyful mania in which he finds himself becoming more truly himself.
There's a lot of symbolism in this book that also gives it a feeling of real heft. It's not hard to figure out the importance of a lost letter opener beginning Ged's journey to a new life, nor is it hard to see an uncle's gift of model ships symbolizing journeys to unknown lands. But there are some moments I found hard to figure out. There's a bit of business with the organization of kitchen utensils on page three that confounds me, for instance, but what is the importance of a cup of coffee at a place called The Last Cuppa, and is the similarity between "Ged" and "Zed", the British term for the letter 'z' important?
The central mystery of this story is only a mystery if the reader takes this story literally, and I know you're not that kind of reader, Keith. What did you think of your discovery of this Lost Property, my friend? Did this make you wonder what items were in your Lost Property office?
KEITH SILVA: In answer to your question, Jason, 4,983 ball point pens and of course the frozen banana guacamole. In addition to making me think of mid-1980's George Carlin HBO stand-up specials, Lost Property got me thinking about coincidences, connections and, of course, memory.
I don't know if I agree with you 100% that Ged 'rediscovers' or 're-centers' anything about his life. I think his love for sculpture and for art, has always been with him, he's been … repressing it is all. I think that's what's up with the scene you referenced about the kitchen utensils, it's a moment when we see Ged-postman step back and allow Ged-artist to come out. Doesn't that look like more than a coin, a cup and a salt shaker to you, Jason? One can't suppress the artist inside. In the scene at 'The Last Cuppa,' Agatha asks Ged, "what did you set out to do?" He tells her, "I wanted to be an artist … a sculptor, actually … but it wasn't meant to be." Agatha's next question to Ged, for, of course, the sake of the narrative, is left hanging: "Says who?" A rediscovered yearbook and a misplaced letter later and we learn why Gerald chose the sensible sturdiness of the GPO over the life of an artist. As for the 'Ged' 'Zed' thing? Sorry, Sacks, you'll have to work that one out on your own. I got nothing.
To be honest, I'm less interested in the 'whys' and 'wants' of Gerald Cribbin (could that name BE any more English?). I'm more struck by the machinery behind the scenes, the intricate construction of Poyiadgi's narrative. See, what happens to Ged mirrors the story itself, all those clean lines of Poyiadgi's reflect the framework of Lost Property—a place where nothing is really 'lost,' more hidden in plain sight and waiting to be (re)discovered.
The idea there's a shop — somewhere in one's own neighborhood no less and with so MUCH damn charm — where all the things you've ever lost are cataloged and archived is as brilliant as it is coincidental as it is British. Lost Property, the shop, makes me think of a cross between J.K. Rowling and Tom McCarthy by way of the Beatles 'Penny Lane.' There's no explanation as to why Ged's stuff shows up in this shop, it does and that's enough. It's no coincidence either that Ged is a postman. A job that charges him to be a conduit between people and their stuff, nothing in Lost Property is ever lost, it's always … in transit. I wish I were more clever and come up with something for the missing 'o' in the Lost Property sign, but I can't (not at the moment, at least). Maybe it's one of your symbols, Sacks, that missing 'o?'
In such a slim book, Poyiadgi makes the choice to spend two pages showing Ged at various ages walking through a connected web of his possessions, an illustrative six-degrees of separation to explain how a crib, a bike and a kite connect to one another and to Ged. The graph terminates in an envelope and a sculpture Ged carved as a young man. The circle surrounding the sculpture is much larger, more prominent on the page, than the envelope. Why does Poyiadgi use up two of his precious twenty-two pages on this layout if it doesn't have some significance?
If Lost Property weren't so full of whimsy and charm, I'd consider that perhaps Poyiadgi is critiquing consumerist culture, how our stuff owns us or something, but no. These two pages are about how one thing, literally, leads to the next and the next and the next, kind of like how comics lead from one panel to the next. All these connections or degrees of distance reference the person, Ged is a part and apart of the things in his life.
Anything lost (and found) is always about memory, ask Proust. These items waiting for Ged in the Lost Property shop act as links to memories in the chain of his life: the boats his uncle brought him, the tools (by the way, how does somebody lose a whole toolbox full of tools?) and his first pair of glasses, each a signifier of Ged's life and his memories—how Ged became Ged, all here (always) and laid out for him (and us) in Lost Property.
Aside from the fact Ged needs to work on his people skills — seriously, ol' Agatha Harker she's a keeper, Ged — I hope this is only one chapter in his story. Poyiadgi has put the machinery in place to explore how memory brings us back to who we were, who we are and the decisions made between those two points in our own narratives. Find Lost Property and don't forget about Andy Poyiadgi.