DC Entertainment/Warner Brothers Animation/Cartoon Network
I'd like to preface this review by saying I was an avid viewer of the 2003-2006 Teen Titans series that aired on Cartoon Network. It fits alongside other cartoons of its generation, like Young Justice and others, which were complicated, intricate and perfect for a young adult audience.
I haven't had cable since college, which was right around the time Teen Titans Go! had come out. I remember watching the trailers and commercials for TTG before I quit cable – I was bummed I wasn't going to see my favorite cartoon superhero team back together again. The original voice actors were coming back (which is critical, in my opinion, for a good reboot). Teen Titans meant a lot to me during my teenage years because it explored themes and relationships that I could relate to. Everything interested me in the 2003 show; the love interest between Robin and Starfire, the mysterious Terra, the friendships between Cyborg and Beast Boy. It didn't talk down to its viewers and presented these ideas in an action-packed, yet beautiful way.
Teen Titans Go! is not that Teen Titans.
Initially, I was really disappointed that this was not going to be the same as the 2003 series. I understood what "reboot" meant, but this wasn't what I was hoping for. Cartoon Network ditched a lot of its' more sophisticated cartoons in favor of shows like The Amazing World of Gumball and Uncle Grandpa. Not to say those shows aren't good, they just aren't for the same audience – they aren't for me.
Cartoon Network took a noticeably different turn in programming around this time in an attempt to attract a much younger audience. They didn't want young adult anymore, they wanted kids. It made sense – the generation that watched Teen Titans was getting older. I was 14 or 15 when Teen Titans first premiered and was 17 or 18 by the time it was cancelled. Cartoons, some would argue (not me, but some) are not for adults. They're for kids. Cartoon Network needed to cater to kids, not the generation that was outgrowing them.
Teen Titans Go! is definitely meant for the new, younger audience. I had to remove my feelings for the first Teen Titans cartoon in order to honestly review TTG. Prejudices aside, I didn't dislike TTG – I just don't think it's meant for a twenty-something like me. It's meant for one of my ten-year-old cousins. It's packed with flashy colors, fart jokes and pop culture references. The revival of this show was never meant to continue with the 2003 version of Teen Titans, which is something a lot of those fans misunderstood – I being one of them. The mistake I made was taking this show too seriously. In order to enjoy the show, you have to get ready to be… silly.
What I really enjoyed is that although the opening credits may be illustrated differently, it still uses a remix of the original theme song. I was tickled by this. T-E-E-N T-I-T-A-N-S TEEN TITANS LET'S GO! These credits hit my nostalgia button and we were off to a better start than I originally thought we were going to be.
The style of TTG is bright, bold and colorful, which makes it fun to look at. I understand why it's in a lineup of other flashy cartoons like Adventure Time. It has a chibi style to it, which makes the characters look tiny, adorable and you just want to put them in your pocket. (Are there action figures for these? I'd put those in my pocket!) The series' art and animation is still anime-inspired, just in a cute way instead of a mature way. The lines are bold – it reminded me of Dexter's Laboratory or Powerpuff Girls. The colors are a flashy and Tokyo-esque. Everything is infused with neon colors that jump off the screen.
Even the dialogue is crafted is a more adorable way. In the first episode, Legendary Sandwich, Robin is waiting in a line at the supermarket. "I mean, some people prefer swords or lasers, but I like to use my staff. CRACK RIGHT ON THE HEAD! THE KNEE! CRACK! CLAVICAL! WHATEVER! It really gets the job done," Robin explains to a disinterested bystander, who walks off. The dialogue is catchy and goofy, which is what I'd come to expect from this silly series. Everything from fart jokes to dad jokes to wacky pop culture references – this show is for the modern-day kid.
The more episodes I watched, the more endearing I found TTG to be. The characters may be rebooted to be tiny, cute caricatures of themselves, but it's almost like they're more concentrated versions of the characters from the 2003 Teen Titans. They've been distilled into the purest form of who that character is.
Robin tries to overcompensate for not having powers. He's the leader and a control freak. He still has his moments of insecurities over his non-powers, just as in the original. He still loves Starfire and strives to continuously impress her. Starfire is potent cluelessness and innocence. Despite having spent much time on this planet, she's still an alien who doesn't quite grasp the culture. Raven is as aloof and sarcastic as and still the demon princess. Cyborg loves to eat meat and par-tay! Beast Boy is up for a party as well, as long as he can bring his tofu. The animals he morphs into are less realistic and more darling. His animal forms look like well-done doodles in the margin of someone's notebook. TTG does pay tribute to its' predecessor, just in ways that may be lost on the fans of that show. The Titans are still here, they're just tinier, condensed versions.
The plots are more like skits and less episodic in nature – they're bite-sized episodes that fly by. Rarely do episodes carry a story beyond that bite. You also don't have to watch any of the episodes in order; they're all fairly randomly ordered. The stories are generally very silly and if I were ten again, I'd be laughing out loud. (My refined twenty-something self discouraged me from laughing too much…)
"Staff Meeting," for example, is when the group gets a hold of Robin's staff… and busts it. Robin then goes to the Universe Tree (who talks), cuts it down, takes a branch and makes it his new staff. The branch then talks and is quite sassy (I mean, I would be too if you cut me down). Robin then ditches the talking stick when his old staff is repaired.
Even Terra (who was my favorite temporary Titan from the 2003 series) makes an appearance. She shows up and everyone but Raven believes her to be Beast Boy's girlfriend. When Raven grows suspicious of Terra's sketchy actions, everyone thinks she's just jealous. Ultimately, Raven ditches Terra in a garbage pit in her mind. In "No Power," Robin challenges the Titans not to use their powers for a day to prove how hard he has it compared to them.
All of the stories can be summed up in a few sentences – they aren't complex or complicated. They're short and easy to digest. They don't make you think; they put your brain on autopilot and you can watch mindlessly while you sit back, relax and enjoy the goofiness.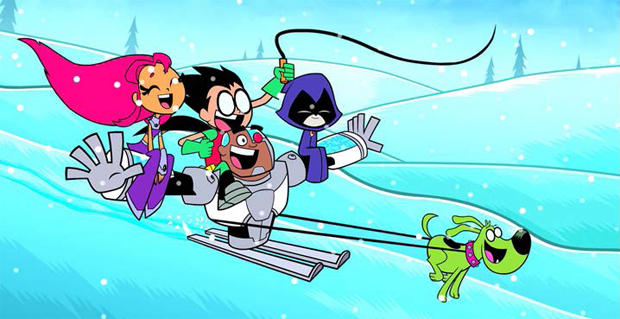 The biggest mistake you can do while watching Teen Titans Go! is to take it seriously. Teen Titans Go! is like bubble gum – it's brightly colored, sweet and lasts for a short time. If you're a fan of the 2003 series, I'd recommend either not watching this reboot or to come into this with a very open mind. You aren't going to find your dark, brooding Robin here – but you will find a Robin who'll happily smack a villain in the clavicle with his staff.
These aren't the same Titans, but the essence of those Titans remains. Having the original voice actors back for this series is a delight and reasserts the authenticity of this show. Teen Titans Go! is perfect for little kids and adults alike – as long as you're ready to be a little weird, a little funny and a little goofy. If you're looking for something fun and easy, Teen Titans Go! is worth a watch. If you're here for the reboot of the 2003 series, you need to keep looking.
I personally ended up really enjoying Teen Titans Go! despite my initial bias against it. It doesn't "ruin" Teen Titans and it most certainly isn't a bad show. It's a different depiction of the Titans I knew and loved. I'm delighted to find that my hesitations and nervousness about the show is unfounded. The art is brilliant, the dialogue is eager and the Titans are voiced by their original actors.
This may not be the continuation to the 2003 show that I wanted, but I'm happy that this is what got made. This is a superhero show for kids of the modern age; this version of Robin, Cyborg, Beast Boy, Raven and Starfire is easily accessible to everyone. It's not young-adult specific and doesn't alienate any kids. With any luck, these kids will pick up the Teen Titans Go! comic – or other comics – after watching this show. Teen Titans Go! gives young kids a great starting-off point to learn about superheroes and their universes. This show is helping build the comic readers and proud nerds of tomorrow.