Whether you were for or against it, DC's "The New 52" provided an undeniable jolt to a slouching comic industry. Completely rebooting its universe (except for in the areas it didn't *cough*Green Lantern*cough*), DC Comics provided a much-needed entrypoint for new readers. Short-term, the publisher reaped the benefits with boosted sales. And while I have nothing but anecdotal evidence to support this claim, it at least managed to get new readers into comic shops, where they might have picked up comics from Marvel, Image, Dark Horse, BOOM! Studios, IDW Publishing, and so on.
But while the initiative is fun to use as a punching bag in today's discourse, there were a number of titles that were critical darlings. Yes, there are the obvious ones like Snyder and Capullo's Batman or Azzarello and Chiang's Wonder Woman, but then there are the forgotten runs and miniseries that weren't big sellers, but allowed creators to flex their muscles. Arguably the difference between DC and its main competitor is a willingness to let creators create. These are the ten best of the New 52 era that exemplify this.
10. Penguin: Pain and Prejudice
Penguin: Pain and Prejudice is arguably the best Penguin story ever written, and no one ever talks about it. Okay, so technically this is not a New 52 title. When it was released, it didn't have the branding that adorned every other DC title, so it probably shouldn't be included on this list. However, the first issue was released in October 2011, two months after the New 52 launched. And since there's nothing about it that contradicts the New 52 continuity, I'm counting it. 
A grounded and serious take on Oswald Cobblepot, writer Gregg Hurwitz gave the pot-bellied baddie a much needed origin update. We see his childhood and rise to power, but more importantly Hurwitz and artist Szymon Kudranski showcase the character's underrated intelligence. While Penguin has always employed an arsenal with branding that would rival Batman's, the creative team reminds readers of the obvious – that Penguin has a great engineering mind. Though one of Batman's least physically imposing foes, Pain and Prejudice does a great job in reestablishing him as a legitimate threat.
9. The Movement
One of two titles that explored heroes at opposite ends of the wealth spectrum, The Movement and its sister title – The Green Team: Teen Trillionaires – were marketed as an industry statement on the Occupy Movement. Thanks to that branding misfire, both titles struggled to find their footing, resulting in the cancellation of both within a year. But while The Green Team could not overcome its insufferable premise and woefully mediocre storytelling, The Movement became one of the New 52 genuine artistic successes.
Though attempting to tie the book to the Occupy Movement was a poor decision (and one that writer Gail Simone has repeatedly denounced), The Movement did successfully address the underprivileged and disenfranchised. The Movement gave many people genuine and fully-fleshed out characters that they could identify with, and showed them that you don't need to be a billionaire playboy that beats up the mentally ill to make a difference.
8. Secret Six
No, this series did not recapture the same magic that the acclaimed, pre-Flashpoint Secret Six possessed. However, many put off by the woefully average first issue missed out on a series that ultimately undid one of the biggest wrongs in DC's publication history. Also, Gail Simone and Dale Eaglesham managed to give this mix of loveable misfits and misunderstood villains undeniable charm. 
The loss of Bane to whatever use DC had for him certainly threw off the team chemistry, but the creative team managed to adjust with the introduction of new members. Furthermore, they managed to produce a compelling antagonist using a classic villain from DC's library. By the time the series reached its conclusion, it was sad to see it go.
7. I, Vampire
For many, this horror series introduced readers to the talents of artist Andrea Sorrentino. However, one cannot overlook the fantastic writing of Joshua H. Fialkov, who took a dated horror concept and gave it an exciting and fresh update. Fialkov and Sorrentino's depiction of vampire Andrew Bennett may have drawn some initial ire from his Edward Cullen-esque appearance. However, those qualms were quickly put to rest thanks to Sorrentino's atmospheric artwork and Fialkov's engaging scripts.
I, Vampire was an immersive title that had a major impact on the New 52 continuity long past its cancellation. Andrew Bennett would play a major role in the sub-event Forever Evil: Blight as well as the publisher's other supernatural titles. Each time, Bennett was portrayed with the same intense characterization – a testament to the strength of Fialkov and Sorrentino's efforts.
6. Star-Spangled War Stories Featuring G.I. Zombie
Though the title is a mouthful, Star-Spangled War Stories lasted a meager eight issue. However, as was the case for much of the New 52, commercial success is no indication of a book's quality. Despite the bizarre premise, the creative team of Jimmy Palmiotti, Justin Gray, and Scott Hampton delivered a serious and smart story. Exploring the horrors of war with a zombie protagonist may sound like a comedy, Palmiotti and Gray invite readers to experience the difficulties soldiers deal with on a daily basis.
Make no mistake, Star-Spangled War Stories is not a gritty, realistic depiction of actual war. After all, the series' protagonist – named Jared – is a sentient and well-preserved zombie that's an active member of the military. There's a healthy dose of humor and self-awareness to be found throughout the series. However, at the end of the day the story by Palmiotti and Gray is powerful, engaging, and full of heart.
5. All-Star Western
Is a series truly "unheralded" if it lasts 35 issues in today's era? Based on the lack of discussion around All-Star Western, the answer is an emphatic "yes." Essentially a continuation of their Jonah Hex title, Jimmy Palmiotti and Justin Gray's All-Star Western initially followed the famed bounty hunter in 1800s Gotham City, which resembled an Old West town despite it being traditionally an East Coast city. This allowed the creative team, which included great art from Moritat, to explore some great new concepts that sprung out the New 52 Batman, specifically the Court of Owls.
The second half of the series saw Jonah Hex get transported to the present, where he would continue to have wacky adventures. Despite how ludicrous it sounds, the execution was fantastic. By the time the series was ready to wrap up with Issue #34, it was an undisputed critical darling. The final issue, drawn by the late, great Darwyn Cooke, is one of the finest of the entire New 52 era.
4. The Omega Men
While he's gone on to much bigger successes like Vision and Mister Miracle, Tom King's first big splash came in this amazing 12-issue series. While DC did flirt with cancelling the title, fan outcry ultimately resulted in lasting through its planned conclusion. The result is one of the best – if not the best – Kyle Rayner stories ever written.
All of the hallmarks of a great Tom King story can be found here. The 9-panel page structure. The deliberate, rhythmic dialogue. The quotes in the final panel which encapsulate the issue's theme. The focus on trauma. While those other titles are the ones to take home awards, there's no denying that Omega Men has a well-earned spot right next to them.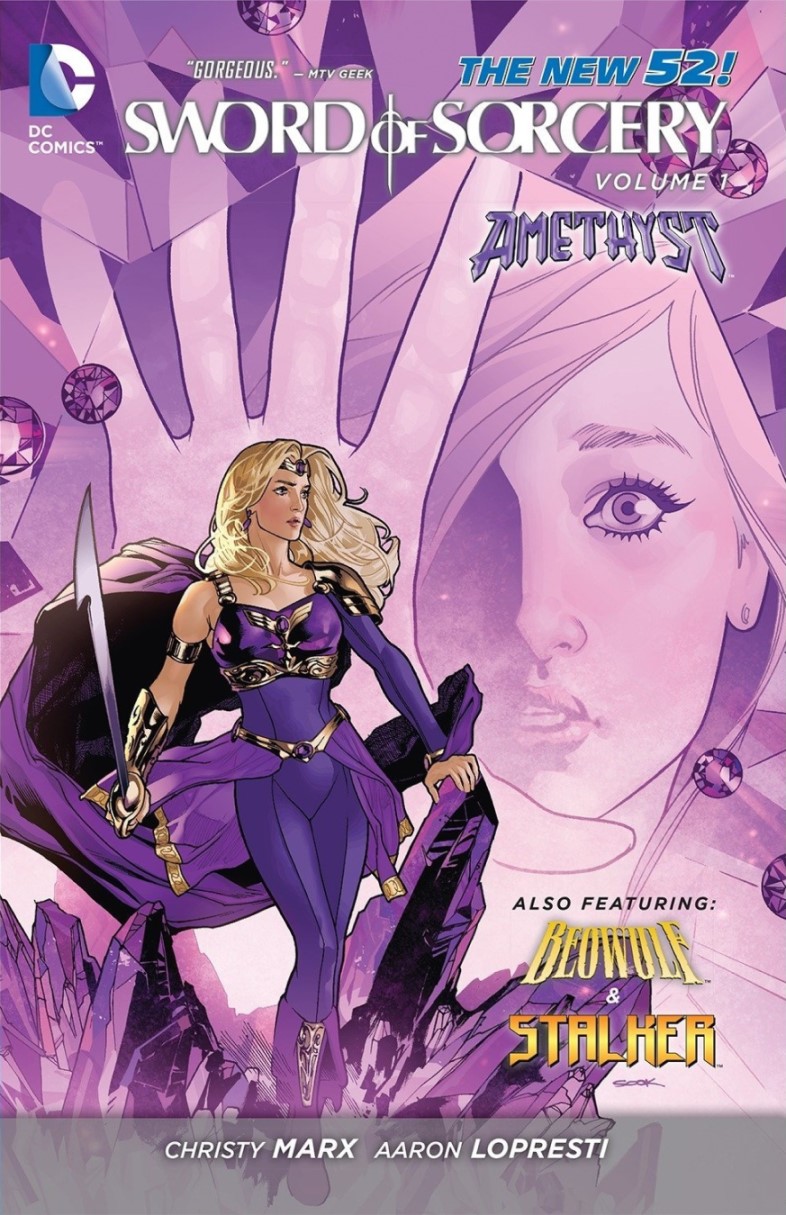 3. Sword of Sorcery
The odds were stacked against this fantasy title from the get-go. An unproven writer. An obscure protagonist. An unreliable genre. A price point higher than most of DC's other books. Despite these hurdles, Sword of Sorcery managed to squeeze an immensely satisfying story out of its 8-issue run (well, the #0 makes it technically 9). Writer Christy Marx and artist Aaron Lopresti's fantasy book is full of great character-work and world-building. Ditto for the backup feature about Beowulf by Tony Bedard and Jesus Saiz.
Perhaps the most notable element of Sword of Sorcery was its inclusion of John Constantine. While the Hellblazer had already been incorporated into the DC Universe, and to the chagrin of most readers was a neutered version of the character, Marx and Lopresti did their best to keep him the rife bastard of the Vertigo days. In the end, Sword of Sorcery managed to at least wrap up in a satisfying fashion, making it a true gem in DC's library.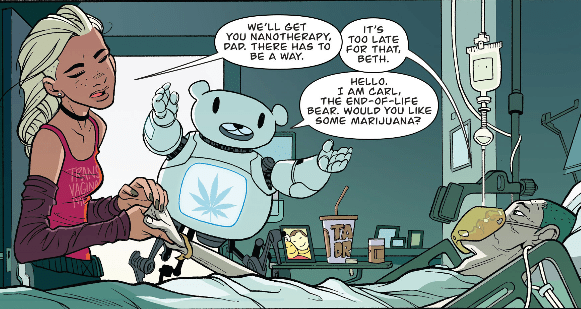 2. Prez
The premature cancellation of Prez is one of the biggest crimes of the New 52 era, because the series itself was oh-so-good. The revival of a relatively obscure 1970s comic, Prez told the story of a teenage President elected by a Twitter as a write-in vote because she was the meme of the week. It sounds outlandish and downright stupid, but Mark Russell and Ben Caldwell made it work due to razor-sharp scripts and wonderful, cartoonish art.
Despite the protests of its dozens of readers (as well as the good word of Dan Didio), the twelve-issue series was reduced to six. I like to think there's an alternate universe where readers were able to experience the full 12-issues of Prez. But if there is a silver-lining, DC did have enough faith in Russell's abilities for him to come back for the excellent Flintstones and Exit Stage Left: The Snagglepuss Chronicles.
1. Dial H
Arguably the most bizarre title of the bunch Dial H revelled in its weirdness. Written by novelist China Mieville and illustrated by Mateus Santoluouco, Dial H revived the 1970s' Dial H for Hero with a heavy dose of black comedy and social commentary. Mieville's tight scripts addressed some peculiarities of the premise, including the idea of a working phone booth in present times and how the H-Dial has evolved over time. 
Although humorous, Dial H also has a penchant for body horror, which is a great showcase for Mateus Santoluouco's abilities. With twisted contortions and peculiar growths each time Nelson Jent used the H-Dial, Santoluouco makes each grotesque oddity eye-catching and captivating. It's not surprising that he would go on to become a fan-favorite artist of IDW's TMNT. In the end, Dial-H exemplified the best of what the New 52 sought to accomplish.