Joe Kubert.
I really shouldn't have to say much more, should I? Any self-respecting comic fan should instantly understand when the legend's name is invoked.
Where do I begin? Joe began early, early, early in the industry and came to leave an absolutely indelible mark on it, both literally and figuratively. The man was a force of nature. By the way, I cannot adequately express how sad it makes me that I have to use the past tense when talking about Joe. Unfortunately he left us in 2012, still as vital at 85 years of age as when he began his career, purportedly at the age of 11! Incidentally that was in 1938, which was the same year Action Comics #1 hit the newsstands and subsequently changed everything in the world of comics.
Joe's credit list is almost as long as his career with work on such notable characters as Hawkman, Sgt. Rock, Enemy Ace, the Viking Prince, Vigilante, Wildcat and an incredible run on Tarzan. We must not overlook his own creation, Tor, nor Doctor Fate, Sargon the Sorcerer and Johnny Quick. Kubert was the inker on the first Silver Age Flash story in Showcase #4, widely acknowledged as the catalyst for the Silver Age, which brought the superhero back to the forefront. He was a pioneer of 3-D comics, an editor at DC Comics, founder of the Kubert School, the first accredited cartooning school in the land, devoted husband of Muriel, father of five, including Adam and Andy who have followed in their father's footsteps, launcher of careers and, by the way, one very nice human being. I could go on and on. Let it suffice to say that we lost a lot when we lost Joe.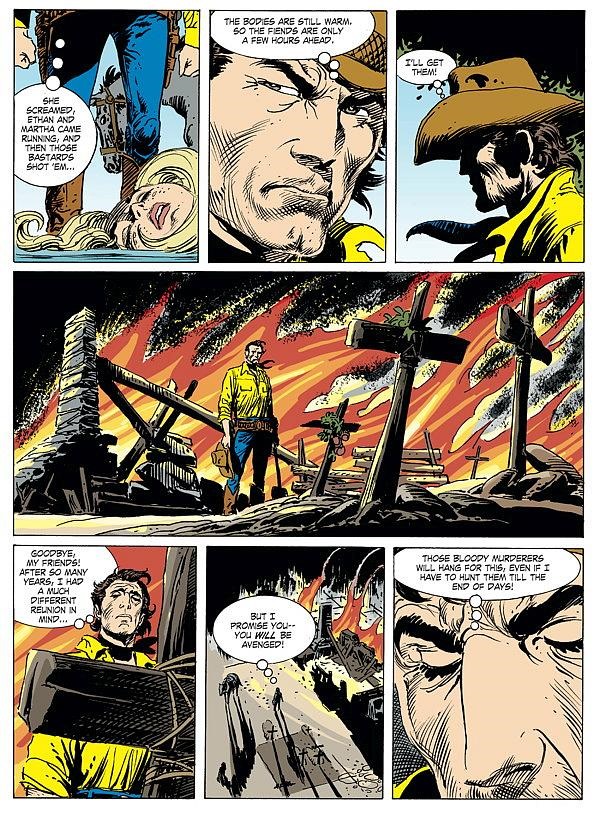 Has my admiration and respect shown through yet? You can imagine the thrill I had when I discovered Dark Horse is rolling out Tex: The Lonesome Rider, originally published in 2001, in a graphic novel format, translated from the original Italian into English with over 230 pages of expressive art by the master, Joe Kubert.
Tex Willer is, naturally, a Texas Ranger and is going into the Utah territory to visit friends. Horribly he finds them after they've been savagely murdered in cold blood by outlaws following unspeakable brutality to their daughter, who was also killed. For heaven's sake they even shoot a puppy. These are bad hombres. They even try to make it look like an Indian attack, but Tex is a seasoned lawman who is not easily fooled and he has more than usual invested in seeing that justice is served.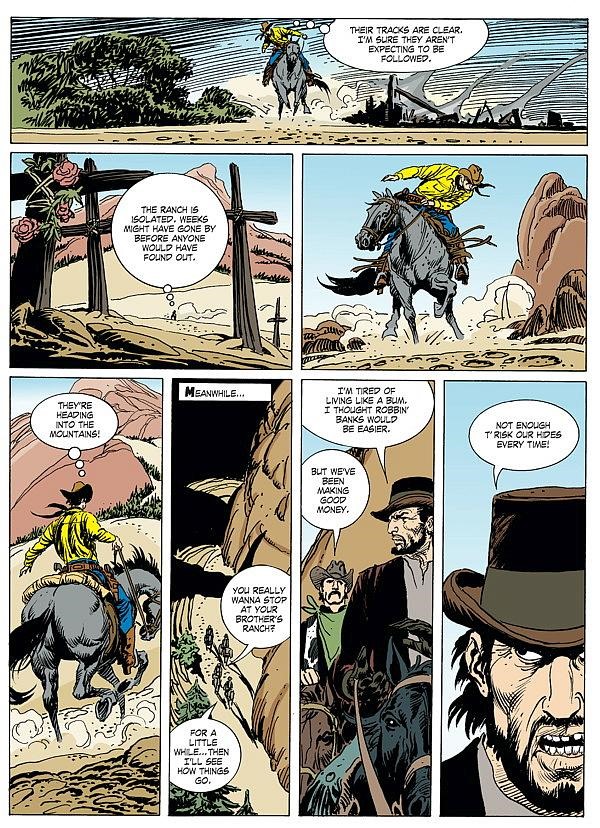 From this point forward, the story is following the Ranger along the trail as he encounters those who will help and those who will try to stop him. His quest for justice, however, will not be denied and he finds himself in all manner of situations along the trail.
Admittedly, the storyline and plot are pretty predictable and will bring to mind classic storylines from the genre, be it The Searchers, episodes of The Rifleman or Gunsmoke from days of classic television or perhaps nearly any given Clint Eastwood western from back in the day, but Kubert's artwork more than makes the ride worthwhile with sparse landscapes that help to suggest and reinforce the lonely ride of Tex Willer. Joe also has a way with character depictions to where it's quite apparent who the bad guys are and those on the side of the angels. Physical altercations, of which there are many, are filled with kinetic energy, no doubt a natural result from decades of Joe honing his craft to the point that dialogue really isn't necessary at all.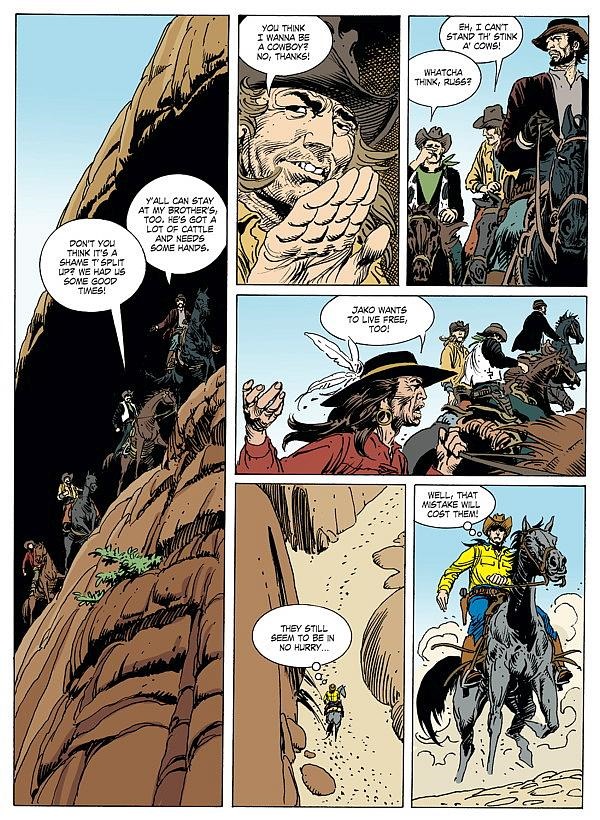 Tex turns out to be what every good western hero should be, in ruggedness, resourcefulness and dogged determination. He successfully survives several attacks on his life. He is a skilled tracker and fighter and is completely relentless in finding each and every member of the dispersed gang and ensuring they answer for their heinous crimes.
Joe Kubert's ability to create moody, atmospheric stages and characters that you can care for along with those you can loathe makes this story clip along in a way that you are fully engaged. Some artists cannot quite manage the necessary depictions of horses and other animal life, but Joe pulls this off with additional aplomb.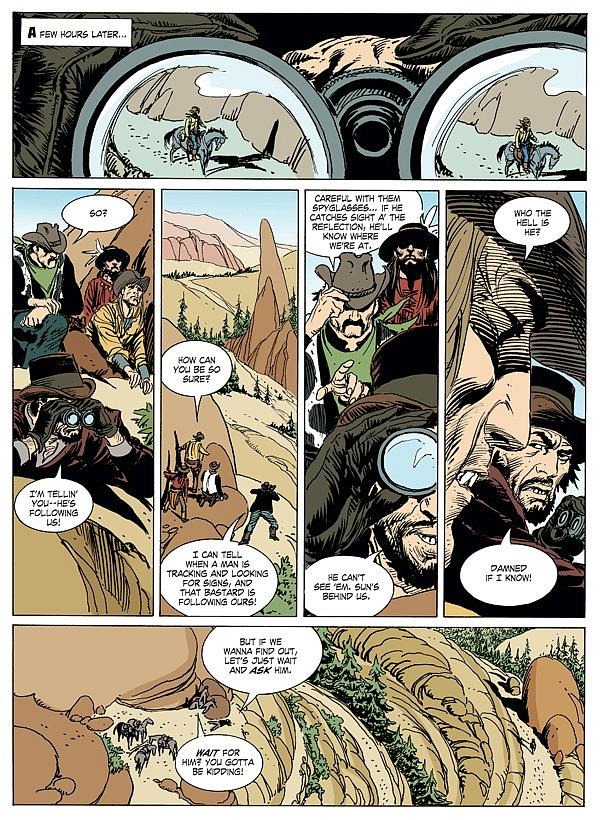 Perhaps not since the final work of John Severin in the Witchfinder series for Dark Horse has an artist so gripped their reader with superb pacing and evocative scenery in a variety of situations, all designed to draw in the readers. This is skillful storytelling at its zenith.
In the end, despite significant, seemingly insurmountable obstacles and the additional chores of overcoming corrupt local "lawmen" and those who bankroll them, Tex Willer succeeds in finding each killer and meting out old west justice as the circumstances dictate. Where else would one find a knife-fight to the death in front of a tribal gathering? The occasional ally presents themselves, but the odds are stacked against our lone hero, who comes through in the clutch, ever mindful of why he is doing what he does and fulfilling the vow he made to his friends to ensure that their deaths will not go unavenged.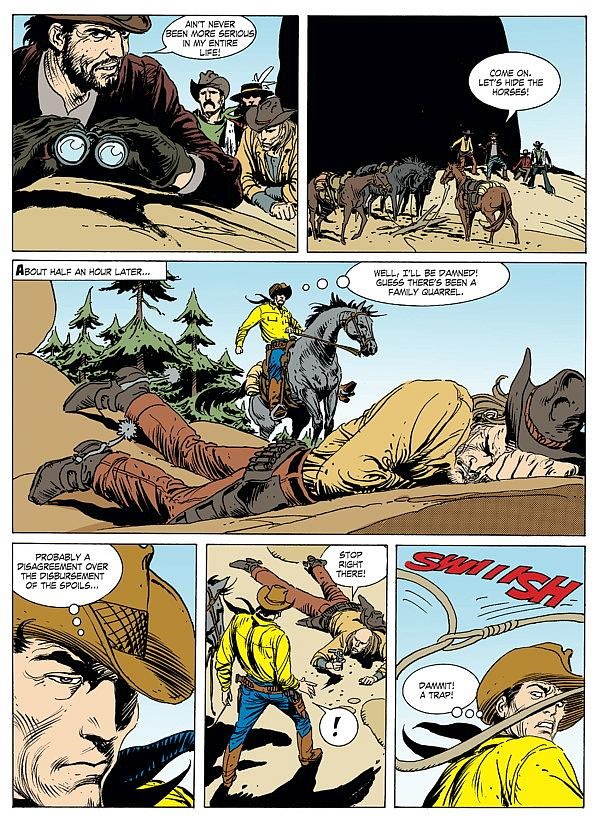 This is satisfying, power-packed western adventure containing great camera angles, authentic backdrops and distinct, unforgettable characterization. Joe Kubert is in his element and the astonishing thing is that the same can be said for so much of the massive body of work he produced over his fruitful lifetime.
If this isn't a splendid example of how sequential art transcends language barriers, I don't know one. I also find it a touch ironic that the "Spaghetti Western" lives on in graphic novel form and we're richer for it. Furthermore, this is certainly not Joe's only foray into westerns. I remember in particular a classic story Joe illustrated way back in Showcase #2 in 1956 titled, "Rider of the Winds!" told primarily from the point of view of a young native American boy not to mention his all-too brief "Firehair" series. Any fan of the great Joe Kubert owes it to themselves to add this book to their library. This is like a gift with a worthy place alongside such seminal efforts by Joe as Jew Gangster, Fax From Sarajevo and Yossel. No one drew like Joe Kubert.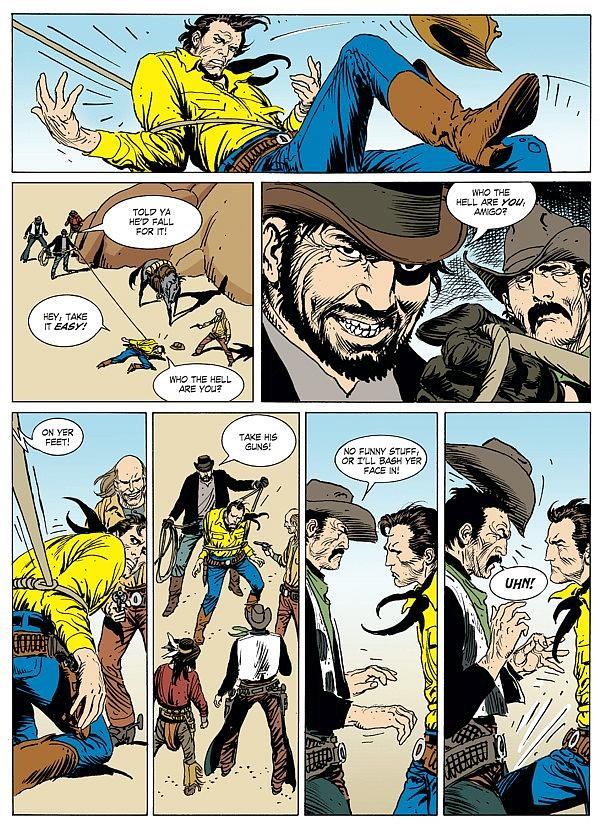 I'll wrap this one up with an immortal quote from Joe from a brief interview conducted by yours truly in 2007 via e-mail. It was actually only the second one I'd ever conducted and I'll admit I was a little frustrated with the brevity of his answers, but later I came to realize he just really didn't enjoy talking about himself. Later, when I spoke to him on the phone about his remembrances of working with Jack Adler, he was a lot more animated. Anyway, one very memorable gem he gave me was when I asked him about the Kubert School:
Bryan D. Stroud: Has this "second career" been as good as or better than your first?
Joe Kubert: This (the school) is not my career. I am a cartoonist – first, last and always.
Indeed you were, Joe. One of the greatest.