By the time of this posting, I'm sure most have heard the decision by Marvel Comics to remove an essay by Maus creator Art Spiegelman for the Folio Society's collection Marvel: The Golden Age 1939-1949. The reason, according to the Folio Society, was that Marvel Comics wanted to stay "apolitical" and that the publisher "is not allowing its publications to take a political stance." Many were correct to point out what complete and utter bullshit that is, but it does speak to a growing trend in corporate-owned comics of trying to remain politically neutral.
The fact that there is a trend to apoliticize comics is hardly surprising. With the Big Two owned by media conglomerates (Marvel/Disney and DC/WarnerMedia), it's honestly more surprising that it took them this long to admit their desire to pump out bland, toothless entertainment. But the corporate grasp of the comics industry extend beyond those publishers. Disney (via Fox) also owns a minority stake in BOOM! Studios. Other smaller publishers are owned by larger ones, such as Top Shelf (owned by IDW). But while the comics of smaller publishers manage to fly under the radar and still have some bite, the Big Two strive to keep any real world matters from bleeding into their books for fear of backlash from the vocal "keep politics out of my comics" crowd.
It's quite amusing that a subset of fandom has continuously voiced disapproval of political discourse in their comics when the success of the medium was founded the idea of making a political statement. Political cartoons date back to the 1730s. Since then, they have played a critical role in societal changes. Ben Franklin's famous "Join or Die" was used to promote solidarity among the British colonies in 1754, and was later used as a rallying call during the American Revolution. Thomas Nast's "Boss Tweed and the Tammary Ring" is cited as a primary reason that Tweed lost the 1872 election for New York Senate, and ultimately his arrest for corruption.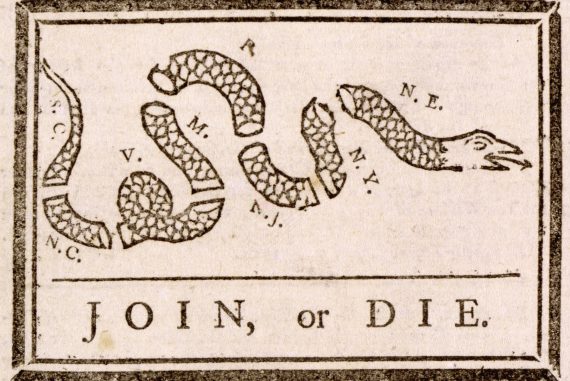 Then, of course, there is the famous cover of Captain America Comics #1, in which Cap socks Adolf Hitler square in the jaw. People forget that cover was very controversial. With a cover date of March 1941, the U.S. would not formally enter the war until December 8th of that year. At the time, of the issue's release, 33% of the public opposed entering the war. Less than a year before (May 1940), public opinion was at 93% against joining the war. So while the tide of public opinion was changing, the amount of resistance was still sizeable.
Throughout the war years, comics relished in contributing to the public discourse. Batman and Superman told readers to support the effort through war bonds. Wonder Woman also fought alongside Allied forces in World War II. But it wasn't just "Ra! Ra!" patriotism, as Superman also preached tolerance and acceptance for people of all races and creeds – an extremely progressive position to take in 1950. Likewise, Batman espoused the virtues of good sportsmanship, including standing up to racist bullies.
Of course, while political comics and cartoons could still be found in newspapers and zines, the mainstream comics industry was neutered in the 1950s thanks to congressional hearings, a crackpot psychologist, and self-governing body that stripped creators of their teeth. But the tide began to turn in the 1970s. Denny O'Neil and Neal Adams' Green Lantern/Green Arrow, while problematic in a modern context, was crucial in bringing mainstream comics back to their social commentating roots. Also critical to this was 1971's Amazing Spider-Man #96, by Stan Lee and Gil Kane, which was published without the CCA seal.
This brings us back to Spiegleman. A longtime veteran of the industry, most know the cartoonist for his seminal work, Maus, which is easily the most important of the "big three" comics of the 1980s (the others being The Dark Knight Returns and Watchmen). Unfortunately, the industry took all the wrong lessons from the other two books, ushering in a dark age of "gritty" storytelling. It's particularly upsetting in the case of Dark Knight, which sees pointed criticism of then-President Ronald Reagan. On the other hand, Maus impressed upon readers that the medium could still produce deeply personal stories that make a statement on the present through the old adage "those who ignore the past are doomed to repeat it."
Other notable autobiographical comics poured out, each with their own personal takes on the world as a whole. In addition, 1992's launch of the creator-owned powerhouse Image Comics gave another outlet for creators to make their political views known. The timing was fortuitous, as superheroes were beginning to be realized as potential boons for powerful corporations. Though Marvel at the time was still independent, DC had long been owned by Warner Bros. As most know, Marvel themselves would be bought by Disney, providing the Mouse another license to essentially print money.
As the calendar turned into the 2000s, the Big Two were pretty much the only game in town for superhero stories as other publishers were swallowed by the speculator crash of the late 1990s. Image and Dark Horse had ceded a substantial amount of market share, while the Big Two's core lines of books were rather safe comics designed to keep readers interested. That does not mean there weren't bursts of creativity. Solo, DC: The New Frontier, and New X-Men are just a few examples of books that are lauded, but none of them make strong political statements. With the acquisition of Marvel by Disney in 2009, both Marvel and DC would double-down on their approach of protecting these characters as intellectual property.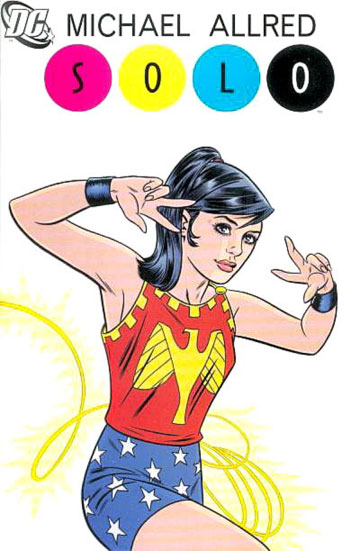 Since the beginning of this decade, the amount of overt political statements made by Big Two comics is negligible. Arguably the most political moment occurred in 2011's Action Comics #900, in which Superman renounced his American citizenship. Dozens of articles were written about it from major publications, and the talking heads from cable news were up in arms that Superman would walk away from being an American. Of course, the idea of a Fox News commentator losing their shit over what is technically an illegal alien willingly stepping away from the country is amusing, but those that actually read the comic know there is more to it than that. In the story, Superman explains that he is choosing this path in order to better serve the people of the world and in order to protect his adoptive home from international repercussions – which is far less sensationalist.
Since Action Comics #900, those actions by Marvel and DC deemed "political" by certain readers is more an effort to draw in new readers. New characters were introduced, and other characters took up the mantle from established heroes. While these changes were definitely forward-thinking, they were hardly controversial from a political standpoint, unless you happen to think that comics are only for middle-aged white men (they aren't). The one story that bucked the trend in a significant manner is the Captain America run by writer Nick Spencer.
Spencer's Captain America was split between two, parallel-running series, Steve Rogers: Captain America and Sam Wilson: Captain America, building to and culminating in the event Secret Empire. Spencer's Sam Wilson was a very well done tale, with a black man dealing with the responsibility of being America's representative to the world. It also dealt with Sam facing down the injustices and inequalities in America today. While these are important topics to address and politically charged, at the risk of sounding dismissive these were not hot-takes, especially when compared to the firestorm of controversy that kicked off Steve Rogers.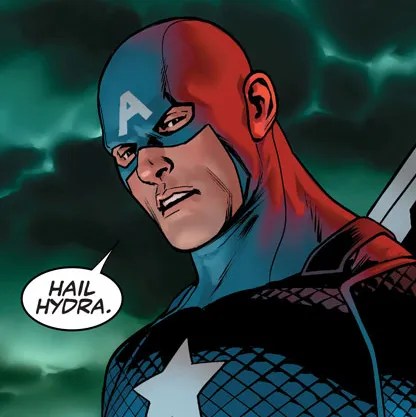 The same week that DC launched their "Rebirth" initiative, aimed at returning to a more classic and optimistic [and painfully safe] storytelling approach, Steve Rogers: Captain America #1 was launched. Ending with Captain America being revealed as a secret Hydra agent, it sent shockwaves. But beyond the headlines it caused, the series itself proved to be a statement on the twisting of the nation's ideals for nefarious causes. The series was a pointed criticism of American politics and society at large. This was meant to culminate in a version of the event Secret Empire that differed from the finished product. Whatever Spencer's final statement was, Marvel clearly had cold feet on fully committing after fan reaction to "Hydra Cap" and protecting their bottom line numbers. In the end, Marvel snuffed out the last big attempt to make a meaningful political statement with their marquee characters.
This isn't just a "shit on Marvel column." As mentioned, while "Rebirth" brought about a return to more optimistic storytelling at DC, the stories continue to be, for the most part, bland. Most deal with typical superhero fare, both at the street level and on a cosmic scale. Striving to maintain standards of "decency" at the direction of parent company AT&T, DC has shuttered its Vertigo imprint and prematurely neutered its newly launched Black Label line. While they do still publish some great comics with biting commentary (mostly those written by Mark Russell), those books rarely feature marquee characters (or promotion) and are buried on the sales charts.
As long as comics exist, there will be political elements present within the stories that are told. That's the nature of the medium. The Big Two can try to silence creators in the name of protecting their intellectual properties, but those properties were built off of the political ideologies of their creators. Those publishers may continue to dominate the market until the end of days, but they will do so through bland, uninteresting, ultimately unmemorable storytelling in their core lines of books.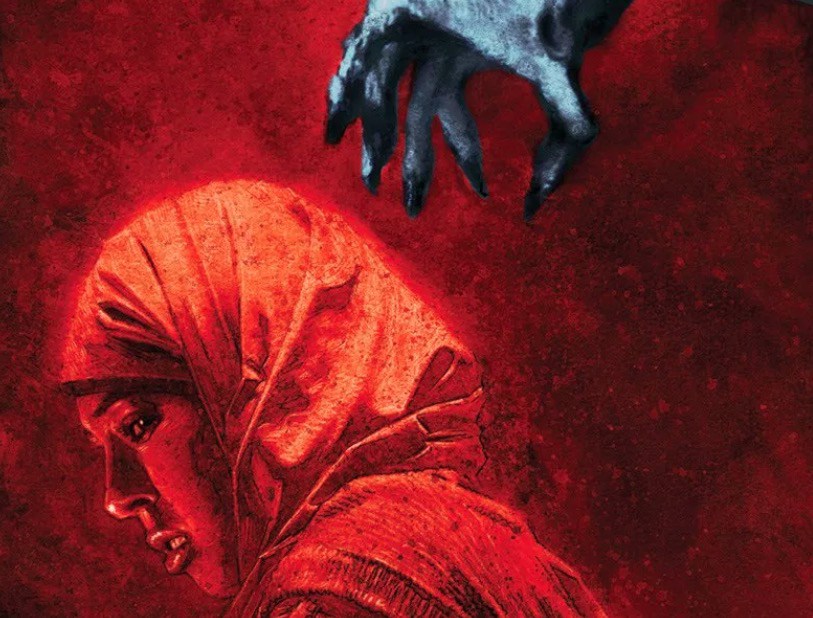 Thankfully, there are outlets for comic creators to use the medium for political purposes. Image Comics offers creators complete ownership of their works with little-to-no editorial oversight, resulting in titles such as Infidel and The Divided States of America. The Berger Books imprint at Dark Horse has added another outlet for creative voices, as found in The Seeds. When DC/Vertigo cancelled Mark Russell and Richard Pace's Second Coming at the request of AT&T (which resulted from unwarranted conservative backlash), the duo took their book to upstart Ahoy Comics. Though a haven of licensed properties, IDW Publishing also pumps out a fair amount of original content, such as Pandemica. The result is a very interesting tier of premier publishers that, while not as commercially dominant as Marvel or DC, are flush with new and interesting ideas. And, they enable creators to make political statements, regardless of which side of the spectrum they fall, because it's an integral element of the medium.