After a brief trip away, we finally return to Earth Prime. However, we still aren't back in the main series, as Grant Morrison pens this tie-in featuring Black Lightning and the Tattooed Man. Though it may not seem crucial to the overarching narrative, this look into the world after Darkseid's victory has a big payoff down the road.
Final Crisis: Submit
(w) Grant Morrison (a) Matthew Clark (i) Norm Rapmund, Don Ho, Rob Hunter
Dan Gehen (DG): This is the one issue of Final Crisis that I have grown to appreciate over the years. While it does set up the Tattooed Man for a larger role later in the story, Morrison uses Submit to step out of his comfort zone and engage in social and political commentary. This is Morrison's anti-establishment thesis, drawing influences from works such as John Carpenter's They Live. He and artist Matthew Clark explore class inequality and how authoritarian regimes can rise to power in a seemingly free society.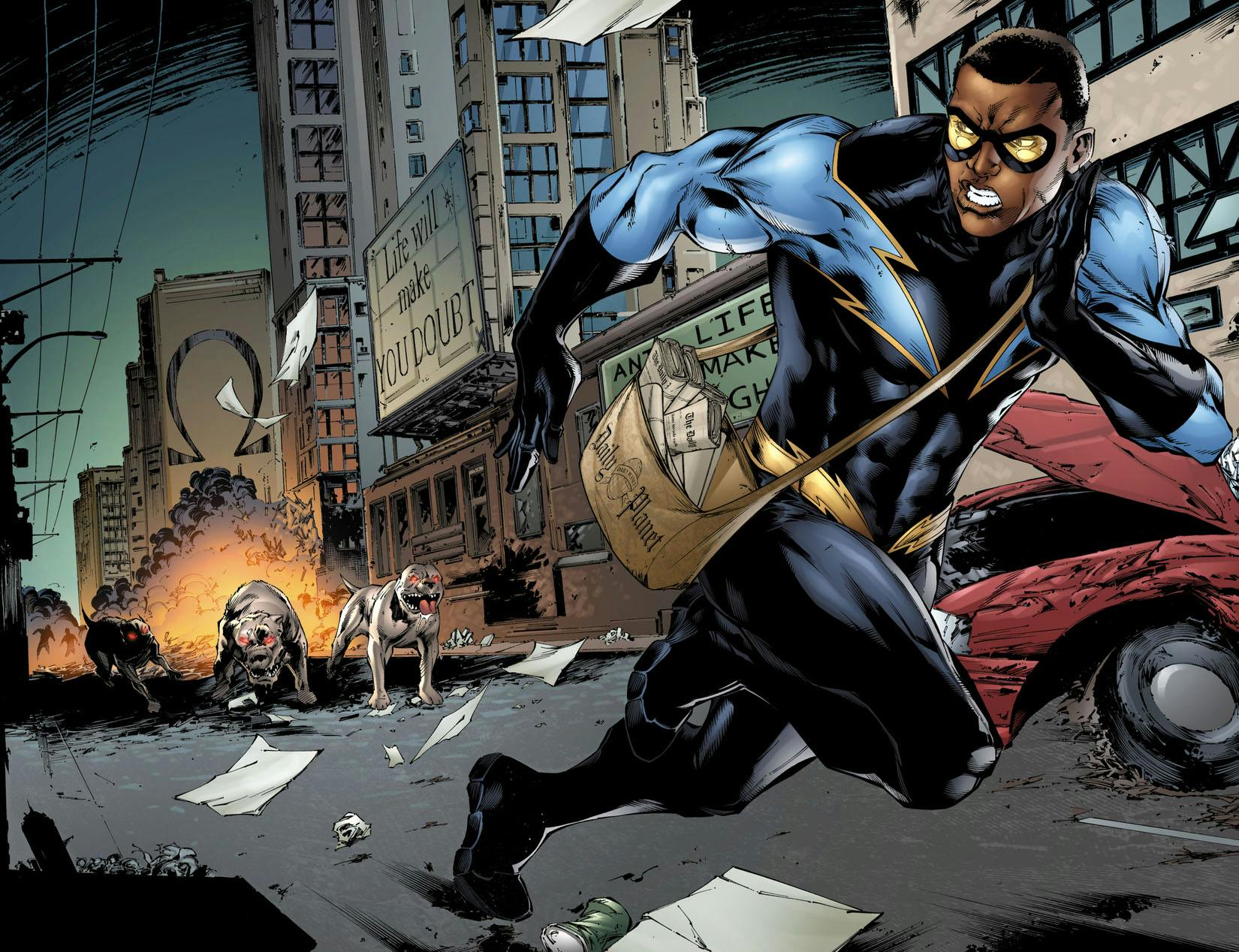 Jason Jeffords Jr (JJR): Submit was one of the few titles I didn't read when Final Crisis originally released, the other being Final Crisis: Revelations. For the former I believe it was due to the fact of never really read much about Tattooed Man, or Black Lightning. Yeah I'd heard of them, saw them in Final Crisis, yet never cared enough to read any more. Reading it now, I'm glad I waited a bit. Now I know more about both characters, so that means I'll understand Submit better, right? Nope, hell, reading it now I feel like I don't get all the deep cut meanings. Well, at least not as much as Dan knows. I also haven't watched They Live. It's on my watch list though. 
DG: Well, I can tell you that we won't be tackling Revelations, mostly because it doesn't tie-in as directly as this or some of the other tie-ins have. Secondly, stop what you're doing right now and watch They Live. It's amazing, and then you'll also get the references which I'm gonna break down right now.
With Black Lightning on his way to answer a distress call from the Hall of Justice, Matthew Clark slips in the background billboards and signage with authoritarian messaging like "Obey" and "Submit" scrawled on them – a direct homage to They Live. In that movie, aliens have infiltrated society and use subliminal messages to control the populace. It also gave us the classic line "I have come here to chew bubblegum, and kick ass… and I'm all out of bubblegum," but that's neither here nor there. The point is that both the movie and Final Crisis: Submit are about people fighting to survive and overcome an oppressive and controlling society.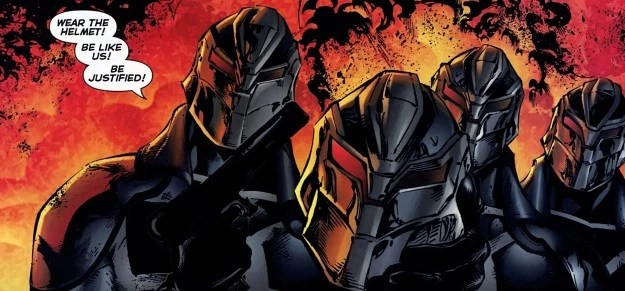 Obviously, the major difference between the two is that while the aliens of They Live are more subtle (and ultimately, more effective) in their approach, Darkseid and his forces attack bluntly and by means of pure strength. Looking at the imagery found here, the planet is literally on fire and in a state of ruin, with those few survivors waiting out their days with no hope for the future. And in this bleak state is where we find the Tattooed Man and his family holed up.
JJR: Great, I was dreading talking about Revelations! I can't speak much on what you've already said. But, I promise I'll watch They Live. Once I actually have time! For now I'll get back to Submit. I liked how Tattooed Man, and Black Lightning started out at each other's neck. Black Lightning acting like the other was just another Villain, and not a man on the run trying to protect his family. While Tattoo Man notices this hostility and calls him out on it.
The role swap the duo make towards the end helps build upon that, while being a nice touch. Black Lightning becoming a 'villain' due to getting mind controlled. While Tattooed Man 'becomes' a hero, because he was one the whole time. Yeah it's corny, but nonetheless I enjoyed it. Personally I wouldn't mind checking out more of his character. But, I'm willing to bet nothing came out of this for Tattooed Man? 
DG: Actually, this issue explains why the Tattooed Man has a pretty significant role in the later issues of Final Crisis. The dynamic between these two characters really drives everything in this issue. The Tattooed Man's perspective on superheroes is really not dissimilar from what you see regarding the poor and the police. While the issue's two leads are black men, the issue speaks to the systematic racism in society, and the imbalanced power dynamic between the minority communities and government agencies. 
This is a surprisingly political comic from Grant Morrison, who often strives to be apolitical in his storytelling. As the issue progresses, Morrison explores how this dysfunctional relationship is generational, as parents influence their children's perception of the world. This ultimately comes to a head when Tattooed Man's son shoots Black Lightning, leaving the hero helpless against Darkseid's minions. Black Lightning had been helping them escape, and Tattooed Man angrily asks his son why he did that. The child explains through sobs that he did for his father, demonstrating the parental influence. 
The issue ends with the image of Black Lightning sporting a shiny new helmet, now a member of Darkseid's forces. Though he has now submitted to the Anti-Life Equation, he has inspired the Tattooed Man to take a different path – one of heroism. While this character turn plays a role in upcoming issues, it also is about being a better influence on his child.
Previously on "The Full Run: Final Crisis"