Tiny Pages Made of Ashes is Comics Bulletin's small press review column
š! #18
(Anete Melece / Inga Gaile, Anna Vaivare / Semyon Khanin, Davis Ozols / Ingmara Balode, Ingrida Pičukane / Sergej Timofejev, Klavs Loris / Anna Foma, Lote Vilma Vitina / Karlis Verdinš, Martinš Zutis / Arvis Viguls, Ruta Briede / Janis Rokpelnis from Latvia, and Alexander Rothman (USA), Andrej Štular (Slovenia), Dunja Janković (Croatia), Evie Cahir (Australia), Julie Doucet (Canada), König Lü.Q. (Switzerland), L.L. de Mars (France), Mari Ahokoivu (Finland), Nicolas Zouliamis (Belgium), Patrick Kyle (Canada), Sam Alden (USA), Theo Ellsworth (USA), Tiina Lehikoinen (Finland) and Tommi Musturi (Finland))
Art is what art does and its expression is myriad and unexpected. Sometimes, though, we delineate between forms and some creators define themselves exclusively by these boxes. Are they dancers and only dancers? Sculptors are not novelists, right? A film maker would never put a brush on a canvas. Talent is a cherished gift, it's best not to spread it too thin.
Pffffft…..
And of course what is art without its audience. How often do our expectations calcify the potential of creators? The walls we put around our demarcations often become detention camps for artists.
What happens, though, when courageous creators take a chance on something new, some interaction and intersection between established mediums?
Well, sometimes something beautiful occurs.
š! #18 is one of those things, one of those beautiful, beautiful things.
The Latvian comic publishing house kuš! Komiksi has been publishing their anthology š! for awhile now and #18 may be the most amazing thing they have ever produced. In this edition they highlight what happens when poets and cartoonists come together.
kuš! Komiksi claims, "This issue presents you a wide range of international poetry comics. Some of the contributions are visual adaptations of existing poems, others are collaborative efforts between poets and comic artists, but mostly they genuinely are poems as comics or comics as poems."
Poetry comics (or comics poems) are unlike anything I've experienced before with either form by itself. Something new happens when you take the visual efficiency of comics and suffuse it with the lexical efficiency of poetry. Vice-versa, when the imagistic language of poetry is illuminated with the linework of comics, some of your synaptic junctions alight with new intensity in the process of understanding. It's exquisite and gorgeous and graceful and a feast for your brain and your eyes.
Of particular note are the poem comics "The Song of the Red Swimming Pants" by Tina Lehikoinen and "Brick" by Martins Zutis and Arvis Viguls for their emotional depth, use of the medium, and expansiveness.
– Daniel Elkin
You can purchase this issue here.
---
Study Group Comics 3D
(Ray Zone / Jim Rugg / Zack Soto /Sophie Franz / Pete Toms / Connor Willumsen / Milo George / Sarah Horrocks / Trevor Alixopulos / David King / Mia Schwartz / Benjamin Urkowitz / Tyler Landry / Julia Gfrorer / Sean T. Collins / Rob Clough / Sean Witzke / James Romberger / Jason Little / Joe McCulloch / Chris Cilla / Kim Deitch / Jason Little / Malachi Ward / Dan Zettwoch / Mary Fleener / Melinda Gebbie / Alan Moore / Chris Duffy)
Study Group Magazine 3D is a mind blowing anthology – not just because it's an outstanding collection of comic art and articles, but also because it's just a thoroughly attractive assortment of material. Well curated by Zack Soto and Milo George (along with François Vigneault, Jason Little, Shanna Matuszak and others), Study Group is a pretty near perfect gathering of well-crafted indie strips, insightful features and some completely delightful 3D art.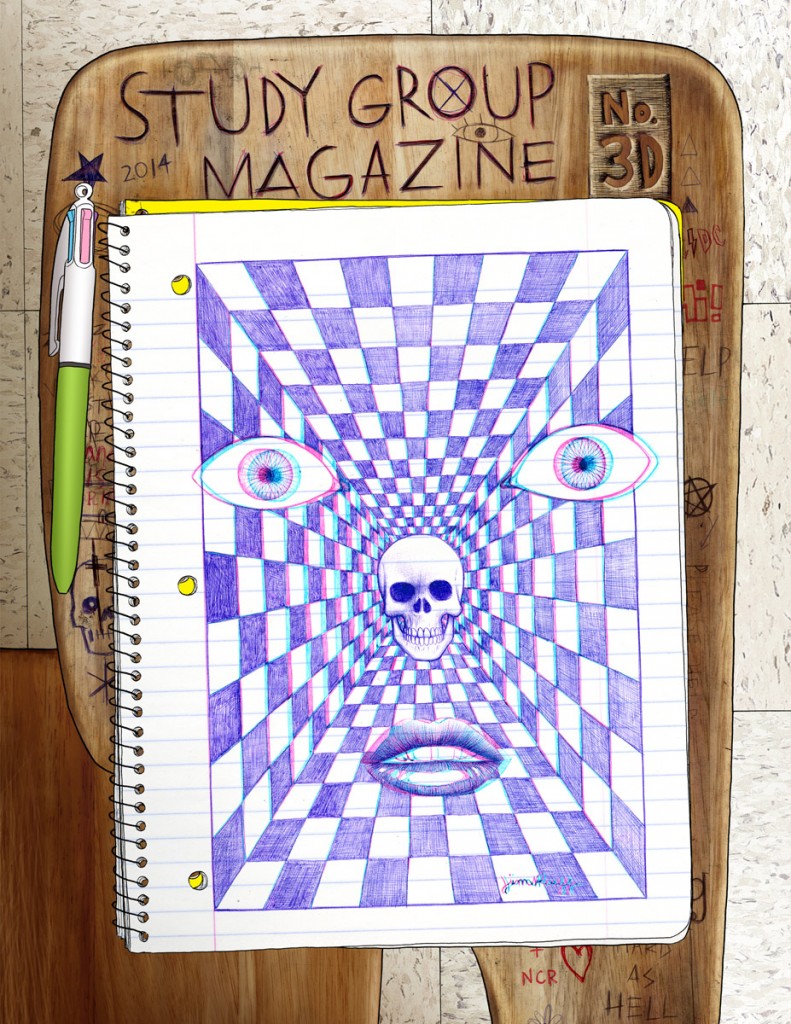 I gotta admit that I'm a sucker for 3D comics. For some reason that optical illusion leaves me stunned and weak every time I see it, as I lose track of time in some kind of psychedelic fugue state staring at the absurdly complex depth of field that some artists can bring to this medium. And Soto and his team deliver some impressive 3D in a twenty-page special section packed with a remarkable group of art and features.
In fact, honestly, I can't really be objective about this stuff. All the art in this segment of the publication blows me away, from Jim Zettwoch's astonishing two-pager that puts a monstrous fish right into your lap, to Kim Deitch's spectacular strip about "4-D" that throws a pie in your face. There are a couple of analyses and histories of 3D in comics, including a loving exploration of the career of the great Ray Zone and a look by the always brilliant Joe McCulloch at an incredible 3D book called 3DC that I have to seek out.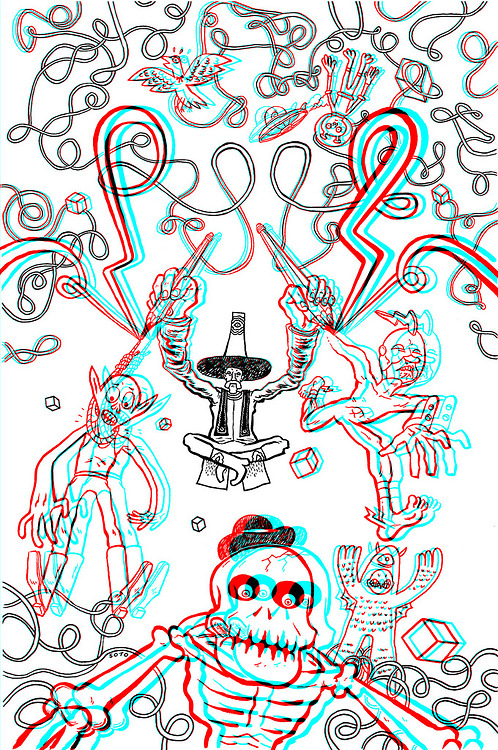 Maybe the highlight of the 3D section is a gorgeous piece by Malachi Ward that feels thought out and specific, targeted for a three-dimensional world that speaks to readers abstractly, with gorgeously constructed visions of a world that lives as an allusion, a gleam in a creator's eye, with characters who are wonderfully open for interpretation yet alive as images that transcend the page.
Then there's the great material in other areas of this mag as well. For instance, Connor Willumson's "Sunset People" is a complex full-color story that works on multiple levels to deliver a very specific and intriguing vision of life – I don't know his work well but I'll be looking for it in the future. Pete Toms's "The Dupe" uses gorgeous color and an elusive storyline to tell a haunting story about being your own doppelganger. Then there's Sophie Franz's strip, which seems so realistic and charming and then takes a strange side trip.
And also, and also, and also.
This is one of those anthologies where I could go on and on describing it but there's just not enough space in this short column to do justice to the quality of this magazine. Study Group is packed with material that fascinated and delighted me. Zack Soto and his team always produce wonderful mags and comics, and this is full of one strip or article after another than I keep finding myself going back to, again and again.
Don't ask. Just buy it. Then thank me.
– Jason Sacks
Buy Study Group Magazine 3D from Study Group.
---
D.O.A. The Death of Carl "Alfalfa" Switzer
(Ted Intorcio)
Publisher: Tinto Press
Biography is a tricky game, especially when the facts surrounding a person's life are, shall we say, murky. Layer onto that, especially in the matter of celebrity biography, the prior-knowledge and expectations of the audience. What you potentially might end up with is a thick and viscous broken narrative full of appeasements and speculation. Luckily, D.O.A. The Death of Carl "Alfalfa" Switzer, Ted Intorcio's latest release from his Tinto Press, navigates what is murky and those presumptions with a storyteller's ease and an artist's skills.
That's right, this a comic about the death of Alfalfa.
My Dallas, Texas pre-cable/internet latchkey kid childhood was full of after-school television and Hostess Cupcakes.  As choice was limited, most of my 4 channel options were re-runs of things like The Rifleman with Chuck Conners, The Three Stooges, and the perennial favorite, Hal Roach's Our Gang, better known as the Little Rascals.
Our Gang was kinda subversive shit, if I recall correctly. In it a group of kids created chaos, undermined authority, embraced and perverted (simultaneously) ideas of misogyny and racism, and played it hard for laughs. While "Spanky" was the leader of the group, and "Froggy" was spectacularly awesome, the Little Rascal people often think of was "Alfalfa" with his cowlick, freckles, ill-fitting suit, and squeaky singing voice.
As Intorcio writes in his introduction to this book, "(Alfalfa) embodied an ideal from a simpler time that we, as  culture, may have lost sight of. It was that what really mattered was not looks or money, physical strength or even above-average intelligence but guts, determination and a stalwart belief in one's self. Despite all of our imperfections and the ever-present fear of a beating from the Butches of the world, we went after what we wanted and would mange to achieve some success in life, however meager." Alfalfa was a hero. As awkward as he was, he always won our hearts.
Apparently, though, Carl Switzer, the young actor who played Alfalfa, was kind of an asshole. He was the kind of asshole who would supposedly drown a goat. He was the kind of asshole who pissed on the studio lights to get out of work. He was the kind of asshole who was gunned down in 1959, the events surrounding this event apparently being a bit nebulous.
D.O.A. The Death of Carl "Alfalfa" Switzer tries to sort through the questions about Switzer's death, life, and legacy. Intorcio does so through manipulating various interviews and recreations of events in an interesting pastiche, like a Memory Quilt recounting the life a surprisingly unpleasant person. This narrative choice requires a bit of piecing together on the part of the reader and, as such, is more viscerally effective then a traditional time-line. As the facts surrounding Switzer's death are convoluted and are dependent upon the agenda of the individual recounting it, Intorcio allows for many voices, but through placement and emphasis seems to have his own perspective. As he says, his "own ideas about what happened that night in 1959 were greatly altered by the gathering of information from sources beyond Wikipedia and E! Mysteries…"
Then again, who hasn't said something like this before.
Any way you slice it, though, Intorcio emphasizes that Alfalfa was an asshole, regardless of the easy psychological explanations as to why that might have been so. Whether he deserved to be shot to death, though, is left up to the reader. The artist in Intorcio keeps his work open and true to intent.
It's not often that you have your childhood heroes so utterly upended to the point where your sense of right and wrong gets eroded and your moral structure wafts even further into the miasma of relativity, yet you're still able to get up in the morning, drink your coffee, go to work, make it through your day, and resist all the urges you have to start screaming and never stop. Art can do that for us and to us. Cowlicks and freckles can mask the worst evils. D.O.A. The Death of Carl "Alfalfa" Switzer holds up a mirror to the illusions foisted upon us in order to show the truth of our corruption.
– Daniel Elkin
You can purchase D.O.A. The Death of Carl "Alfalfa" Switzer from Tinto Press here