Tiny Pages Made of Ashes 1/17/14: Elk's Week
Tiny Pages Made of Ashes is Comics Bulletin's small press review column
---
[Editor's note: This entry describing a work by Cody Pickrodt has been removed at the request of the writer as a result of recent allegations against him coming to light. Comics Bulletin stands behind this writer's decision and stands against abuse in all forms throughout the comics industry.]
---
Stefano Cardoselli's Walk
(Stefano Cardoselli / Stephen Nelson / Bram Meehan)
Okay. Any comic that begins with a splash page featuring a huge muscly masked man chainsawing the back of another man's head — blood splatter mixing with spittle, both characters' tongues hung out and quivering in orgasmic revery — displaying a prominent text box that reads, "They say I wasn't right in the head" is not worried about wearing its intentions on its sleeve.
Then again, Walk is a Stefano Cardoselli comic, and Cardoselli has never been one for the subtle touch. Teaming up with writer Stephen Nelson here, though, he takes the term "ultraviolence" to a new level and, while it may not be politically correct for me to say this, that new level happens to be pretty fucking great.
I know this is a sensitive issue nowadays. The preponderance of horrific imagery in media has not only fueled the already nuclear fire of Conservative groups who bemoan a lost social innocence and live in gated communities, but has also given pause to Progressives as they contemplate the fallout of Sandy Hook and Georgia Tech and Columbine. While gun politics is a contact sport nowadays, both sides tend to agree that images such as the opening page of Walk add little to the game except penalty flags.
And yet…
Walk is both a glorification and a commentary. Its "ultraviolence" is as much Burgess as it is vicarious. Cardoselli and Nelson are taking a familiar story, "mindless televised violence" as "the last surviving art form. A dying society's final means of catharsis" – you know, that whole Hunger Games schtick – and have injected it with 1,000 cc's of pineal gland extract. It is too much, and, by being too much, it is just the right amount.
In his introduction to Will Eisner's Life on Another
Planet, James Morrow writes, "Under certain conditions, exaggeration is the only way to make things clear." That is exactly what Walk is all about. Through its brutality and barbarity and brutishness, Walk talks to us about disparity and malaise, disquietude and inequality. As the Middle Class erodes in America, what thoughts begin to occupy the disenfranchised? Is our entertainment more instructional than we are willing to admit? Is revolution in the air? Does Walk point to an inevitable outcome unless something is done to enact real social change?
Walk is the story of Garrotte, "a living mountain of muscle and angst," who must take the long walk to the top of the seventeen story Tower of Justice, "where hundreds of condemned criminals fight to the death daily in glorious prime time." He does so to gain his freedom. Garrotte is one of those who "lives on the ground," and he and his ilk are perpetually stomped on by those "in the high towers".  Violence is his only means of salvation and Garrotte is awfully good at violence.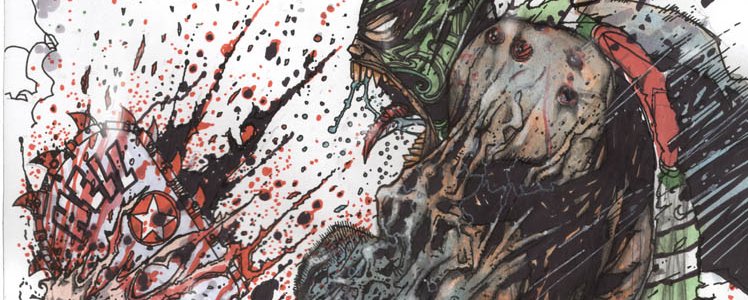 And so is Cardoselli. Once again this artist shows he commands the blood splatter. His panels and pages are filled with so much information and movement and power that it is impossible not to check your clothes for stains after each turn.
Through Killer Clowns and talking Monkeys, Mad Mungo and His Emasculators, the Freight Train of Fratricide known as Razor Head, all the way to  Big Daddy Death,  Garrotte climbs the tower seeking freedom, seeking justice, seeking something other than resignation. Cardoselli captures it all in washes of red and thick black ink. As he does so, he holds up this fun-house mirror to ourselves, to our world, to what is happening and what may be yet to come.
And it's shuddering and it's violent and it's awesome because of it.
You can purchase a copy of Stefano Cardoselli's Walk from ThirstyShadow Productions. 
---
Loud Comix 2
(Jamie Vayda / Sal Canzonieri / Eric Todd / Darin Martinez / Christian Maes / Erikca Lane / Alan King)
The last time I reviewed Loud Comix I mentioned that this anthology series contained stories in which "Each tale cradles a misfit who stands outside the norm wailing their own particular song into a night filled with the smell of moonshine and the hiss-rattle of the cicada as the kudzu threatens to envelop everything."
This time around, not so much. Sure the collection beging with Darin Martinez's "Rest Stop of The Dead" in which peeing in a radioactive toilet makes a stoner a zombie, but after that, things just aren't as tight. Loud Comix may still be screaming, but occasionally it's spitting gibberish.
This collection still features some of the South's Punk Rock luminaries. Birdcage Bottom Books runs this solicitation: This issue Jamie Vayda illustrates stories from Sal Canzonieri (Electric Frankenstein), Eric Todd (Stand-up comedian, EricToddCast, Rancid Vat, Party Wreckers), Darin Martinez (Stand-up Comedian, EricToddCast), Christian Maes (Captain Catastrophy, Belgium Television writer) and of course Erika Lane (The Stovebolts, Early Graves), Alan King (Hellstomper, Polecat Boogie Revival) and to top it all off the cover of issue was designed by Magnus Sellergren (Sellergren Design – Art is the Enemy)
Erika Lane's "Lester the Porn Fairy" is a highlight, although its tone seems out of place for this collection. Still, Lane does a great job of explaining the angst of the porn fairy – you know, the one responsible for leaving all that porn in the woods. Matt Fraction and Chip Zdarsky may want to hook up with Lane for a back story piece in Sex Criminals (just saying). Vayda's art is pretty damn perfect for this one.
After the first two stories, though, Volume 2 of Loud Comix kinda falls apart as it loses its focus. There's a shift from tales of backwoods grotesques to … well … I'm not sure exactly what. Even the conclusion to Alan King's "Wooden Leg" story has lost a bit of the shine that part one had.
Maybe I'm a different man than I was when I read Loud Comix Volume1. Maybe I just want more cicadas in my soundtrack and moonshine in my tears. Maybe I want my misfits more fitting. Just something about this threw me off.
Vayda is still killing it though. His art shows even more maturity, attention to detail, and revelry in the whatever weird he can squeeze from these stories. I dream of Vayda taking on something like As I Lay Dying or Wise Blood – something with heft, weird and powerful Southern heft. But I'll take what I can, so I'll take Loud Comix 2. I'll take Volume 3 too.
You can purchase Loud Comix 2 from Birdcage Bottom Books.
---
Inspiration Point
(Spencer Hicks)
The conversations that we have with ourselves in our heads are fascinating. We're engaged in this never-ending dialogue about our insecurities, judgments, bewilderment, justifications, and reassurances. This constant interior tête-à-tête is rhythmic and heated, roaring and hushed, the soundtrack to our day-to-day. Its function is the preservation of self, or at least the ego, a
nd Spencer Hicks' comic Inspiration Point gets this better than most of the comics I've read in the last few years. In its pages, while we shake our head at the delusions and denials of the protagonist's consciousness, we are forced to confront these same aspects in ourselves.
It's easy to dismiss Inspiration Point as another navel-gazing autobiographical black and white comic, Artists Alleys in small town comics conventions are filled with them, but if you spend the time with this book, you can see that Hicks is doing quite a bit more. I think it's his storytelling that first clued me in. There's a surface level obviousness to Hicks' panels, but there is also this subtlety therein which is where the thick emotional power of the comic vibrates. The small moments tell a larger story. It's the kind of storytelling that is only possible in comics too, in that intersection between words and pictures that everyone is always going on about.
You have to be an active reader when reading Inspiration Point, as the subtext of the story is the key to its heart. A close up of a clenched fist when featured in a panel with the words, "If anyone should apologize it's HER" gains enormous emotional power through the pairing; a close up of a face raised to the heavens underneath a text box reading "Not like anybody gives a shit" vibrates with existential and religious heft. This is the kind of thing that pops up all over Inspiration Point, these muted moments demonstrate Hicks' understanding of his medium as much as he understands each one of us.
.
Even the title of the book points to something larger here. While the titular Inspiration Point is the destination for Hicks' hero's morning jog – the place he is running to as he runs from so much of his life — each moment in his journey serves as the source of new interior commentary, each point along the way triggers him to define himself and his place in the world. What is inspired isn't necessarily inspirational, but it is the act of creation, the thought before the deed.
Hicks' narrator is the everyman in the sense that his actions echo in the lives of others while he is also constantly ignored. He serves a special place in his limited sphere, but in the larger circle he is, like us, nondescript. And yet he justifies and judges, reassures and condemns. In his head he is the center of the universe, just as much as he is you and you are me and we are all together.
Spencer Hicks knows how to use the unique properties of comics to convey these ideas. I can't wait to see what he says next.
You can purchase Inspiration Point here.
---
The Inhabitants
(The Sheehan Brothers)
When I reviewed the latest anthology from New Zealand, Faction #2, a few weeks back, I mentioned how intrigued I was by the six-page short, "A Day At The Races" from the Sheehan Brothers. Through the magic of the internet I was able to get my hands on the precursor work, a graphic novel told in four parts called The Inhabitants.  The other day I sat down in a comfortable chair to read these slim black and white volumes and was, in an instant, blown away.
The Sheehan Brothers are tapping into something softly churning in all of our subconscious – the archetype of comfortable discomfort. In The Inhabitants they are blending the best aspects of the Monomyth, the wonk of Morrison's The Invisibles, the dusty dread of Nosferatu,  and all those liminal night-dreams we sweat through after a day filled with too much anxiety or a dinner consisting of a half pound of cheese. And while the Sheehans layer these familiar motifs into their book, they have created something so wholly original that, by the end of it, I quickly started at the beginning once more, feverish with the joy of discovery, enlivened by the possibility of happening upon a true artistic achievement.
Every writer knows how often semantics fail us, how words are but a display shelf for true expression, especially when it comes to trying to communicate depth of feeling. I had a profound reaction to reading The Inhabitants. It is completely immersive, but in a manner that keeps you as a reader off-kilter, aware of the fiction of it, as if the hand that beckons you through the doorway has seven fingers.
And this is a story about these sorts of passages. We go from Here to There in this book through portals disguised as doors. Here is our world in which sudden magical things seem to happen; There is another world altogether. Here, Tom discovers one day he can fly. There, he finds out he is not alone. What is happening There, though, is fantastic and surreal and dangerous. Characters with wicked hip monikers abound in this world and all seem to have tremendous powers. But The Inhabitants is no superhero story, it transcends that conceit entirely. It is something more. Vast. Potent. Art.
There is a Great Black Wave threatening this other world, There, "Apocalypse Waiting" – it has been held back for now, for awhile, but cracks have begun to form, fissures form passages, and what is on the other side is bad. Very bad. There is a group of people who are tasked to make sure this very bad thing doesn't happen. Our narrative guide is Tom, who is from Here, who has been brought There, just as we have. As things escalate, Tom discovers more about his new companions, and discovers more about the extent of his capabilities.
<sp
an style="line-height: 1.538em;">But this nutshell encapsulation doesn't even begin to describe what the Sheehan Brothers have crafted with this. As I said earlier, sometimes words fail us. This is one of those times.
Luckily there are other means of expression. Comics is one of those means. The Sheehan Brothers tap into the primal communicative power of the medium and unleash their psychic gnashing and gorgeous tale told. Everything about The Inhabitants works. Every aspect shows artists constructing – the layouts, the pacing, the lettering, the use of negative space – everything. It all works together to create this beautiful thing.
This amazing beautiful thing.
If you want a copy of The Inhabitants (and trust me, you do), you can contact Kelly Sheehan in New Zealand (ain't the internet something) directly at boykelly@hotmail.com
---
Daniel Elkin can be found on Twitter, posing as Your Chicken Enemy, and leading the vanguard to finally make Google+ cool.