Tiny Pages Made of Ashes is Comics Bulletin's small press review column
In this week's special column, Daniel reviews some anthology comics and Justin reviews some minis from Latvia. First up is Daniel Elkin with looks at three small press anthologies.
---
Suspect Device #4
(Josh Bayer / Jason Little / Benjamin Marra / Pat Moriarity / Emma Louthan / Pat Aulisio / Corrine Halbert / Alex Rothman / Andrea Tsurumi / JTW / Jude Killory / Jimmy Giegerich / Jacob Hamrick / Elizabeth Bethea / Matt Crabbe / Mark Burt / Muriel Bellin / Noah Van Sciver / Keren Keller / Eric Reynolds / Jeff Ladouceur / Sabin Calvert / AEdward Nigma / Kelly Larson / Sasha Steinberg / Liz Marra / Kevin Scalzo / Joel Rich / Coco Roy / Sophia Wiededman / Emily Yao / Jason T Miles)
Josh Bayer's Suspect Device anthologies revolve around a simple conceit: an artist takes panels from someone else's comics and then uses these to create their own. It's as if cartoonists are given panels as slices of bread, and, in between, they provide the richness of the sandwich.
For 2011's Suspect Device #1, the bread came in the form of Ernie Bushmiller's Nancy strips. For issue #2, early Garfield comics were added.  Issue #3 used Little Orphan Annie and Popeye comics. For this current issue, cartoonists got to use panels from Lee Falk and Ray Moore's The Phantom, an issue of Dell Comics' Ally Oop #1 from 1962, and some of the most fucked up images imaginable from The Russian Criminal Tattoo Encyclopedia.
Needless to say, the collision between all these influences in the hands of great cartoonists unleashes some amazingly depraved, complex, bizarre, and/or wonderful creations.
This is a disturbing collection on many levels, but, as it unhinges, it unmasks and unearths.
Something about the perceived innocence of characters like The Phantom, Little Orphan Annie, and Popeye and the milieu from which they sprang seems to impregnate the cartoonists featured in Suspect Device #4 with a wickedness, a licentiousness, and an almost palatable viciousness. It's as if the supposed incorruptibility of these iconic figures forces their hand. It's like the only modern reaction to these icons and their sensibility is to corrupt and debase, that commentary is to contaminate, that the heart of those lost times needs a big, fat dick stuck through it. Through this, Suspect Device eats itself and, through that, reverberates across the ages.
There is a handshake that occurs through the structure of Suspect Device's conceit. The past and present embrace and that grasp seals some sort of promise wherein we behold our world as it stands and the implications it contains. Who are we now? What have we become? Where are we going?  An anthology like Suspect Device provides the looking glass through which we can examine these questions and gather answers for ourselves. As art reflects, so too does it project.
At the end of Suspect Device #4, Josh Bayer has drawn the likeness of the iconic comic character  Krazy Kat throwing a brick upon which is written "Make Comics For Ever". Above this image, Bayer has written, "Comics: Only Comic Are The Answer" – this is a bold statement, and begs the question, "What is the question for which we are seeking answers?" The comics contained in Suspect Device #4 seem to provide this question, and, after reading the anthology again and again, it bubbles to the surface.
"What The Fuck?"
And this – this question – is the quintessence of the modern sensibility.
You can purchase Suspect Device #4 here.
---
Cringe: An Anthology of Embarrassment
(Cara Bean / Box Brown / Jeffrey Brown / Elijah Brubker / Chris Carlier / Peter S. Conrad / Chad Essley / Andrew Farago / Shaenon Garrity / Delaine Derry Green / Julia Gfrörer / Sam Henderson / Victor Kerlow / Steve Lafler / Lizz Lunney / Fred Noland / Stephen Notley / Adam Pasion / Sam Spina / Gabby Schultz / Noah Van Sciver / Geoff Vasile / Jamie Vayda and Alan King / Chad Woody / Jess Worby / J.T. Yost)
We all have that one really embarrassing story that we carry around with us like a soggy sandwich in the shame pit of our heart. Sometimes these stories define us, sometimes they remind us of our fallibility, sometimes we use them as a source of wisdom, other times we use them to confirm our self-loathing.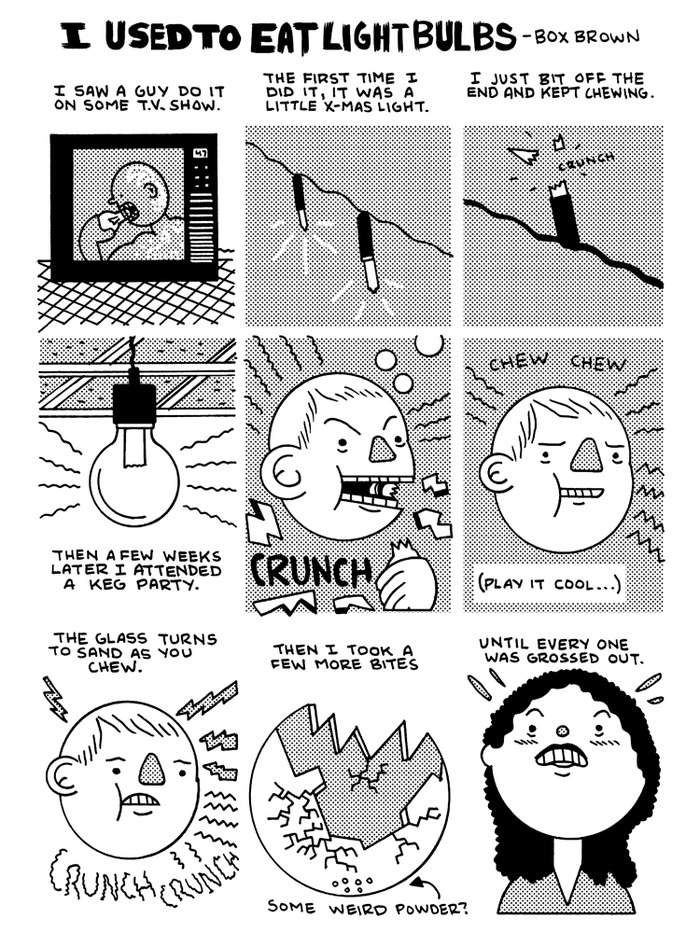 Our relationship with our embarrassment is, perhaps, one of our defining characteristics as humans. I mean, look, my dog never suffers from the crippling effects of being embarrassed. He's bounding into walls, eating cat crap, and throwing up on shoes with abandon if not glee. Hell, he'll even poop in the middle of the street as cars try to make their way through traffic.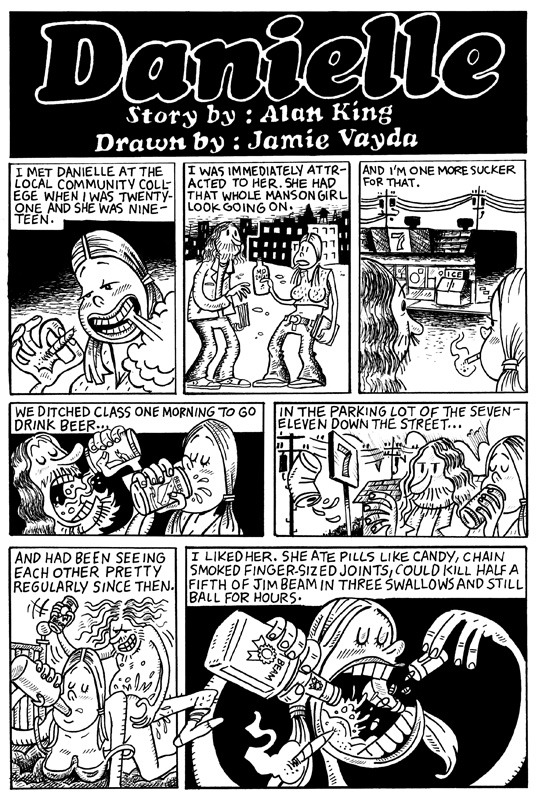 Embarrassment is a social construct as much as an emotional reaction. What some individuals following one set of social rules may find discommodious, others may find perfectly normal. It arises out of the sense of drawing attention to ourselves for breaking expectations, being caught human, wanting too much.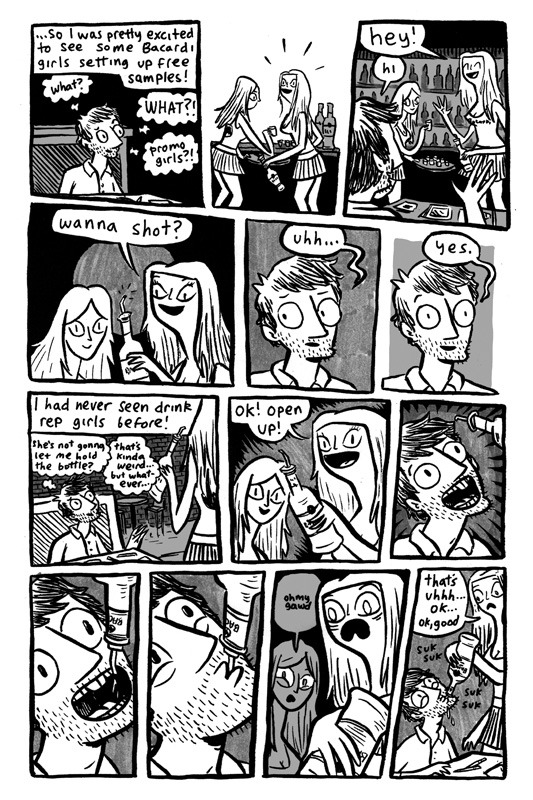 Cringe: An Anthology of Embarrassment from Birdcage Bottom Books revels in the sense, sensibility, cause, and effect of our relationship with embarrassment. As it says, it "collects over twenty stories of personal humiliation, shame and awkwardness from a variety of indie cartoonists" and, as an anthology of embarrassment, it runs the gamut from highly personal cringe-worthy stories to uproarious comedic tales of awkwardness and unease.
At its heart, though, Cringe is an exploration of what it means to be human. The humiliation that arises out of our sense of embarrassment is a binding factor, an opportunity to connect, a chance to view others as we view ourselves. The fact that some of my favorite cartoonists like Box Brown; Jeffrey Brown; Elijah Brubker; Julia Gfrörer;  Noah Van Sciver; and Jamie Vayda and Alan King contribute their embarrassment as well only added to my enjoyment of the book. To see that these creators whom I so admire have stories so personally awkward as I adds to my place within this community of the cringing.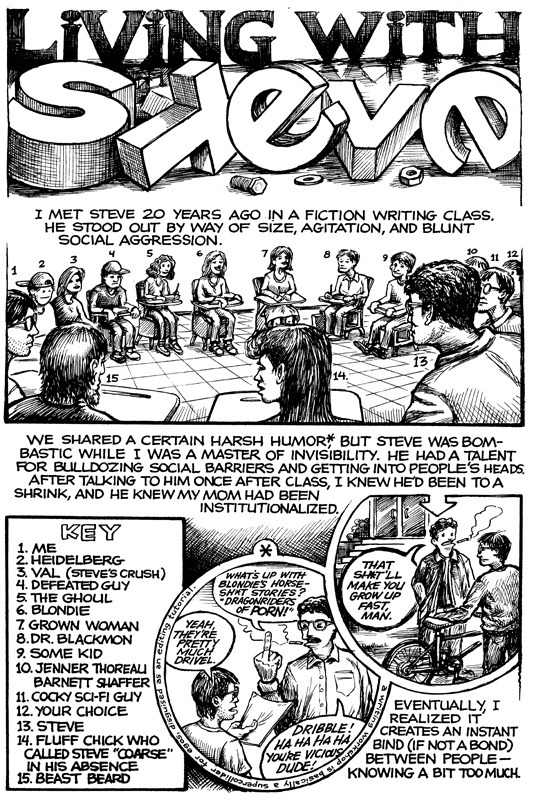 Cringe: An Anthology of Embarrassment is, in a way, a celebration. In its 112 pages, we catch glimpses of that which reflects, the fragility of ego, our ticklish relationship with ourselves in the world,  and our uncomfortable accord with expectations for our behavior. The old axiom that "no one is perfect" underscores our kindred with each other, yet our desire to overcome our failings only make us more human.
Cringe: An Anthology of Embarrassment just had an enormously successful Kickstarter campaign and won't be available until its debut at SPX. To find out more, though, you can check out Birdcage Bottom Books' site here.
---
Faction 3
(Tim Gibson / Cory Mathis / Katie O'Neill / Jonathan King / Michael Brown / Mat Tait / Tom Williamson / Li Chen / Toby Morris)
Some addictions can be glorious things. It's been nearly six months since last I had my Kiwi comics fix (http://www.comicsbulletin.com/reviews/6399/tiny-pages-made-of-ashes-122713-his-back-pages/) and I've been jonesing hard. Thankfully, editors Damon Keen and Amie Maxwell are back with their amazing New Zealand Comic Anthology, Faction, and issue three continues to "show off the diverse range of comic talent that exists in New Zealand and celebrate the extraordinary new direction that comics have been taking in the past years."
The heft of issue three is provided by Tim Gibson's 27 page "The Reservoir". I'd first been introduced to this piece when it ran in its digital incarnation, but for inclusion in Faction, Gibson has retooled the story, format, and (obviously) presentation to make it altogether something new. The addition of color pulled from a palette of beiges and gray-blues adds another texture to the emotional intensity with which this story is infused. Here, outside its original kinetic presentation and onto the static page, the pacing is different, more intense, thick with the moral relativity of its tale.
Also of note in Faction 3 is Katie O'Neill's "Don't Let Go", a post-apocalyptic short about love, humanity, conflict, devotion, and acceptance. In this, O'Neill uses time shifts to add tension and resonance. In eight sparsely worded pages, O'Neill is able to make powerful commentary on the cost of war and the divisiveness of "the other", while creating a deeply affecting story of faithfulness and kindness. It's potent in its brevity, expansive by being controlled.
Jonathan King continues to demonstrate his genius as a cartoonist with his piece "The Night Limited", a surrealistic travelogue full of questions about place, identity, sexuality, and voyaging. King's Hergé -like cartooning adds a cushion to the tumbling his esoteric story creates in your head as you follow its journey. Fecund with metaphor, this six page train trip from the land of Night to the land of Day forces the reader to travel slowly, soaking in all that King is doing in both his art and his story-telling. There is much to discover along the way.
Faction 3 ends with "Crush the Skull of the Heathen Graeme" by Toby Morris. I loved this four page character study about two blokes from, ostensibly, the Middle-Ages who have been tasked by their leader to, as the title suggests, crush the skull of the heathen Graeme. Although the job they have been assigned is gruesome, the two banter as if they were office workers, imposed upon by an additional assignment that interferes with their regular duties, their plans. The juxtaposition between the nature of their business and their conversation about it would be hysterical if it didn't point to existential questions and Kafkaesque absurdity.
Once again, Damon Keen and Amie Maxwell have curated some of the best comics currently coming from Kiwi creators. Faction 3 is a delight in its diversity and is a celebration of the medium itself.
You can pick up a copy of Faction 3 here.
---
Next up, Justin Giampaoli looks at four minis from the Latvian collective  kuš! komiksi. Their books are available from their website.  
---
Lucky
(Oskars Pavlovskis)
For those keeping score, this is Mini Kus! #22 in the ever-expanding line from Latvia's premier Indie Comics Publisher, and it's an absolute winner! Oskars Pavlovskis delivers a story that succeeds largely because of its willingness to subvert (pervert?) the notion of the free market economy.
With bulbous near-grotesque lines that vibrate on the page like some sort of Eastern European R. Crumb in all its downtrodden glory, Lucky efficiently chronicles the rise and fall of a scam artist who creates both demand and supply on a small scale. Has one of your car mirrors been stolen? He'll sell you one remarkably similar to the one you lost! There are a few possible translation glitches (ad/add, bussines/business), but it's so fun to read his broken speech with the requisite accent that you hardly notice, and it almost adds to the appeal. Ultimately, the protagonist (more of a social antagonist, really) succumbs to a two-sided conversation with the physical manifestation of his conscience, talking to himself in an effort to justify his morally reprehensible actions. It's full of open page layouts that are smart enough to guide the reader's eye without the need for panel borders. The entire Kus! line is incredibly strong, but this is one of their strongest offerings in recent memory.
---
Domino
(Ruta & Anete Daubure)
It's fitting that the creative team is a pair of sisters, because the narrative ethos here is all about duality and symmetry.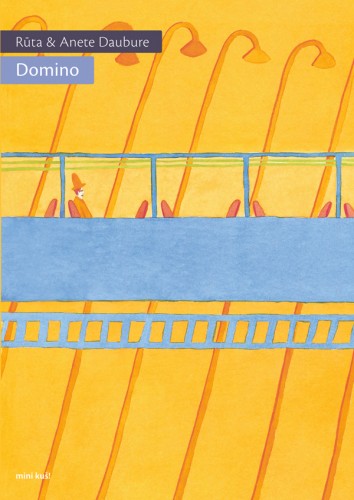 Rober is one of the clockwork mechanics of the world, attempting to balance it all, icebergs on the large scale, to sugar cubes on the small scale. The art has a blocky aesthetic that sort of mirrors the way we try to geometrically fit all of the pieces into our lives and juggle every task, family, friends, career, love, kids, hobbies, review deadlines for ball-busting publishers (totally kidding!), and so and so forth. The colors are like pale neon, not quite pastel, and the weird balancing act continues to even the style of the letters. They're not so much straight lettering as they are a part of the art, nebulous white-out forms taking up the space of 3 or 4 panels in one 12-panel grid, washed out blobs that sort of recede into the pictures. If you enjoyed the clockwork beauty of something like Charles Soule's Strange Attractors at Archaia, then this butterfly-flaps-its-wings-domino-effect venture will appeal to you. It's about the precarious frailty of things working in harmony, the nature of life as a complex system than can be swayed, manipulated, and even broken.
---
Swimming Pool
(Anna Vaivare)
Swimming Pool is ostensibly about a simple pool cleaner who fashions herself not so much as a passive observer, but feels like she may even be an omitted outsider.
Vaivare's fluid lines really capture objects in motion, every figure is isolated in a perfect moment in time, a static composition caught mid-movement. It makes the pages feel alive, as if you can sense motion in the lines. The bold colors also help pop the shapes away from the page. The hapless pool cleaner hints (slightly unreliable narrator) that she's tired of jobs where she takes center stage, and prefers a job where you're actually unseen if effective. There's a twist ending, well, more of a harbored secret, really. It's one which I won't spoil, but I will say that in all of her observations, she catalogues what the pool means to various people, and what the pool means to her, the notion that water can be life, in more ways than one.
---
Magnetism
(Roope Eronen)
Mini Kus! #25 is the most intentionally comedic of the lot. It centers on an impromptu business opportunity that suggests a desperate future full of cannibalism and suicides, where there's maybe not even enough hot water left on Earth that you can even get a decent cup of coffee. You can escape with the questionable science of magnets rapidly moving you through space-time to other possibly (5 to 10% chance!) hospitable planets with wildly inaccurate trajectories, or at least be faced with a slapstick denouement when it all goes wrong.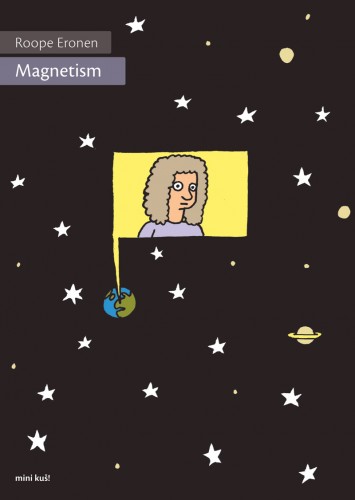 While Magnetism wasn't exactly in my wheelhouse from a narrative standpoint, the art was very engaging with open honest eyes and affable figure work, and there's a very subtle theme here that I found as a foothold. The protagonist of the story ultimately backs away from her decision to flee, and it's an interesting note about avoiding rash actions, because you can't fix hundreds of years of social and environmental neglect with one impulsive decision.