Tiny Pages Made of Ashes is Comics Bulletin's small press review column
Drawn Onward
(Matt Madden)
Matt Madden's Drawn Onward is an inventive parable about love and its costs, delivered in a deeply moving and meaningful way that implies as much as it shows.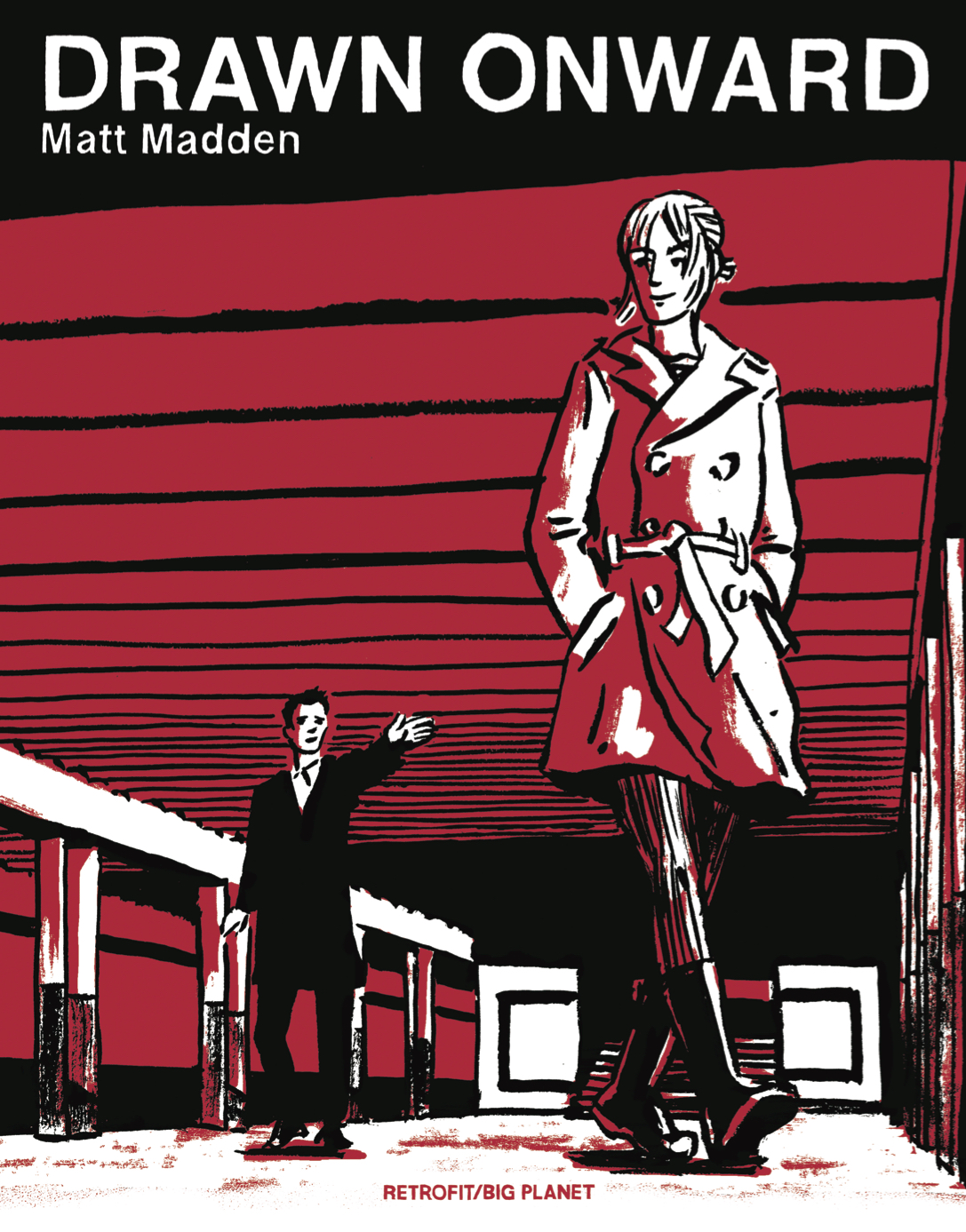 In each butterfly-wing of the story we see how a relationship between these two people who have a chance meeting in the subway has caused loss and pain for both of them. In the front half, the male character looks ragged and run-down, in a dirty hoody and with a damaged face full of worry and fear, while the female character is dressed well and looks confident. In the back half, the situations are reversed: he's dressed in a smart and fashionable suit, while she is in the one wearing ragged clothes, with deep and haunted eyes.
There's a formal inventiveness to Madden's work here that feels playful even while the tale is painfully dark. The cover and several panels repeat motifs in one of the great classic comic tales, Bernard Krigstein's EC masterpiece "Master Race", in which a concentration camp survivor finds and confronts a guard who had worked at his camp. If we are to take that as a clue to some of the deeper meaning of this artistic poem, what do we make of what Madden delivers to us?
The man and woman are hurting each other and they are the agents of their own mutual destruction. Their shared ardor is ephemeral; like many relationships, the initial spark of excitement has festered into a destructive emotional imbalance that has made them each others' oppressors, the guards who hold each other back.
Drawn Onward is told from the girl's perspective. She's a cartoonist, and the book begins and ends with her at her drawing table. Before the relationship, her work area is clean and tidy, and she's productive. Reference photos or family photos are up on the wall, but all that's next to the table is a few bottles of whisky and gin; afterwards, her work area is messy, with crumbled up papers surrounding it but also a large stack of completed pages. Before, we witnessed her dip her pen in ink and assiduously draw a page; after, we witness an x-acto knife dripping with some substance, and her head ominously laying on her drawing table.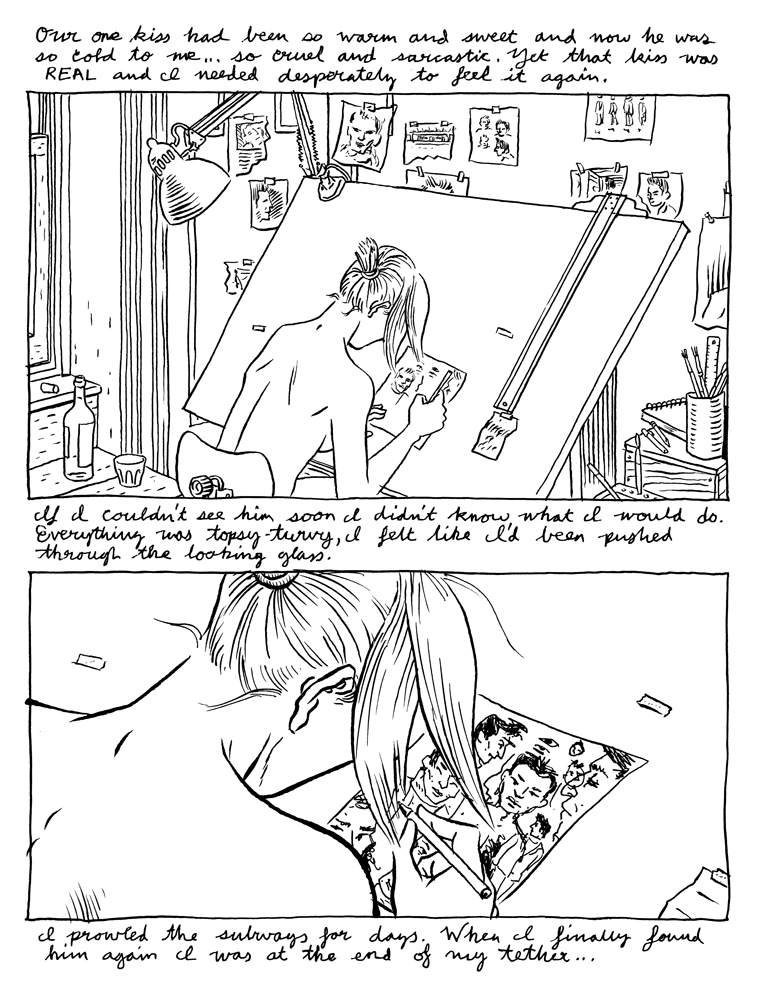 What does this all mean? Is this a dream or a parable? How much of what is shown is literal truth and how much imagination? Is this a parable of love, or of creativity – after all, she is drawn onward, or of what happens when we actually get the opportunity to possess something that we thought was unable to be possessed?
And after this journey that has seen this beguiling tale wind and recurse around itself, after we've read the girl's final words (here – and in life too?) "The beginning of my story is the end of his – and the beginning of his story… was the end of me.", we're left with an enigmatic and outstanding comic that lingers in the mind, with its philosophical implications and its thoughts on the tendrils that we all create in each other.
This is a slim little comic but it has a lot of depth implied inside it.
---
Mowgli's Mirror
(Olivier Schrauwen)
Another recent release from Retrofit is a fascinating contrast with Drawn Onward. Mowgli's Mirror, by Olivier Schrauwen, is another tale of strangers who find and lose their connections to each other. As with Madden's book, Schrauwen delivers a comic that tells its story symbolically in ways that imply a fascinating thematic complexity.

On the surface this oversized 44-page comic tells the story of Mowgli from The Jungle Book and his meeting, passion for and loss of the creature that he imagines is the love of his life – a giant red female orangutan. The early moments in this book, showing man and ape as mirror images of each other, are charming and universal feeling. They echo film scenes from the Marx Brothers to I Love Lucy to the latest robot epic, but Schrauwen draws them with a depth of mood and precision of line that compels the reader to fall into this world.
We are compelled by the passion that the man and animal feel for each other because it's so well realized; at the same time, the art is off-putting and deliberately unreal, with a color palette in red and blue that implies differences at the same time as it gorgeously implies connections. There are a few moments in this sequence in which things seem oddly idyllic – at least, until things (literally) begin to turn to shit after a baby is born and sex is refused.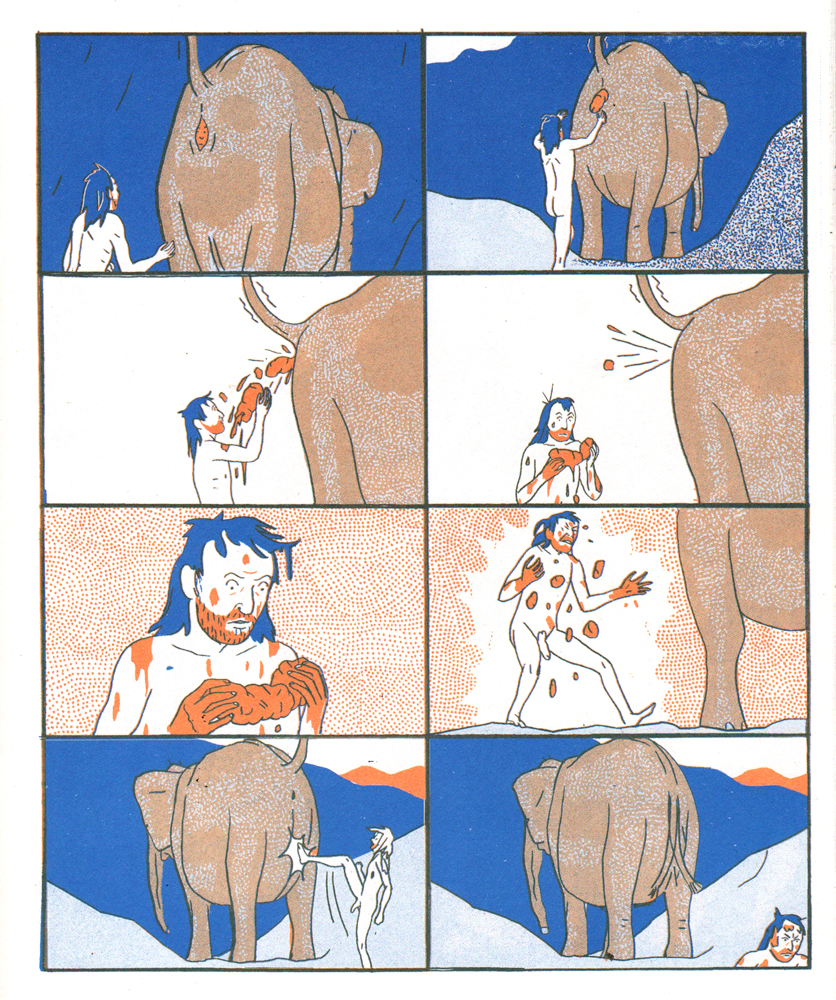 The middle section of the comic represents a series of symbolic trials for Mowgli: his friendship with a wolf drives away his orangutan partner, and her love haunts him even as he turns away from it; he sees his lover in every tree and strange creature he encounters; finds dead baby animals on tree limbs; even traps a bird and constructs a kind of statue of the lover out of elephant shit. The bird dies in a thunderstorm and Mowgli is buried in shit himself.
Rancid, debauched, changed by his journey, Mowgli encounters his love again. But his journey has weaken him in his body and soul, and that weakness has made him unlovable. In the ultimate act of passionate hate, he is clubbed over the head and left for an orangutan that's much more like his love. Finally, as the tale wraps up, Mowgli is broken but he finds a new mirror image. Will things happen the same as before, or will they be different?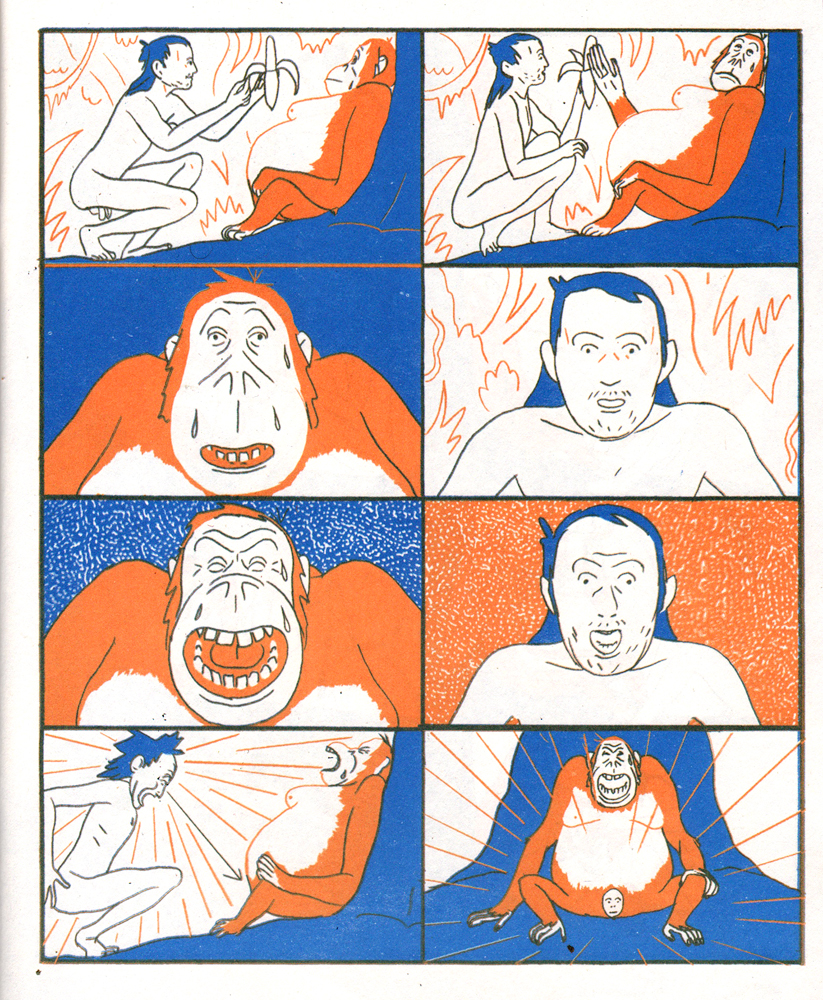 Schrauwen, the creator of the tremendously acclaimed Arsene Schrauwen, delivers a beguiling comic that contemplates the nature of connections and relationships, the questions of who we love and why we love and the pain and pleasure of what it means to love. That's all conveyed in an exquisite 44-page comic book, which only goes to show how amazing the comics artform can be.
Both of these small press comics I reviewed this week are excellent on their own, but together they're great companions. You can pick them both up for under twenty bucks. That's money well spent on some world class cartooning.
Drawn Onward and Mowgli's Mirror are both released by, and available through, Retrofit Comics.