Wow, what a year for comics. Our ace reviewers count down our favorite ongoing comics of the year.
10. Trees
Warren Ellis and Jason Howard's horror/sci-fi Trees gets my vote as one of the best ongoing comics of 2014. Ellis's multiple-perspective narrative follows some of the most dynamic characters in comics. His grasp of humanity and well, the lack thereof in some instances, continues to boast his ability to make well-constructed criticisms of society. Though set in the future, Howard's art offers vibrant depictions of the cities and the people that inhabit them feel natural while giving them unique dimension. His art style doesn't give readers any more or less than what we need to make sense of the world this team has built.
The heart of the story is of course, the ominous alien trees that loom over various cities of the globe. As the series progresses, glimpses of the trees and the effects that they have on Earth slowly reveal more and more about human nature. All of these aspects of the series culminate into an increasingly grander picture of suspense and mystery that await the characters in Trees.
– Michael Bettendorf
9. Sex Criminals
2014 was a fantastic year for independent comic books and while many of the independent publishers publish great book after great book, Image comics in my opinion was the king of comic books this year. Being a beacon of sorts for writers and artists to stretch their legs and fly their creative flag, Image has risen to the top to become my go to source for independent sequential story telling. They currently put out five of my absolute favorite titles right now with Saga, Wytches, Southern Bastards, Rat Queens and Sex Criminals. However of these five books I always seem to find that Sex Criminals is the most fascinatingly good book.
When you hear the title of the book, it's easy to roll your eyes at it. "Sex Criminals? Oh great just another way that comic books are trying to be more adult and edgy by selling lots of sex and nudity to the masses." I know that I had that reaction. Though after hearing many positive responses and seeing the first trade for sale on Comixology, I decided to give the first volume a read through. I was pleasantly surprised to find that Sex Criminals isn't at all about exploitation or sexualization, it's about the bonds that we form with other people and the relationships that can come out of that certain connection.
Sex Criminals is the story of Suzy and Jon, both have a unique ability that when they orgasm they are able to stop the world around them. One night when they meet at a party they strike up a relationship. After Suzy's much beloved library is put in serious financial danger, they decide to use their unique ability to rob Jons' place of work. But not everything can go according to plan can it?  If there was one book that I would liken Sex Criminals to it would be Bryan Lee O'Malleys Scott Pilgrim series. While the book does have a fantastical element to it, in the end it really is about the relationship between two characters and the many real troubles that they have to go through when they are in such a different relationship from everyone else.  Like Scott and Ramona, Suzy and Jon are not a perfect couple. They bicker, they fight, they have trouble in bed and some of the times they don't even seem to like each other. But like Ramona and Scott you can always tell that there is something there, some indestructible bond that lets you know that these two will find each other.
Also this book is really damn funny most of the time, this is probably one of the funniest books I read all year next to Rat Queens and Superior Foes of Spider-Man.
Sex Criminals is a very different book from anything I am reading at the moment. It's concept and characters are not ones that I can find in any thing else, yet that's what makes it so great. It's its own unique gem in a mountain of diamonds at Image comics. It's got Scott Pilgrim's heart but it's very own identity and it's one of the best comic books of the year because of it.
– Jordan Glazer

8. Deadly Class
Some comics make you want to throw a thesaurus at them: Deadly Class is intense, hilarious, fascinating, satirical, heroic and brilliant.  Or maybe the right words are sympathetic, sweet and beautiful with elements that are like an ice pick to your forehead. Perhaps one could say it is warped and psychotic with a beautifully sympathetic edge. But none of that does justice to the book.
So maybe I can try expressing how good this comic is by using the old mashup rule. Is it Fight Club meets Harry Potter? Maybe X-Men gone Tarantino? Fear and Loathing in Las Vegas with super-powers?
Hmm, yes and no. Deadly Classs is all those contradictions all in one, which is what makes Rick Remender and Wes Craig's opus such a delightful and unpredictable read.  In its combination of influences and ideas , its amazing presentation and its rich characters, Deadly Class is sui generis. It is unique.  And it is at the top of my stack to read every month as I wait breathlessly to open the cover and enjoy the wonders within.
– Jason Sacks
7. Stray Bullets: Killers
Sometimes when I judge a comic book, I'm too quick to dissect. I look at the quality of writing, the aspects of the art, the story choices and generally flow. It's often easy to forget the most important thing—how the comic book affects you. Each and every time I read an issue of David Lapham's Stray Bullets: Killers I felt moved—the kind of moved that makes you want to lie down, stare at the ceiling and contemplate what you just read. And that's exactly what I did, month after month.
For the sake of argument, let's dissect anyways. David Lapham wrote and drew every issue himself. His black and white art was crisp, clean, detailed and seamlessly balanced between realism and cartoon. The storytelling was perfect from one panel to the next, giving a clear sense of each action while still being wildly creative. The expressions he drew onto each character's face told more than most artists can describe using an entire page. Each voice was unique, both grounded in the world we live in but also eerily springing from Lapham's own twisted mind. The series was fresh for new eyes, yet contained plenty of signature Stray Bullet elements that pleased long-time fans (I'm a sucker for Amy Racecar's vivid imagination). And the story..?
The story moved me.
– Chris Wunderlich
6. Southern Bastards
There are two ways you can read Jason Aaron and Jason Latour's Southern Bastards. You can ruminate on its themes of pride and power, home and family, morality and vengeance. Or you can just read a story about people beating the hell out of each other. Either way, you're in for quite a ride.
– Luke Miller
5. The Fade Out
A man wakes up in a room with the dead body of a Hollywood starlet and no memory of how either of them got there. It's a traditional noir set-up but this Ed Brubaker and Sean Phillips so readers are clued-in from the get-go that this is going to be anything but traditional. As the story unfolds, readers learn that the man they've been following is Charlie, a hot-shot screenwriter in the McCarthy era working for a studio reeling from the death of their starlet. The focus spreads out from Charlie to his writing partner (a writer blackballed from the industry), the secretaries and stars, and the enigmatic head of the studio. With colors by Elizabeth Breitweiser on Sean Phillips pencils, this is a gorgeous book from head to toe whether or not a page is depicting dazzling dames or dauntless danger. But, perhaps the best aspect of this book is the back-matter. Each issue contains an essay written about a true old Hollywood event with topics that range from the trial of "Fatty" Arbuckle and Sean Connery hiding out from mobsters. That alone makes each issue worth more than the price of admission.
– Mark Stack
4. The Wicked + the Divine
Jamie McKelvie and Kieron Gillen have been creating insightful, funny, and exceedingly well crafted comics about popular culture for years. First Phonogram, then Young Avengers told twisting, original tales about what it means to consume media today. Only six issues in and The Wicked + The Divine looks as if it may already be their best collaboration yet.
This series about gods walking the earth as pop stars for only two years switches the focus from consumers to creators of art. It combines Gillen's intense knowledge of music with McKelvie's incredible designs and gorgeous panel compositions in order to create an immersive world. The pantheon of gods bare enough of a resemblance to our own icons that we can recognize them without it becoming a parody. It is a perfectly crafted premise to explore what it means to create something.
As well made as the series may be, there's something else that puts it on this list, something electric, something kinetic. Reading The Wicked + The Divine is an experience. Just like going to a concert or setting your favorite song on repeat, it makes you want to move and pushes you to explore it more. Smart, gorgeous, and propulsive: this series is one of the best.
– Chase Magnett
3. Lazarus
In a year that Image Comics was responsible for shepherding tons of great material into thankful consumer hands, Lazarus was hands-down the best that the creator owned haven had to offer. With the dystopian world controlled by a handful of wealthy families functioning as consolidated Organized Crime Corporations, Lazarus is remarkable for something called "selective amplification of the observed present." The series takes our collective social paranoia surrounding rapidly advancing biotechnology, an utterly dysfunctional political system, and severely disproportionate resource allocation in this country, and then pointedly extrapolates it all out to a terrifying set of conclusions.
– Justin Giampaoli
2. Saga
Saga isn't on this list because it's imaginative, although Staples and Vaughan have produced some wonderful creatures and locales over the last two and a half years.  It's not a great comic because it's bold, even if it does feature images and discussions that you'd be hard pressed to find in any other book.  It's not even the fantastic cliffhangers, excellent pacing, or beautiful art that elevate this comic from greatness to the pinnacle of the artform.
No, Saga is one of the Best Ongoing Series of 2014 because it's honest.
Every character beat in Saga feels real, like something that has either happened to you or could happen to you, and that's saying a lot given the context.  The relationship between Alana and Marko is perhaps the most authentic in comics today.  There's no romanticizing going on here.  There's no false drama to manufacture conflict.  Every moment contains truth, so much so that it's often a painful comic to read.
I don't worry about character dying in Saga; I worry about characters getting hurt, because dead characters are gone, while the hurt characters continue to suffer.  This isn't a science fiction story, it's a romance, but we have no guarantee of a happy ending.
It's intense, nerve racking, and thrilling, and one of the best comics being published today.
– Kyle Garret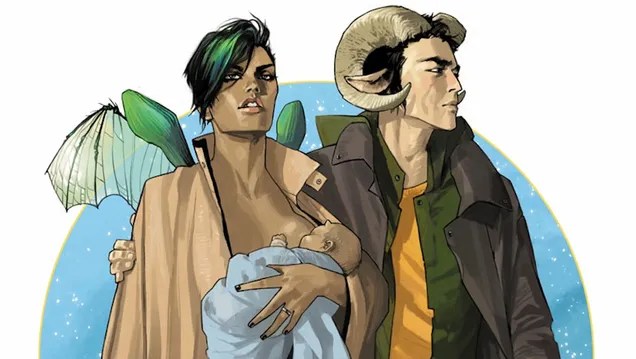 1. Moon Knight
It's rare that a book with two creative teams makes the list, but whether it was Ellis and Shalvey's urban psychonaut "reactivating the IP for Marvel," or Wood and Smallwood continuing the structural approach, moody deconstructive aesthetic, and script tone while focusing on "The Ghost Protector of NYC" (my terms) as a grounded manifestation of the city's back alleys, it was grand. Moon Knight is proof that great talent can still make great off-beat cape comics. Here's to hoping that Moon Knight #8 gets an Eisner Award nod in the Best Single Issue category, recognizing Wood and Smallwood's treatment of the ubiquitous iPhone in the Social Media Age, and how the digital narrative shapes the personas and perceptions of pop culture figures.
– Justin Giampaoli