With the announced closing of DC's Vertigo imprint, now is the time to reflect on its legacy. Many of the best series currently being published owe a great debt to Vertigo. Under the leadership of Karen Berger, a wide range of creators flocked to the imprint in the hopes of telling the stories that other publishers wouldn't. As a result, Vertigo became home to some of the greatest comics ever produced. While this list only goes to ten, this listing could very well go to twenty or even fifty. That's how good Vertigo has been.
10. Sweet Tooth
(w/a Jeff Lemire)
Though many may know him for his Big Two work these days, Jeff Lemire remains an indie darling. After his breakthrough series Essex County and the graphic novel Underwater Welder, Lemire took his talents to Vertigo where he would write and draw the heartbreaking, post-apocalyptic series Sweet Tooth. Following the journey Gus, a young boy with deer features (including antlers), as he experiences an unfortunate series of tragedies while befriending other children with similar (but different) physical deformities. Facing threats at every turn, Gus and his friends do their best to survive the hell that the world has become.
9. iZOMBIE
(w) Chris Roberson (a) Michael Allred (c) Laura Allred
Despite sharing a name, this series has virtually nothing to do with the eponymous television series on The CW. Roberson and Allred's iZOMBIE is fucking weird, but oh so delightful. Though the series centers around your not-so-typical zombie Gwen Dylan, a whole host of bizarre characters pop up over the course of the series' 24 issues. As entertaining as Roberson's script is, the art by Mike and Laura Allred is absolutely mesmerizing, transporting the reader into a world rife with secret labs, creepy cemeteries, and quaintly mundane apartments.
8. Astro City
(w) Kurt Busiek (a) Brent Anderson (cvr) Alex Ross
Though beginning at the Homage Imprint of WildStorm Productions, the acclaimed Astro City found its way to Vertigo in 2013, running for 5 years and 52 issues. With the foundation of the series having been previously established during the WildStorm era, Busiek and Anderson's revival of Astro City flourished. With its wide cast of characters and perspectives, Astro City told the story of "superheroes in the real world" better than anything that came before, during, or since its run. Yes, that includes Watchmen – I will die on that hill.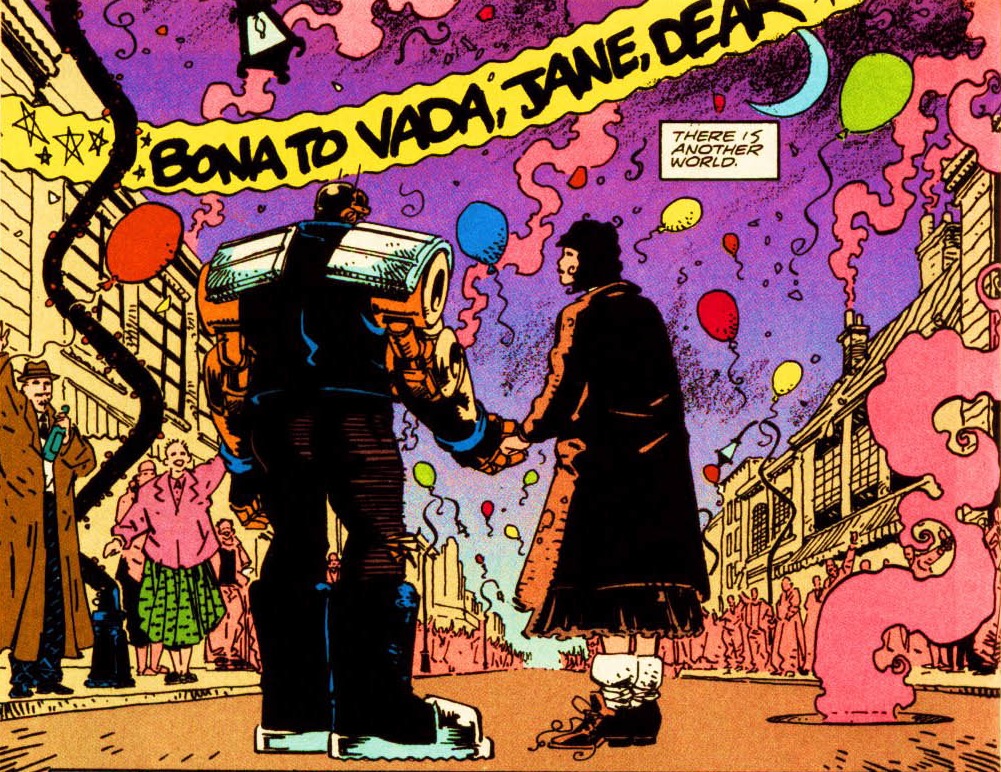 7. Doom Patrol
(w) Grant Morrison (a) Richard Case
Scottish scribe Grant Morrison was not the first writer of Doom Patrol, nor did he finish out the series. However, it is his run from issues #19 to #63 is considered by many to be the definitive version of DC's misfit heroes. Also, the Morrison run technically wasn't published under Vertigo (Issue #64 would be the series' first under the imprint), but subsequent collections and reprintings have been, so we're counting it. Doom Patrol is a cavalcade of story elements, including but not limited to surrealism, secret societies, and Dadaism.
6. The Saga of the Swamp Thing
(w) Alan Moore (a) Various
Like Doom Patrol, Alan Moore's legendary run on Swamp Thing was not originally published by Vertigo, but rather DC Comics proper. After a brief period under editor and Swamp Thing co-creator Lein Wein, the title was overseen by eventual Vertigo founder Karen Berger. Under Berger, Moore was given free rein to revamp the series as he saw fit, resulting in the definitive Swamp Thing story. Moore's Swamp Thing balanced elements of human drama, body horror, and absurdist humor, while Berger's oversight laid the seeds for the eventual birth of Vertigo.
5. Hellblazer
(w/a) Various
John Constantine is arguably Vertigo's most famous export. Visually inspired by Police frontman and solo artist Sting, the chain-smoking master of the dark arts headlined this Vertigo cornerstone for its 300-issue run. Aging in real time as he battled all manner of demons and supernatural threats, Constantine's foul-mouthed cynicism and anti-hero tendencies was alluring for both fans and creators alike. As a result, Hellblazer saw contributions from A-listers such as Neil Gaiman, Grant Morrison, Warren Ellis, Steve Dillon, Jock, and Sean Phillips. While Constantine's adventures continue in the main DC continuity, they're neutered, pale imitations of Hellblazer.
4. Fables
(w) Bill Willingham (a) Mark Buckingham
What if fairytale creatures lived among us? That is the central conceit and a gross oversimplification of Fables. Sure, the characters may be familiar, but you haven't seen the likes of Snow White, Big Bad Wolf, and Bo Peep portrayed in this fashion. The world created by Willingham and Buckingham eventually grew beyond the pages of the series, resulting in spin-offs such as Jack of Fables and Fairest. When the series eventually concluded with the trade paperback Volume 22 (which doubled as issue #150), Fables left behind a sprawling and lasting impact on the characters that offers readers a respite from Disney-esque interpretation.
3. Daytripper
(w/a) Fabio Moon and Gabriel Bá
Daytripper is far from just a comic, it is an experience. We've previously touched upon how great this series is through our "Life Examined" series of reviews, but it's worth reiterating just how great the Eisner-winning series is. While on paper a morbid premise, allowing the reader to explore different lifestyles through the eyes of an obituary writer is a stroke of genius. It also begs the reader to examine their own life, and if they are living it to its greatest potential. Full of Brazilian influences, appropriate given Moon and Bá's heritage, the series offers readers an education on South American culture while asking big questions through intimate experiences.
2. Y: The Last Man
(w) Brian K. Vaughan (a) Pia Guerra
Before jumping over to Image where he'd go on pump out great issues on a monthly basis, Brian K. Vaughan was at Vertigo where he'd pump out great issues on a monthly basis. Specifically, this was done in the pages of his 60-issue collaboration with Pia Guerra, Y: The Last Man. In a world where every male has died, the titular Yorick and his pet monkey, Ampersand, fight for survival while the world tries to move forward in the face of catastrophic tragedy. Action-packed, humorous, suspenseful, and ultimately heartbreaking, Y: The Last Man remains Vaughan's greatest work, thanks largely due to Guerra's masterful art.
Honorable Mentions
There are so many other great Vertigo titles that just missed the cut. Here they are in no particular order:
Preacher
Transmetropolitan
American Vampire
The Wake
Trillium
Scalped
DMZ
Sandman: Mystery Theater
In addition, the legacy of Vertigo lives on in publishers like Image, BOOM! Studios, Ahoy Comics, and Aftershock. Former Vertigo editor and founder Karen Berger also has launched an imprint over at Dark Horse to keep the spirit of Vertigo alive, aptly named Berger Books.
1. Sandman
(w) Neil Gaiman (a) Various
Predictable? Perhaps. But that doesn't make it any less true. Launching under the main DC banner but soon migrating under Vertigo, Neil Gaiman's Sandman is Vertigo's magnum opus. In a desperate attempt to save the imprint, it turned to Sandman. Not Swamp Thing, Doom Patrol, or Hellblazer. Why? Because Neil Gaiman's expansive world became synonymous with the imprint. Following Dream of the Endless, the series blended elements of mythology, history, and horror over the course of its 75-issue run. The series itself saw several spin-offs, including Dead Boy Detectives, The Dreaming, and Lucifer. Jumping between the dream world and the real world, Sandman often tackled the question "what is reality?" while also dealing with a wide ranges of themes including – but not limited to – responsibility and family. It may not be the most new-reader friendly series, but there is no denying that, at the end of the day, it is Vertigo's best.