Plenty of new books worth checking out this week, from both the Big Two and some of the other indie/premiere publishers. Perhaps most impressive is that there's a double-dose of the Big Blue Boy Scout, though for different reasons. So let's take a look at what looks good for this week.
Pretty Violent #1 (Image Comics)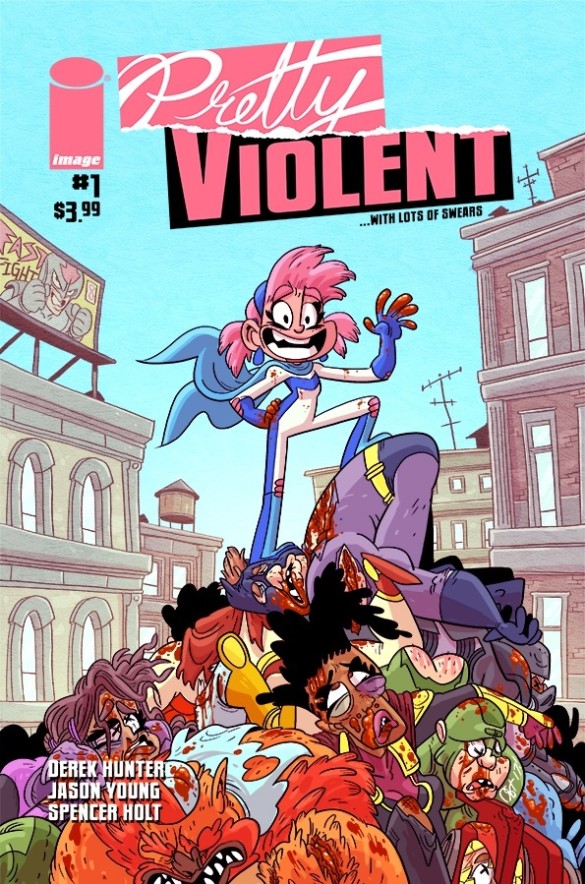 It's always nice to sit back, turn your brain off and consume media just for the sheer entertainment and that's exactly the feeling I get with Pretty Violent #1. With the vibes and look of a Saturday morning cartoon mixed with the brutality of Happy Tree Friends I look forward to the wanton violence that shall ensue! 
Ghost-Spider #1 (Marvel)
While lacking the luster of the original Spider-Gwen series, the follow-up adventures of this alt-universe Gwen Stacey are still entertaining. Moreover, it's impossible to ignore the character's star-status after last winter's Into the Spider-Verse. Hopefully, Seanan McGuire and Takeshi Miyazawa can keep the character's momentum moving forward.
Strayed #1 (Dark Horse)
Apparently, the answer to the military-industrial complex is cats. Tackling one of the most powerful and corrupt forces in the universe is the power of love between owner and pet. Except, cats are traditionally assholes, so I'd expect plenty to go wrong.
Superman: Year One #2 (DC Comics) It's not that the first issue of Year One was really good or really bad, it's that it was stunningly mediocre that has me itching to check out the second issue. Can the series turn the corner and be a surprise return to classic form for Frank Miller? Will John Romita Jr.'s art work out for the best? Or will it nosedive into Holy Terror territory? Hopefully the second issue can provide an answer to those questions.
Superman's Pal, Jimmy Olsen #2 (DC Comics)
Jimmy Olsen #1 was a fun ride that ended on a great cliffhanger. Now seeing him take on Gotham City seems like a lot of fun so count me in!
X-men: Grand Design -X-Tinction TPB (Marvel Comics)
I never collected any of X-men Grand Design when they first released in floppies, but a few weeks back I picked them up in trade and absolutely fell in love! With X-Tinction the supposed final story for this series I would consider myself X-cited! Between the beautiful art, fantastic retelling, and the smell of the trade I can easily say I look forward to Piskor's final arc!