Yes, there's big books from the Big Two, but the ones that caught our eye come from (mostly) outside the industry's oligopoly.
Fire Power #3 (Image Comics)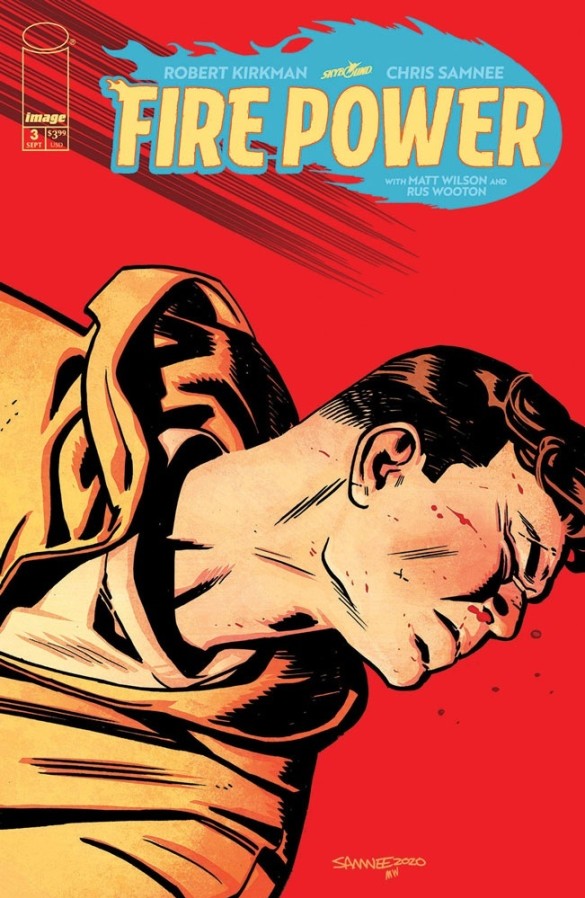 (w) Robert Kirkman (a) Chris Samnee (c) Matt Wilson
I can't think of a series that has had quite the push at debut as Fire Power. Beginning with a prelude graphic novel and then releasing the first two issues in the same day, this series has made readers accustomed to getting a lot of new content at once. Will the momentum continue now that the series is on a regular release schedule? Probably, because Fire Power has been fantastic thus far, and shows no signs of slowing down.
Things just keep getting worse for Owen, as it becomes clear that he cannot protect his family from his past. Whether he likes it or not, he's going to have to face who he is, what he's done-and who he's meant to be…before it's too late!
Heavy Metal #300 (Heavy Metal)
(w) Various (a) Various
Chances are, a milestone issue will make this list, but that is especially true for Heavy Metal. For decades, the sci-fi/fantasy/horror anthology has pushed the boundaries of the comics medium by offering a space for creators – both newcomers and veterans – to experiment and hone their craft. 
A new era begins with a celebration of 300 incredible issues of America's Premiere Sci-Fi/Fantasy magazine! Classic and new comic book creators from all over the world join the magazine to celebrate its 300th issue! Just to name some of our very important guests: Moebius attends with a short story published in English for the first time as well as an interview, never released, done by acclaimed comics and music writer Geoff Bucher. Other VIP guests are: Richard Corben, Liberatore, Simon Bisley, Frezzato, Vaughan Bode, Stephanie Phillips, Justin Jordan, Blake Northcott, Matt Medney, David Erwin, Germán Ponce, Ignacio Calero, Duke Mighten, Dylan Sprouse, and Brendan Columbus. And this party could not be complete without fictional characters including Taarna, Nelson the B52 Bomber, Lucy the Australopithecus, the barbarians Vasator and Crunch, and the Dark Wing crew, among many others.
Hellblazer: Rise and Fall #1 (DC Comics)
(w) Tom Taylor (a) Darick Robertson
As is the case for many people, the cancellation of Hellblazer by DC really stings. If there is some solace to be taken, it's that this miniseries hasn't been put out to pasture too. Tom Taylor has continued to knock it out of the park with weird, out-of-continuity stories, so here's hoping he continues
that trend as he takes the reins of John Constantine. Given his handling of the character in DCeased, this should be another winner.
A billionaire falls out of the sky and is gruesomely skewered on a church spire. Bizarrely, Angel Wings are attached to his back. More follow until, hallelujah, it's raining businessmen. Detective Aisha Bukhari is stumped by this, until she's visited by her childhood friend, occult investigator John Constantine. DC's Hellblazer discovers a link between the falling elite and a shocking moment in his and Aisha's misspent youth. How do these killings tie to the first death on John's hands? How does this involve heaven and hell? Even if this is kind of John's fault, will Constantine be happy to let a few more rich bastards fall from the sky, like a vindictive Robin Hood? It's an all-new DC Black Label mystery starring John Constantine in his very first tale spun by acclaimed writer Tom Taylor (DCeased) and artist Darick Robertson (The Boys)!
Spy Island #1 (Dark Horse Comics)
(w) Chelsea Cain, Lia Miternique (a) Elise McCall (c) Rachelle Rosenberg
Dark Horse has been marketing this book for what seems like forever, which makes sense since it was originally supposed to come out months ago (thanks COVID-19). Even still, the concept of an island full of back-stabbing spies and mercenaries is so enticing that it's worth taking a chance on.
Super spy Nora Freud (no relation) has a plum assignment.  She's stationed on a tropical island. Her mission? Keep an eye on things. Her problem?  The island is on the lip of the Bermuda Triangle, where anything can happen.  Her other problem? This particular island is a den of intrigue, populated by spies, tourists, and evil villains set on global domination.

Spy Island is a four-issue special limited series by the creative team that brought you Man-Eaters.

New comics series from New York Times best-selling author Chelsea Cain!