This is a great week of quality comics, whether they're new series launch or a decades-long epic. Let's dive in and see what looks good for this week.
Bad Mother #1 (AW&A)
(w) Christa Faust (a) Mike Deodato Jr.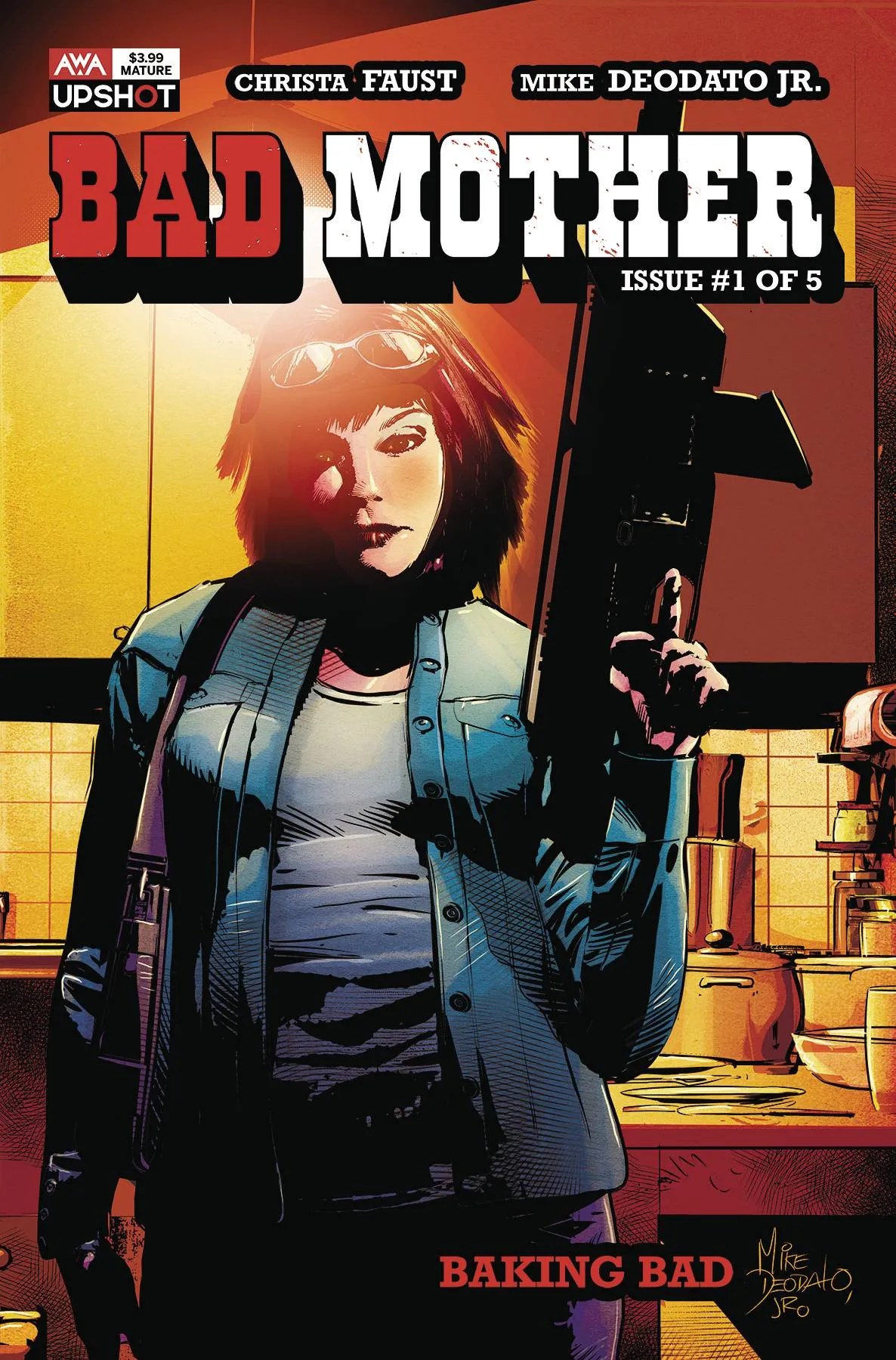 If 20 years ago you told me that I'd pick up a comic because of Mike Deodato's art, I'd have laughed at you. Like many artists that came into prominence in the 1990s, Deodato engaged in the schlock that decade is known for. Fast forward to today, and Deodato has shown tremendous growth as an artist, and books are worth picking up because of his artwork alone. I haven't fully found an AW&A book that I want to keep following, but Bad Mother has potential because of his presence. Christa Faust is no slouch either, making the jump from writing award-winning novels to comics.
A nerve-racking thriller from crime writer Christa Faust and blockbuster artist Mike Deodato Jr. (The Resistance, Infinity Wars). April Walters is a hit-and-run victim of life — a middle-aged soccer mom whose inner fire has been snuffed out by her dreary suburban existence. When her teenaged daughter goes missing under mysterious circumstances, April embarks on a harrowing mission to find her; a journey that takes her through the underbelly of her suburban community and sets her on a collision course with a massive crime syndicate and its lethal matriarch. Tested to her limits and beyond, April discovers that hell hath no fury like a mother scorned.
Far Sector #7 (DC Comics | Young Animal)
(w) N.K. Jemisin (a) Jamal Campbell
There are few comics right now that are as good as Far Sector. Currently the only title in DC's Young Animal imprint, N.K. Jemisin and Jamal Campbell's story breaks the mold for Green Lantern stories by pivoting from action to a political thriller. Full of social commentary – which is the backbone of the medium – Far Sector is a superhero comic that can be enjoyed by everyone.
On today's agenda: a giant mech fight, transforming her consciousness into digital information, and a high-speed pursuit through an alien computer network. All with six minutes of power left. But it's all in a day's work for Green Lantern Jo Mullein as she comes closer to unraveling the greatest conspiracy the Green Lantern Corps has ever seen. Far Sector continues on a new bimonthly schedule.
Firepower #1 & 2 (Image Comics)
(w) Robert Kirkman (a) Chris Samnee (c) Matthew Wilson
After a great, prelude graphic novel, readers are treated to the first two issues of Kirkman and Samnee's Firepower. Samnee's art is always a delight, especially when paired with Matt Wilson's fantastic colors. Meanwhile, Kirkman has proven reliable at creating engaging, fully-realized worlds within his comics. With Invincible, The Walking Dead, Oblivion Song, and Outcast already under his belt, Firepower looks like another winner from the Image Comics partner.
Issue #1
SERIES PREMIERE!

An ALL-NEW monthly series created by ROBERT KIRKMAN and CHRIS SAMNEE! The one who wields the fire power is destined to save the world, but Owen Johnson has turned his back on that life. He doesn't want the power-he never did. He only wants to spend time with his family and live his life, but unseen forces are at work to make that impossible. Danger lurks around every corner as Owen's past comes back to haunt him.
Issue #2
Owen Johnson thought he could turn his back on his training, his power, and that dangerous world he never wanted to be a part of. Unfortunately for Owen and his family, the danger has found him, and whether he wants it or not, the FIRE POWER is the only thing that can save them.
Usagi Yojimbo #11 (IDW Publishing)
(w/a) Stan Sakai (c) Tom Luth
Already missed the first 10 issues of IDW's Usagi Yojimbo? Good news, you can jump on right here with the start of a new story arc. Also, this series is always an easy recommendation.
"The Return" Part 1 of 4. Usagi is back in his home province for a pilgrimage to his late lord's gravesite, however wearing the Mifune clan crest in Lord Hikiji's territory has made him an enemy.  Now beaten and almost near death, he has made his way to the one place he had been avoiding-the village in which he grew up.  Bittersweet memories awaken with his long-time love, until the village becomes embroiled in a plot to assassinate an emissary of the shogun.