Well, it looks like it's a DC-heavy week for us, but that's a testament to the good work that the publisher is doing. However, you'll notice that none of our picks – save for one new title from Marvel – are core, in-continuity stories for the major superhero universes. Why? Probably because it's mostly bland, repetitive stuff whereas these limited series and imprints are offering readers fresh, interesting stories.
Bang! #1 (Dark Horse)
(w) Matt Kindt (a) Wilfredo Torres
Matt Kindt has been doing these great, cerebral comics like Mind MGMT and Black Badge for years. He also has taken a stab at the spy-genre with works like Super Spy and Ninjak. This collaboration with Wilfredo Torres and his sublime artwork looks to combine all the best elements of his storytelling ability. Also, there's a cover quote from Keanu Reeves! Excellent!
A best-of-the-best secret agent with memories he couldn't possibly possess, a mystery writer in her 60s who spends her retirement solving crimes, a man of action with mysterious drugs that keep him ahead of a constant string of targeted disasters, a seemingly omnipotent terrorist organization that might be behind it all…

And they're all connected to one man: a science-fiction author with more information than seems possible, whose books may hold the key to either saving reality or destroying it.

o A mind-bending story that ties in with past Kindt works (Revolver).

o Action, mystery, and altered reality!
DCeased: Unkillables #1 (DC Comics)
(w) Tom Taylor (a) Karl Mostert, Trevor Scott
Even though zombies seemed to be played out by the time 2019 rolled around, Tom Taylor surprised everyone with a fantastic, alternate reality tale in DCeased. So of course I'm going to be checking out a continuation of it. Tom Taylor's still writing? Perfect.
The blockbuster DC series returns to answer this question: What did the villains do when the heroes failed and the world ended?

Spinning out of the dramatic events of 2019's smash hit, writer Tom Taylor returns to this dark world with a street-level tale of death, heroism and redemption. Led by Red Hood and Deathstroke, DC's hardest villains and antiheroes fight with no mercy to save the only commodity left on a dying planet of the undead—life!
Heartbeat #4 (BOOM! Studios)
(w/a) Maria Llovet
Much like the other long-running series on my list, I've loved each issue of the series. Now at the beginning of the end I'm even more excited for what Llovet has in store.
Donatien has managed to escape the consequences of his brutal crime only by charm and wit, but those close to the victim want answers, and they will do anything to get them. When someone gets too close to the truth, Eva will learn how far Donatien will go to protect his secret… and how much Eva is willing to accept.
Lucifer #17 (DC Black Label | Sandman Universe)
(w) Dan Watter (a) Sebastian Fiumara
So it looks like the Devil might be getting renewed for a sixth season at Netflix, but that entertaining procedural still can't hold a candle to his comic incarnation, especially when it's executed this well. While the series may have gotten off to a rocky start, Dan Watters' take on the character is easily the best since the Mike Carey days.
Fear. Thrill. Blood. Honor. These are the four horsemen of Odin's wild hunt, whose prey Lucifer must—despite his personal feelings—protect at all costs, lest the Devil be cast back into the pit whence he came.
Plunge #1 (DC Black Label | Hill House)
(w) Joe Hill (a) Stuart Immonen
DC's Hill House imprint has been absolutely slaying (pun totally intended) with its stable of horror titles. With the label's titular Hill tackling another series with the incomparable Stuart Immonen, this is easily near the top of the pile.
In the aftermath of a devastating tsunami, an exploration vessel known as the Derleth begins sending an automated distress signal from a remote atoll in the Bering Strait. The only problem is that the Derleth has been missing for 40 years. Marine biologist Moriah Lamb joins the Carpenter Salvage team to recover the Derleth's dead…only to find that in this remote part of the Arctic Circle the dead have plenty to say to the living…Joe Hill and Stuart Immonen's Plunge into terror begins here!
Savage Bastards #1 (Mad Cave)
(w) David Galiano (a) Carlos Angeli
I got an early look at this one a while back and quite enjoyed it.
Savage Bastards is a story of brotherhood, revenge, and betrayal. Set in 1873, follow half brothers, Sam and Elliot, as they fight across a series of satellite towns in the Sonoran Desert in order to save Elliot's mother from their sadistic, sociopath of a father, Darragh MacDougal and the rest of his crazy bastard children.
Superman's Pal, Jimmy Olsen #8 (DC Comics)
(w) Matt Fraction (a) Steve Lieber
If you aren't reading this, you need to. That's all folks.
Ooh ooh, aah, aah—Jimmy see, Jimmy do! Jix and Jimmy go back to Gorilla City, where they had a one-night marriage-stand. (Don't believe it? Go reread Superman: Leviathan Rising #1!) Jimmy's sister Janie and Doc Mantel get to Gorilla City to warn Jimmy about what Doc saw in the future, only to find it's the attack of the 50-foot Jimmy!
Superman Smashes the Klan #3 (DC Comics)
(w) Gene Luen Yang (a) Gurihiru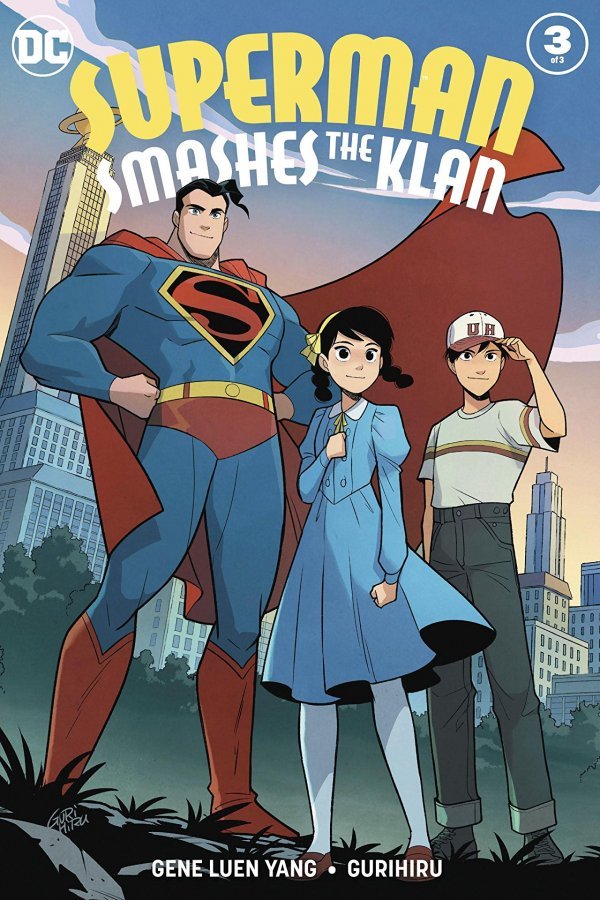 This re-imagining of a classic story from Superman's radio days has been nearly perfect. I have no doubts that Yang and Gurihiru will stick the landing on this wonderful, sadly relevant story.
The Daily Planet is under attack! When the Klan invades the newspaper's office, they kidnap Lois Lane, Perry White, and Inspector Henderson. The Klan's attacks have separated our heroes, forcing Roberta and Jimmy Olsen to step up and help save the Daily Planet staff.

But the Klan has one more surprise to reveal. In order to save his friends and stop the Klan once and for all, Superman must face his own identity to unleash his full potential and ultimately accept who he really is.

Inspired by the 1940s Superman radio serial "Clan of the Fiery Cross," New York Times bestselling author Gene Luen Yang (American Born Chinese, Boxers and Saints, The Terrifics, New Super-Man) concludes his personal retelling of the adventures of the Lee family as they team up with Superman to smash the Klan.
Undiscovered Country #4
(w) Scott Snyder, Charles Soule (a) Giuseppe Camuncoli (c) Matt Wilson
This series seems to get better with each successive issue. Fantastic writing. Great art. Expect this to be a staple of this column for the foreseeable future.
All is lost. The world will wither under the Sky pandemic, and the Destiny Man will murder our intrepid explorers before they've made it further into the former US than Nevada. Unless, that is, brilliant journalist Valentina Sandoval can discover one…essential…truth.
Wolverine #1 (Marvel)
(w) Benjamin Percy (a) Adam Kubert, Victor Bogdonavic
He's the best there is, yadda yadda yadda. It's a freaking new Wolverine series with Logan again. It may seem overpriced, but $7.99 for 72 pages is actually a pretty good deal.
THE BEST IS BACK!

Wolverine been through a lot. He's been a loner. He's been a killer. He's been a hero. He's been an Avenger. He's been to hell and back. Now, as the nation of Krakoa brings together all Mutantkind, he can finally be… happy? With his family all together and safe, Wolverine has everything he ever wanted… and everything to lose. Writer Benjamin Percy (X-FORCE, WOLVERINE: THE LONG NIGHT) and legendary artist Adam Kubert (X-MEN, AVENGERS) bring the best there is to his new home! PLUS: The return of OMEGA RED!
Wonder Twins #12 (DC Comics | Wonder Comics)
(w) Mark Russell (a) Stephen Byrne
Shit, one of my favorite Maxi-Series is coming to an end. Honestly, Wonder Twins has been fantastic through-and-through and I'm sad to see it go. Yet, hopefully it ends on a high note.
The world is saved again! But now Zan and Jayna must answer to the Justice League for the choices they made in order to save it. Meanwhile, the League of Annoyance is back in action, and Cell Phone Sylvia will do whatever it takes to get her revenge on the twins—but they might get a little help from an unexpected ally! The critically acclaimed series ends here—don't miss it!
Wonder Woman: Dead Earth #2 (DC Black Label)
(w/a) Daniel Warren Johnson
I absolutely loved everything about the first issue. If you can only read one Black Label comic this should be it.
Determined to give the remnants of humanity refuge on the shores of Themyscira, Wonder Woman's hopes are dashed when she finds the island paradise a shadow of its former self, with her Amazon sisters long gone and something unimaginable in their place.