Note: CBers Zack Davisson and Jason Sacks drove from their beloved Seattle to Portland for Wizard World Portlandd on January 24th. They recorded their impressions of the con during their three-hour drive home, and we thought you might enjoy reading those impressions.
Zack Davisson: I had a better time at Wizard World Portland than I thought I would. I was actually very wary of going to Wizard World Portland, and quite frankly judging from their website it seemed like it wasn't the type of convention I would want to go to. It seemed like a sort of cheap way to auction off time with celebrities. It just seemed so tawdry to me to sit there and buy five minutes and a handshake with William Shatner for $60 of 80 minute photograph time. I'm not a fan of the whole celebrity cult fan money for a little bit of time with this guy. That seemed to be the Wizard World focus when I got there, I mean they have the convention obviously where you don't have to interact with it if you don't want to. Aside from that stuff, this was just a nice little comics convention.
Jason Sacks: Yeah that's what surprised me: there was this nice little comics convention in the middle of this big pop culture celebration, and it was weird because there were lots of vendors, which was probably a normal amount of vendors for a convention, but there was maybe only five I saw that were selling comics.
Zack: I was surprised that actually very very few used comics vendors, almost no one that you'll see at Emerald City Comic Con.
Jason: I got the sense that Wizard World, which I think gets a dozen different conventions across the country, is its own parallel track to the "normal" convention track. Which has things like Emerald City, San Diego, and Wondercon, etc. Wizard has its own group of vendors, its own group of celebrities and such. I get the impression of the same groups of creators too.
Zack: Huh, interesting. Because talking to some of the creators I heard a few times now that Wizard World is different depending on where you go.
Jason: Oh!
Zack: One guy I talked to in particular was talking about how he enjoyed Wizard World Portland but didn't enjoy the other Wizard Worlds because Wizard World Portland was new, and small scale enough that it wasn't entirely swamped yet by the pop culture stuff.
Jason: There's that frustration with the pop culture aspects again.
Zack: But it brings in other crowds. That's undeniable. And the crowds are going to come and pay $50 to get an autograph from Norman Reedus, the guy from The Walking Dead. The same guy that's going to pay the signature from Norman is not going to be the person that walks over and meets George Pérez. And they have no idea who George Pérez is, whereas for me that was the main draw. When I came to Wizard World, I made the drive to see George Pérez. Who by the way did not disappoint. He was amazing and worth six hours of car time just to get a chance to see him.
Jason: Six hours of car time together. Having a good time hanging out, but anyway. Yeah Pérez was gracious and funny and interesting. Got a good short interview with him. Got a wonderful sketch from him. I think we both did.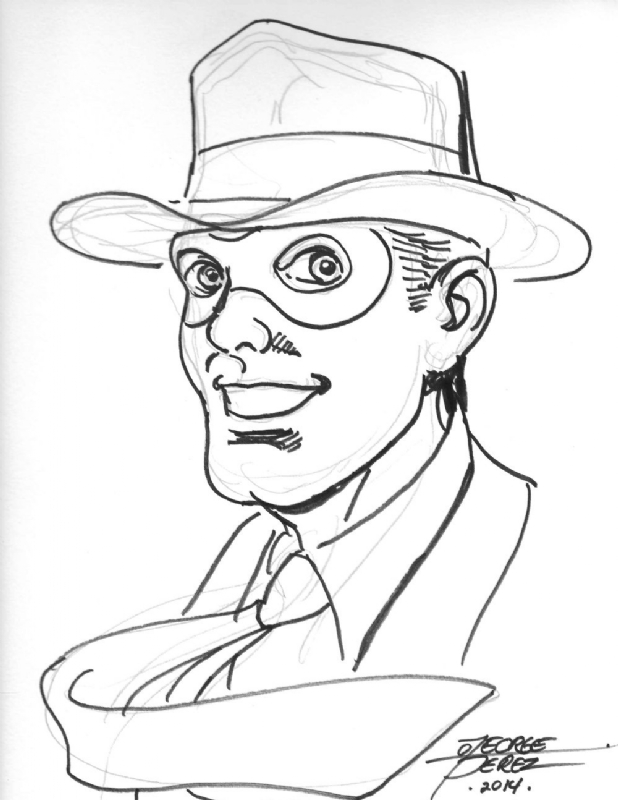 Zack: Yup, I got a Captain Marvel, and you got the Spirit,
Jason: And George was just so happy. He seemed like a very happy person.
Zack: Oh, he was.
Jason: Really super pleasant.
Zack: Yeah!
Jason: And his line was not very bad either like last year when the line for Chris Claremont was extremely long.
Zack: Yeah, I would say that that's one of the benefits that Wizard World Portland has is that because it's new it doesn't have the crowds that Emerald City does, right? So when you have someone like George Pérez there, you get a lot more Pérez time I guess for lack of a better word. You don't feel so bad because there is not a line of one hundred people waiting in line behind you because of Claremont.
Jason: And Pérez was just a pleasure to talk to.
Zack: He told me about his hand-made Hawaiian shirts his wife makes for every convention.
Jason: Oh I didn't know that! Interesting.
Zack: Yeah. He was a genuinely nice guy, which is always great. Pérez is one of those guys where when I was first reading comics. Back in the day he was just an idol. I mean you look at his main work and we're talking about the early 1980s with Teen Titans and Crisis. I couldn't imagine a better comic book artist than George Pérez back when I was reading those comics. So to meet him and to have him be so gracious and so nice to me was just a genuinely nice experience for me, and what I don't think I would have had as much if it was more packed comicon.
Jason: He took time sketching, and I think we would have felt bad about holding up the line – or he might not have wanted to do sketches if his line had been longer.
Zack: Yeah, I thought he would have had a line a mile long.
Jason: You would think so.
Zack: I would like to think and hope that he would have a line a mile long. I'd like to think so.
Jason: It's hard to know what's going to be popular at Emerald.
Zack: Yeah? I was actually surprised that Chris Claremont had a line a mile
long when Denny O'Neil had almost no one.
Jason: Yeah. Gerry Conway also had almost nobody in line.
Zack: It can be hard to tell.
Jason: Claremont is a legend. Well they all are.
Zack: I personally think O'Neil is more of a legend than Chris Claremont, but that's my opinion. Maybe it depends on how old you are when you start writing comics as which is more of a legend.
Jason: I imagine it was good for meeting quite a few people. I saw some of our regulars that I get to see all the time. Matt Wagner and Kurt Busiek for example.
Zack: Yeah I mean those two are locals so obviously every convention at Emerald City they're always there. They're also great guys so I look forward to it every year.
Jason: Kurt was very happy that you had the new series from DC.
Zack: He said that mine was the first Colossal Conan that he had signed. And the first Colossal Conan that Mike signed, and the first Colossal Conan that Joseph Linsner signed. I got the first of all of them. It was pretty cool.
Jason: And Mike Richardson.
Zack: Oh and Mike Richardson as well.
Jason: He's very tall.
Jason: It must be some real work to carry that book around,
Zack: Yeah. That's a back breaker.
Jason: What did you say it weighs, seventeen pounds?
Zack: Fourteen pounds.
Jason: Bigger than most new born babies.
Zack: Yes, yes it is.
Jason: That's a big child you carted around.
Zack: Yeah, it's mighty. It's going to be with me at Emerald City Comic Con this year for
Tony Harris and Dave Stewart to scribble on it as well. I want as many signatures that I can on that thing.
Jason: I got no autographs.
Zack: I know.
Jason: I got none. I just don't like getting autographs, not from celebrities or creators. If I'm buying something from them it's nice to have an autograph but otherwise I don't care. Well we've had a lot of good experiences with people. Matt Wagner as usual was super cool.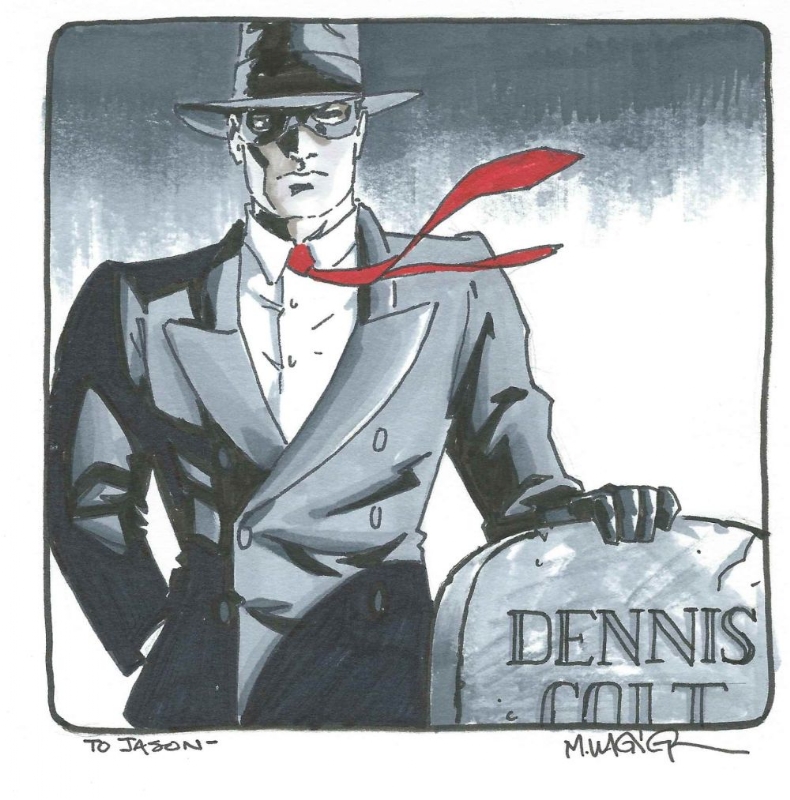 Zack: Speaking of Wizard World, one of the big differences was paying for autographs even amongst the… I don't want to call them non-celebrities, but along the comic book folks. A lot of guys were handing out jars that they were asking a contribution to the Hero Initiative. Which I'm okay with that, but it's definitely different than Emerald City, and I don't know if that was just new this year or if we'll see more of that in Emerald City. When I go to a Con I sort of budget out my money into money I spend beforehand, and I don't generally signature money because I assume that they're going to be free.
Jason: It is for a really good cause.
Zack: It is.
Jason: And I'm happy to donate, but yeah a couple things made it a little more awkward than I wanted it to be.
Zack: Yeah it was, and some of the guys there are pretty strict about it. Some of them were obviously "I would appreciate it if you would throw a few bucks into the jar" and some of them were definitely not signing if you were huddling up the money. Some of the guys, I'm not going to name names- they were extremely pleasant, wonderful, and joyful in every way until it came time to ask them to sign their books and then they're like "Oh yeah, that's right. This is a business."
Jason: Yeah. Fork it over and then I'll keep talking to you. Like, you're a friend. Someone I'm genuinely interested in talking to. Who has to pay money for the conversation to continue, which casts a little bit of a pall to the chat. Though I'd like to think that there is a difference between attitude and purchasing if that makes sense?
Zack: Someone like Michael Golden I know, that is very famous, asks you to buy something at his table. You must buy something from his table in order to get something signed. Neil Adams is the same way. So yeah some guys just do play it that way.
Jason: I saw Aaron Meyers tweeted about Neal Adams "I was considering getting something autographed, but I decided not to pay the money for it."
Zack: Ooh yeah, he was there today too, but at this stage I just don't bother to see Neal Adams anymore because of that policy.
Jason: I mentioned a fun sideline of some of the conventions with some of our friends, Aaron Meyers. Got to hang out with him and Kirk Van Lund and Sam Marks and a few other friends. We had really nice lunch with the three of them. Great to visit with them and talk comics and stuff. So many cool people who are involved with comics that don't wor
k on comics. It's one of my favorite things about the industry.
Zack: Yeah. I love seeing every year the Dark Horse crew, my karaoke crew that we run into. Not the creators, but just the support staff that put everything else together. So that's always a joy.
Jason: It was fun to see some of our reviewer friends and podcast friends and stuff. It's great to get to hang out with Aaron again. He was very much more relaxed than he was last year at a convention. Good job, Aaron!
Zack: Was he panicking last time?
Jason: Aaron is a very detail oriented, person. He had a long list of things he wanted to do last year and was checking them off. This year he made sure not to include his list. I respect that.
Zack: You know, I made a list of things I wanted to do and that's one thing I'll say more about Wizard World than most comicons is that I got everything I wanted to do done in one day. I didn't even have to go back for a second and third day.
Jason: No, that's one thing I heard a few times about Friday: it was a little dead at the convention, and that this was just a little small for a three day convention.
Zack: Granted, if you were really in the market for a sketch, or a person's artwork that you wanted, Friday would have been the day to go I think because it would have been dead, and you would probably find something pretty tremendous.
Jason: Yeah, although I'm not even sure if that makes that much of a difference because we've got sketches from all people that we wanted them from quickly.
Zack: That's true. That's a great point.
Jason: There may have been more popular guys from when we got there, but I don't think so. But it's also a weird convention because a lot of the people I'm used to seeing from Portland at conventions just weren't there.
Zack: Yeah Kelly Sue DeConnick wasn't there, like a lot of the people from the area…
Jason: There's just quite a few people you would expect to see there. Oni Press didn't even attend, which was odd.
Zack: Yeah and I don't know that that's different, because last year part of the group was actively boycotting, if that's the right word for it, because we chose not to go to Wizard World because it was held one week before Emerald City Comic Con. They just didn't muster up the energy for two cons, one after the other. So they chose to skip that one for the larger Emerald City. It seemed like this year a few more chose to be both. Definitely not the whole Portland crowd.
Jason: Yeah I think there was the fear that Wizard was trying to encroach on Emerald's territory. And maybe because Emerald was such an enormous convention last year, they backed themselves to a date that was different. January was a really strange date for a comic book convention. Which I think it's smart. It's definitely more of a respectable day to have a convention Northwest.
Zack: And Wizard also probably took into consideration is that Portland has two comic book conventions, and one of them is Rose City. Which is the sister to the Emerald City Comic Con, and now they have Wizard World now. I really wonder if either of them are going to be sustainable.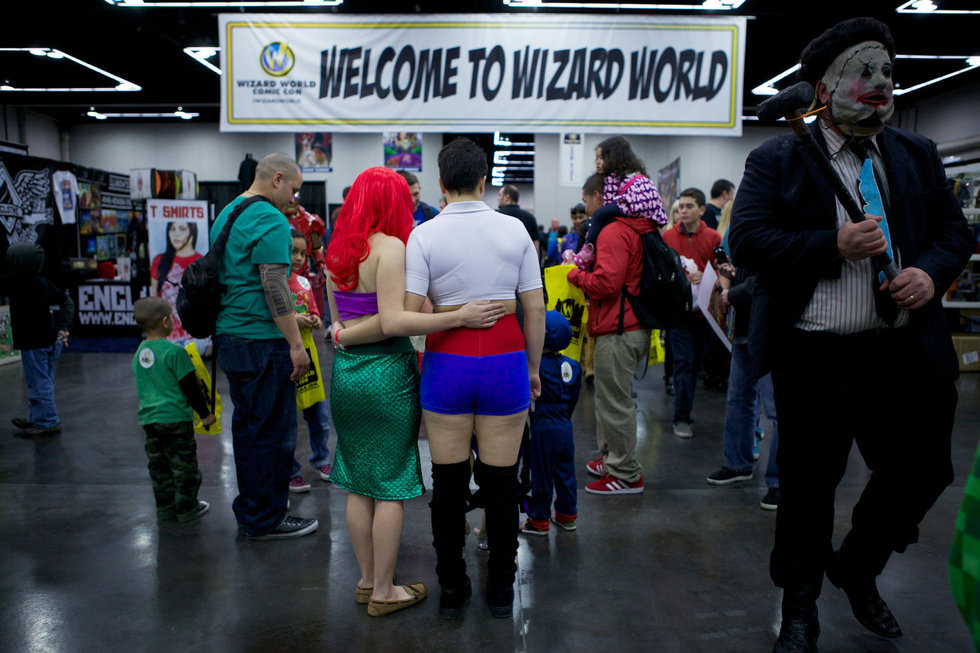 Jason: That's a good question. Of course if you could bet on one you would probably choose Rose City, but that wasn't a very well attended convention last year either.
Zack: Wizard World with the financial backing in it, I mean is it going to be more of a juggernaut? I just don't even really know.
Jason: On the other hand, any other convention organized by the folks from Emerald has got almost universal claim being one of the organized best conventions in town. You would have to assume it would do well. It's hard to say.
Zack: Well, for me it's ultimately about the guess. Rose City has so far never brought a guest that I wanted to see. This con was important enough to me personally to tempt me to make an attempt to drive down from Seattle. And Wizard World did with George Pérez.
Jason: That's a classic "your millage may vary" story, though. I think it was at Wizard World where I met Val Mayerik and Paul Gulacy last year.
Zack: Oh yeah, see that's cool.
Jason: And that's cool! I really wanted to get the chance to talk to those creators and chat about the work that I enjoy by them and take care of some other business, too. I guess that was an incentive.
You know, we also didn't go to any of the panels at Wizard.
Zack: I didn't attend a single panel. Maybe if I had a three day pass I would have stopped by some of the panels. I heard some of the panels were interesting, especially around how to break into comics. They had the Writing for Comics panel which sounded interesting.
Jason: Yeah I've been curious to read what the write-ups are like for the Women in Comics panel. One friend said it was thrown together at the last minute. John said he was disappointed in that panel.
Zack: It's a controversial subject in a way. I've seen a few women creators on Twitter and basically posting tweets saying "Don't invite me." "Don't let me in if you want a comics writers panel." So I don't know.
Jason: Well that's an interesting philosophical question too, because when somebody was talking about so many of the young creators coming into comics in genera
l are women?
Zack: Yeah. I think that was Valentino that was saying that.
Jason: That's just fascinating to me.
Zack: It is, it is fascinating.
Jason: It seemed like this convention was more predominately male, but there was definitely a strong female contingent.
Zack: Yeah, absolutely. Amongst both the creators and the attendees.
Jason: Exactly, and there seems to be a real need for that. Jim Valentino was talking about that around Rat Queens. He said that series has been doing extremely well. Especially among women, which is not surprising. I think there is a really top market there. On top is maybe the wrong way of putting it, but really strong group of readers that just want stuff that speaks to them more.
Zack: Absolutely. I think so too. Especially when there is a group out there looking for comics that they can relate to that are comics for them.
Jason: There's just not nearly enough stuff out there with good strong female characters. Especially ones that aren't scandalously dressed or something.
So what else do you want to talk about the convention? I think we pretty much covered everything.
Zack: Oh, we forgot about the most important part what makes Wizard World Portland awesome:beer. You can just buy beer and walk around the convention drinking beer. I'm sorry Emerald City Comic Con in that area you lose. In fact every other Comic Con I've gone to on this one you lose. You've got to buy beer and go sit in the beer garden. In Portland you can just wonder the blazing floor drinking beer.
Jason: Good job, convention center. Way to go. Way to get yourself organized in a smart way.
Zack: Way to get people to spend a little bit more on the comic books. They're having a beer. Everyone's having a good time.
Jason: So here's jsacks's hint for any convention attendee, and the number one rule if you're inclined to do this, a few drinks really helps. It lubricates the tongue, okay it lubricates the spending fingers too, but it's all good and they get the gold star for that. Oh man, and I was so tempted to take someone's picture with Stan Lee and just keep it for my own use.
Zack: Oh yeah yeah, the big pile of Stan Lee pictures where he had made the exact same face in every single one?
Jason: I swear he looked like a wax figurine in every picture.
Zack: One note, and I know your people will mention it or wonder about it. There was absolutely no manga present at all. That's something I heard some people talking about at Emerald City Comic Con, but this show was exclusively about American comics.
Jason: So overall I'd say Wizard World Portland was a relatively nice, small, regional show.
Zack: That's a nice way to put it. Not a power house like Emerald City by no means.
Jason: Worth the few hours of driving to get to if you're in Seattle like we are.
Zack: It's not really worth taking a plane to.
Jason: No. Not at all. I'd say it's a three hour drive to the convention. I would have been disappointed if I had driven all the way from Vancouver BC to it.
Zack: I completely agree.
Jason: If you're a local person trying to meet people, to have good social evening. I don't know how the bar scene was.
Zack: No we didn't go to that. I would definitely go again. My concerns about Wizard World that pretty much vanished after this. It was enjoyable all the way around.
Jason: Yeah! It was enjoyable all the way around.